I may not know a lot about fashion blogging, okay I know very little about fashion blogging but I do know (Now) That when you are crossing an international border you might not want to dress like a redneck. Did our family learn this the hard way at the international border crossing this summer? Well of course we did! I mean looking back, we might as well have just been wearing red, white and blue shirts proclaiming we voted for Trump because the Canadian border patrol at Grand Portage definitely thought we were up to no good as we waited to cross into Ontario last summer in our 34-foot motorhome. At this point, we were weeks into our cross-country road trip. We had already driven over 2,000 miles from home in California to the beginning of the Lake Superior Circle Tour and we were itching to cross over into Canada at last! We didn't have any guns or drugs but damn did we have a lot of camo apparel, now looking back.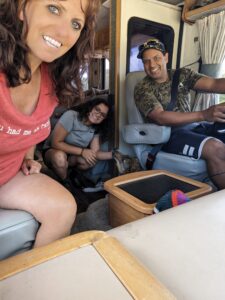 It was yet another hot and humid afternoon in the Upper Peninsula as we stood in a grassy ditch at the border patrol area being bitten by thousands of Yupper mossies. The strip search of Stormy the motorhome took close to two hours as we melted in that east coast summertime heat and guess what, border patrol never found whatever the hell they were looking for! We didn't have any handguns, we declared all our booze and got taxed terribly on it and I even surrendered my taser! These Bad Hombres were full of truthiness on this afternoon at the border crossing. I feel like Officer Cocker Spaniel was probably wondering just why the hell our motorhome was full of so much camo, well everything.
In our household camo is very in all the time. My boyfriend is known to wear camo pants with a camo Under Armor shirt and also a camo hat. Luckily he does not leave the house very often. Because obviously, I would never find him! He so blends in with these woods we live in. On this particular day, as we were oh so ready to cross the Canadian border and continue on to our sweet campsite in Nipigion for the evening, he may have been decked out in his camo finest. So obviously the Mounties felt a strip search of our motorhome was necessary.
Is there anything more in fashion this fall than camo? I'm sure there are many fashionistas this autumn trouncing around Nordsrtoms, with manes of coifed blonde extensions, sipping on Pumpkin Spiced Lattes in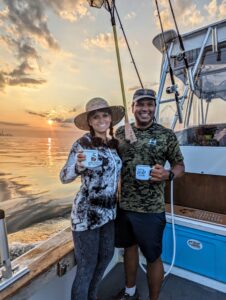 their Ugg Camo booties.
Yeah, that's not how I do camo.
It did start out as a family joke after that infamous border crossing as I thrift shopped my way across America, embracing my sustainable fashion fashionista at thrift stores from Toronto, to Nashville to Tucson. Now, three months later, I have a lot of camo in my recycled fashion closet.
Oh deer
Okay now really camo may not be what you want to wear in the autumn months unless you are actually out hunting for some delicious venison. (And so many of my relatives are this time of year and they know exactly where they can deliver it to) Autumn in a mountain town does mean it is hunting season and you might actually see quite a few hunter dudes around decked out in full camo and not just because they are trendy.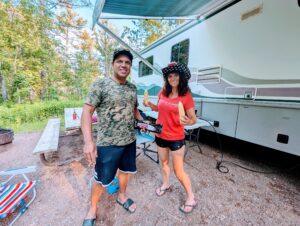 When it comes to the fashionista in me I tend to stick to thrift stores and recycled fashion. I love this planet, full of all those Bambis, even if they are delicious seared with a Huckleberry Sauce. My lifestyle however is less binge shopping at Nordstrom and more trekking up mountain trails to the highest wilderness peaks. October for me does not mean that, Oh my God Becky, Bloomingdale's is having a sale. It means that the orange and yellow oak trees in my hometown are turning even brighter shades of Amber every day we go deeper into October. My heels are itching to hit the trails and hike under a falling canopy of bumblebee yellow leaves. But first I have to stack this cord of wood over yonder.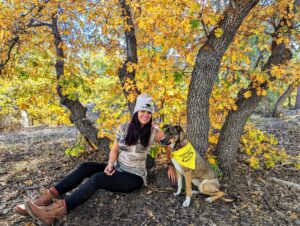 October here means that the autumn projects are upon us in our mountain town. Winter approaches fast as the seasons change and the temperature drops. There are dead and down trees to discover in that national forest perfect for firewood. We need to secure a permit to cut that oak wood into biscuits, load the truck, drive those biscuits home and split them into firewood. But first, we have to assemble the new canopy/carport to put the wood under! At some point, we have to take in all the curtains around the fire pit, the shades that keep the pergola cool in the summer months and put all the summertime furniture away. Sometimes the errands and household chores of autumn feel endless and I really just want to go for a hike!
Oh and did I mention the canning and baking? Because the peaches are getting riper every day and I have to can them into Peach Jam and Peach Chutney and Peach Pickle.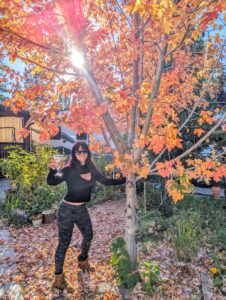 The neighbors are waiting patiently! The thousands of apples need to be picked, handed out to friends and family and made into either Apple Butter or Apple Fritter Cake. Oh, and the puppy needs her last bath before it gets too cold for a puppy that smells nice for a few days. I absolutely love the cooler autumn months and the falling leaves but man does it feel like every day the list of projects gets longer.
Thank God we are not a family that actually hunts because I don't know when I would have time to slaughter and dress Bambi on top of everything else. Oh, and there has to always be time for hiking. Of course, there has to be time for hiking!
I'm the problem, it's me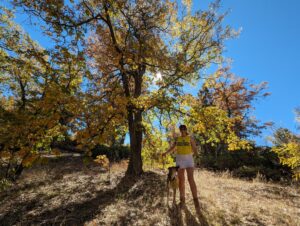 If you live my lifestyle, yes camo may be oh-so-trendy but October and November are better times of year to wear neon bright yellow colors like canary yellow in this ski town. It is hunting season and Cosmopolitan magazine may say camo is so in fashion this fall but I would rather not get shot by a hunter stalking a Bambi deep in the woods. I may be wearing my favorite camo leggings while I am relaxing at home by the firepit in the backyard but if I happen to venture out for a hike into one of the areas where you are allowed to hunt for deer in the autumn months, I always wear neon yellow and so does my dog. I also blast Taylor Swift on my Google Pixel Phone as loud as I can, because I heard that deer hate the sound of Taylor Swift.
As this autumn rolls around here in our family we celebrate the three-year birthdays of our two grey squirrel-looking kitty cats. We celebrate the puppy's one-year anniversary of being our forever pet and yes we do it all while wearing way too much camo!