Love to hit the trails of Big Bear Lake but have no idea where to go? Let the Hungry Mountaineer hiking guide take you and your friends and family on some of the best hikes that Big Bear Lake has to offer!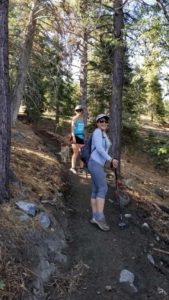 I've been hosting guided hikes throughout the San Bernardino National Forest for the past five years, taking guests on snowy family-friendly guided hikes under the pines to all-day adventures up to the top of San Gorgonio at 11,503 feet. (The highest mountain in southern California)I offer seasonable hikes and snowshoe tours for beginning hikers to advanced hikers from Lake Arrowhead to Running Springs to all over the Big Bear Valley and also areas down near Jenk's Lake.
Easy Snow play hike great for families

Easy hike
1.5-hour tour
($35 a person. Kids under 5 free)
The hardest part about finding a peaceful snow play experience for your family is knowing where to go. The Hungry Mountaineer will send your family a pin to a great meet-up location in the beautiful forest. These locations are locals' secrets and perfect for sledding, building snowmen and having zen family moments. The Hungry Mountaineer plans out each snow play hike experience to fit the needs of the guests going on that experience. If my guests wish to do more hiking we can go on a beautiful forest walk. If there are kids and they want to just do more sledding I will take your family to a great sledding location.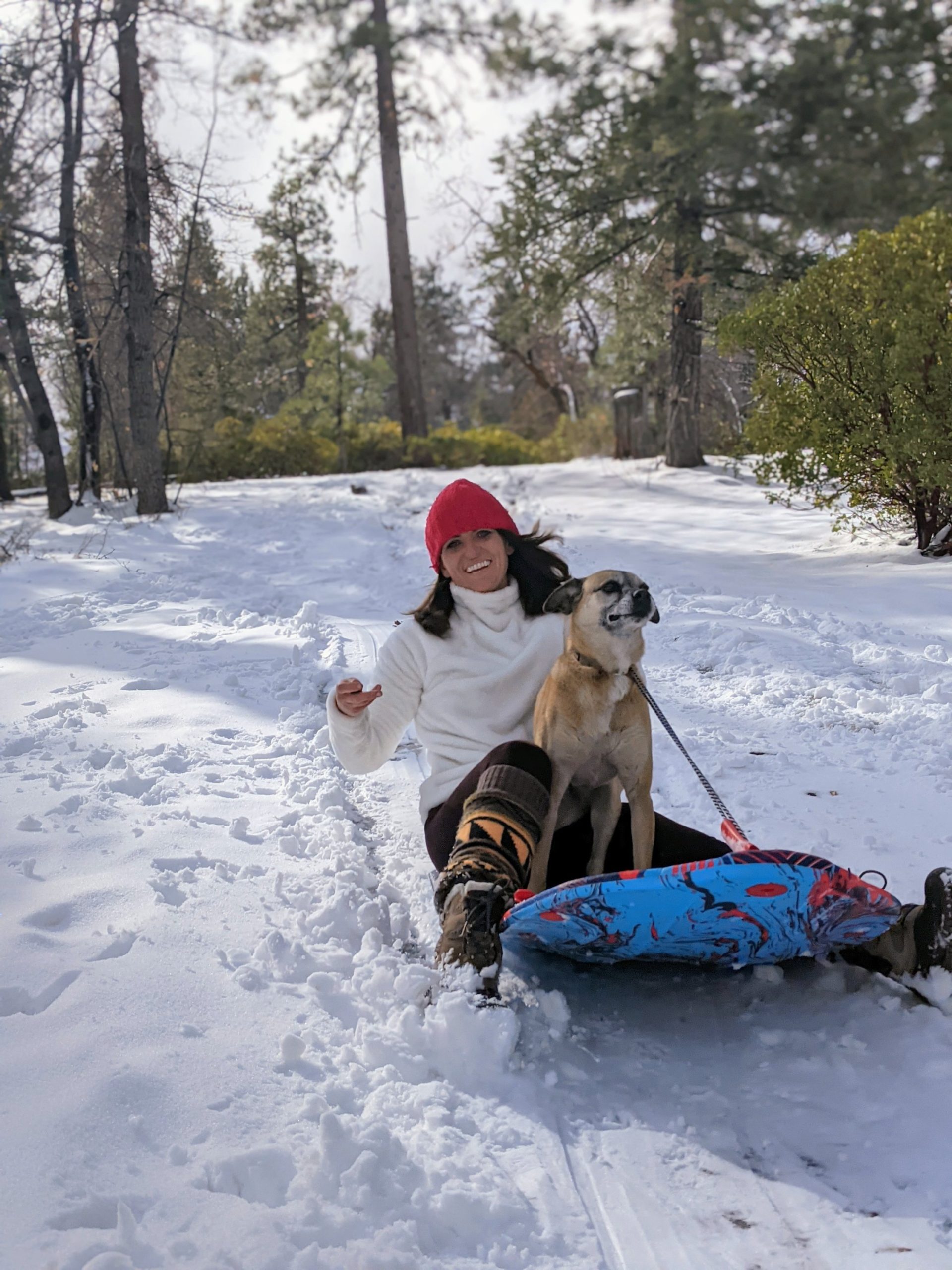 I try to keep my groups under fifteen people to be safe in these times of Covid. Private hiking tours are also available at an additional cost.
My private guided hiking tours are extremely popular this winter of 2021 with families wanting to social distance from strangers. What's more perfect than playing in the snow with your family and building snow angels? Why drinking a hot coffee cocktail provided by the Hungry Mountaineer! The Hungry Mountaineer provides one Baileys and Coffee hot drink for each adult booked over 21. Hot chocolate is available at an additional cost. The snow play experience is extremely popular here in 2021 with our local snow tube and Alpine Slide locations being so packed with tourists. During this time of Covid, your hiking guide, the Hungry Mountaineer is very serious about always asking guests to social distance and bring their own sleds on this experience to minimize spreading germs. Health and safety is a priority for my own personal health and my business.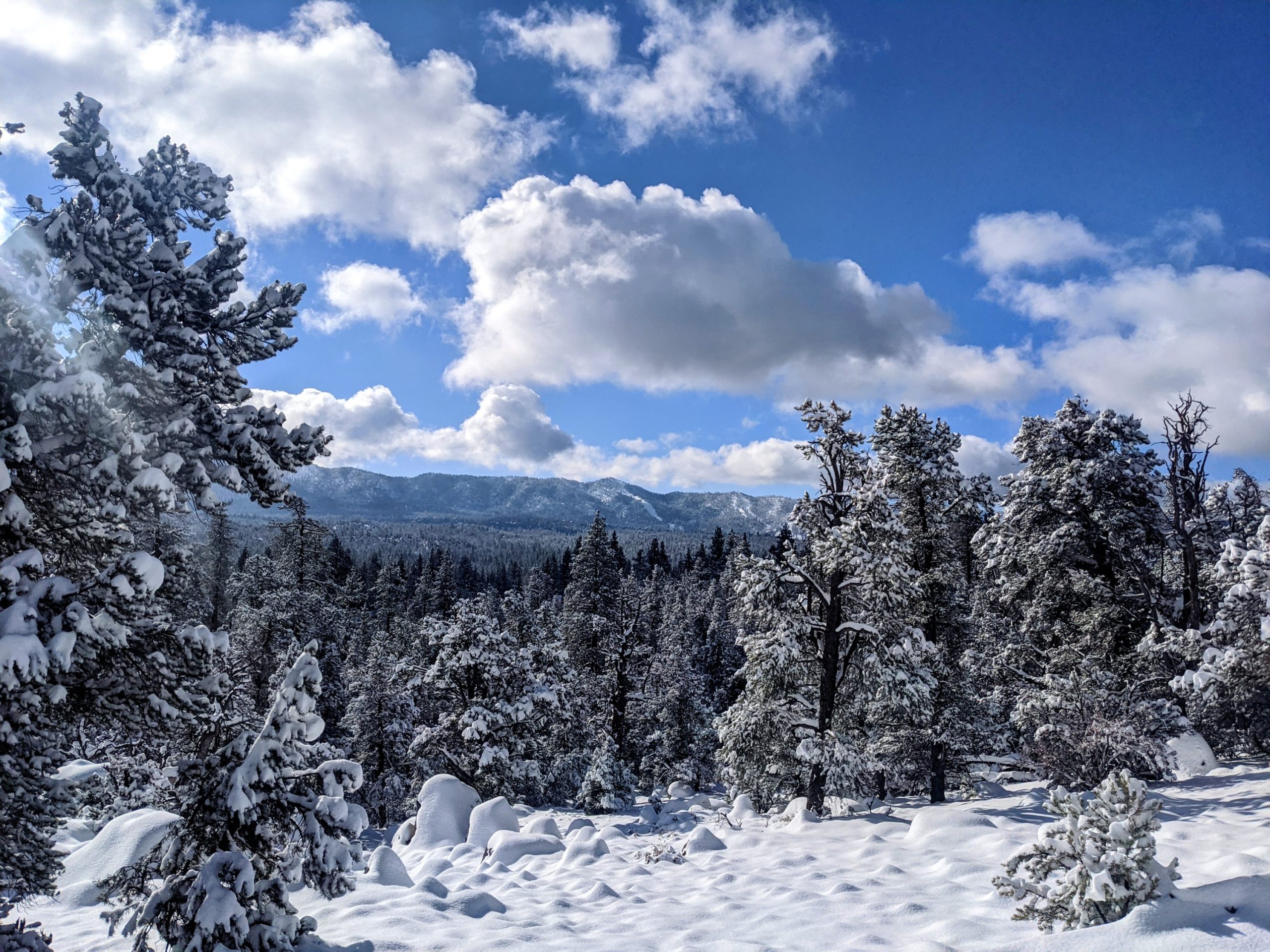 Want to reserve your snow play experience today? Email [email protected] to book your spot! Payment can be made via Venmo to hungrymountaineer
Weekends through February are filling up fast so if looking to book a weekend snow play with your family, the recommendation is to book in advance.
Hike through the pretty Snow Forest Resort to Grand View Point
Moderate hike
2 hours tour
($36 per person)

This steep guided hike I would consider a little harder, moderate and takes just over two hours to trek the full loop depending on your hiking speed. This hike gives you great lake views as well as a view over the valley at Grand View Point.
Bluff Lake hiking tour with car transportation included
easy hike
2 hours tour
($50 per person)
I offer this guided hike to Bluff Lake from spring until around November when the dirt road is closed for the season. (I also offer guided snowshoe treks to Bluff Lake in the winter but this is an advanced hike with over 1,000 feet of altitude gain and much more intense) Bluff Lake is one of the prettiest areas in the Big Bear Valley and a hidden gem in the southern California Mountains. A lot of Big Bear residents don't even know about Bluff Lake, hidden three miles down a dirt road amidst the pines. This is an easy, meandering hike, once I drive my hikers up to Bluff Lake in my all-wheel-drive vehicle.
Winter snow hike or snowshoe tour with possible donkey sightings
Easy hike
2 hours tour
($45 per person)
The best thing about my easy and family-friendly winter snow hike is we have a great chance to see wild donkeys who live in this area. I would say I see wild donkeys on this hike about eighty percent of the time when I go out on this snow trek. I usually lead this hike early in the a.m. hours, the best time to spot donkeys. (However, donkey sightings are not guaranteed) With or without donkey sightings this is a gorgeous winter hike with wonderful snowy views.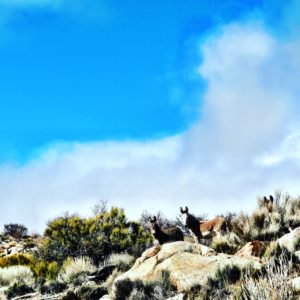 This winter hike is one of my easiest hikes I offer and is great for kids and families. I offer this hike in different areas during the winter depending on how much snow we have at the time. I always advise my guests if they need to rent snowshoes ahead of time for the winter hikes and the very best place to rent them in Big Bear lake. Goldsmith's in Big Bear is a  great board shop to rent snowshoes from.
If it is your birthday week, Goldsmith's give you the rental for free! And if you happen to fill out your paperwork for the rental online ahead of time, Goldsmith's gives you a 15 percent discount off of your snowshoe rentals. Rent the snowshoes and let your expert hiking guide lead you into the wilderness for snowy adventures.
Did you know we have wild burros here in Big Bear?
Winter only, the Hungry Mountaineer offers easy hiking tours to witness Big Bear's wild burros. We try to keep Big Bear wild, and guests are not able to feed the wild burros (This is a common question) We follow strict Leave No Trace principles as do our hiking guides.
Hike through the autumn colors with the Hungry Mountaineer
moderate hike
2 hours tour
($35 per person)
My autumn hike through the fall colors is one of my absolute favorites. It takes an expert hiking guide to know exactly where and when the fall colors peak in the Big Bear Valley. Mid October to early November is the best time of year to witness fall colors in the Big Bear valley. Let the Hungry Mountaineer guide you through a rainbow of fall colors this coming October!
Big Bear sunset hike with wine and gluten-free delicious snacks prepared by the Hungry mountaineer
Easy hike
2 hours tour
($70 per person)

If you love a mountain sunset the way I do then book this hike today! I offer this hike about eighty percent of the year when the dirt road to get to the trailhead is not covered in snow. Transportation on the dirt road to the trailhead provided in my all-wheel-drive SUV. What's better than doing a short and easy hike to watch the sunset? Why if your hiking guide brings wine and gluten-free delicious snacks, of course! One bottle of wine, red or white is provided with booking, as well as gluten-free homemade cheese crackers for my guests.
The best-secluded swimming hole hike in southern California
Hiking to Deep Creek to swim in the summer months is one of my favorite things to do in our mountain communities. I, however, do not like the trash and crowds at our popular swimming holes. Luckily, the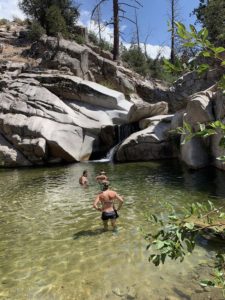 Hungry Mountaineer knows the best-hidden swimming holes located in the San Bernardino National Forest. From May until September these hidden swimming holes are a tranquil place to spend an afternoon. Book a guided hike to hidden Deep Creek pools today!
Moderate hike
2 hours tour
($40 a person)
All-day hiking tour to the top of San Gorgonio
Advanced hike,
10-14 hours hiking time depending on the speed of the group
($200 a person)
Hiking to the top of San Gorgonio is a tough and rewarding day on the trails of the San Gorgonio Wilderness. I'm an expert on the trails in this area and my guided up Vivian Creek Trail to the summit is not for the beginning hiker. This trek up into the forest contains some of the very best views you will find in southern California. It is a sixteen-mile round trip hike and usually takes all day, especially when you stop to take breaks and have lunch at the summit. Having a guide to accompany you on this trek is very helpful as I can advise you before the hike on the proper equipment to use, and the best foods to fuel your body. I also know where all the seasonal water sources are if you wish to pump water along the trek.

This is an all-day hike, meeting up just after sunrise and finishing the hike before sunset. Not only will your hiking guide lead you and your group on this hike but they will also offer advice on how to train for this hike to the top of this mountain, the tallest mountain in southern California at 11,503 feet. Summiting "Öld Greyback" is quite a challenge and having a hiking guide who has hiked these trails into the San Gorgonio Wilderness hundreds of times can make your day on the trail safer and more fun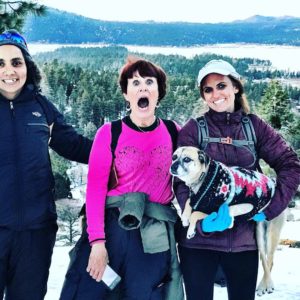 All inquiries about booking a hike please email
Looking for more fun activities in Big Bear Lake California? Check out Kayak.com
We love when our guests leave us reviews on TripAdvisor! To leave a review, click below.