In these times of Covid-19, everyone wants to escape Los Angeles and San Diego, the congested cities and go sledding in Big Bear Lake. But where can you possibly go that is away from the extremely crowded snow play areas? Where is a safe spot in the pristine wilderness that you can play in the snow with your family, let your dog run around in the snow and not be staring at other people's trash or be on private property? Let the Hungry Mountaineer nature and hiking guide bring you and your family to the perfect spot for pandemic safe hiking and snow play.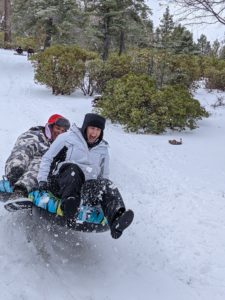 What's better than a snowy day playing in freshly fallen snow in the Big Bear Lake wilderness? If your adventure guide brings cocktails of course! Aside from being your nature guide on this trip into the best place for you and your family to play in the snow, I also provide Bailey's with coffee for the adults. Which is my favorite thing to drink while frolicking in the snow.
Our tour begins at a snowy place in the Big Bear Valley. This can be a different location based on how much snow we have on a particular day. Your nature guide will pick out the perfect spot to meet for the snow play experience the day before based on how much snow we have at the time. The spot for the snow play is an easy walk from the car and even families with very young children can easily do the walk to the snow play area. Depending on how much snow we have sometimes even a stroller can make it down the trail. I will take your group to a perfect scenic location for sledding in Big Bear Lake.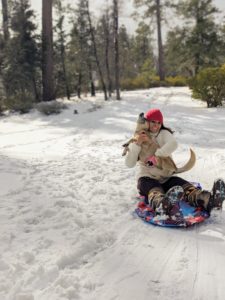 From there your hiking guide will guide you to one of the prettiest snowy wilderness areas for great family photos, a short snowy hike and snow play. All these places are a local's secret & for the most part not crowded. In these times of Covid, it's a safer alternative to crowded snow play areas with tons of tourists. The Hungry Mountaineer takes hygiene and Covid safety protocols seriously and is constantly using hand sanitizer. When equipment like snowshoes or hiking poles are loaned to my guests, all equipment is thoroughly sprayed with after use with Microban Sanitizing Spray.
A perfect family-friendly hike

There's a great little hike we can do to an amazing viewpoint to get snowy family photos to start the tour. It's about half a mile each way. Even families with kids as young as five can do this hike, if interested. Of course, some families just want to do sledding, snowmen building and snow play. That is fine too! We try to build the experience exactly to our guest's needs. From there I will show you some nice hills for sledding in Big Bear Lake and pretty areas for snow play.
I'll hang out with your group for an hour to an hour and a half to answer any questions you might have about the Big Bear area and show you the best places to play in the snow, take great photos with snowy views etc. My groups can always stay in the snow play area and play in the snow after the time is up (I just ask to please pack your trash out with you when you leave)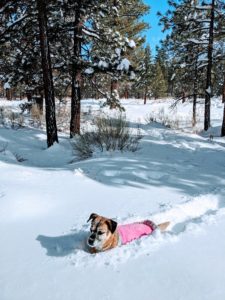 Dogs are always welcome on this hike.
Please bring your own sleds. I do not provide sleds as they often break. I also try to encourage groups not to share equipment for Covid, safety reasons.
As of 2/13, this is one of the last forestry areas, easy to walk to for families with young children for snow play & sledding. On the 13th, there is still snow at the easy snow hill. That being said, it did snow 2 weeks ago & there is still snow on the ground at the snow play area it is icy, not soft
If you are interested in having a photographer take family photos for you on this snow play hike adventure I do have a local photographer I work with who can take photographs for you and your family for an additional price.
What to bring for a day playing in the snow.

Gloves
Sleds
Water
Sunglasses (The sun reflects the light off the snow, it's very bright)
SPF sunscreen (If it is a sunny day you can get sunburnt much faster at over 7,000 feet and the snow also reflects the sunlight. If you are fair-skinned you will definitely get sunburnt)
This snow play experience is $35 a person. Kids under five are frees. Group rates are available. If requested I can provide one pair of men's snowshoes for the experience. I can also provide information on renting snowshoes locally. I can also offer hot chocolate for the group at an additional cost.
To book an experience please email [email protected]
Payment is via Venmo to Hungrymountaineer
The last four of the cell is 5568.