Boating Fun on the High Seas of Big Bear Lake
Boating on Big Bear Lake has to be one of my all-time favorite Big Bear activities. Our summers in Big Bear Lake are perfect for enjoying our 70,000-acre alpine lake. Days don't get much warmer then ninety degrees in the mountains of southern California and this is, to me, absolutely perfect boating weather. Boating on Big Bear Lake is a fun day for fishermen, swimmers or people who just want to relax out on the high seas of our awesome alpine-like.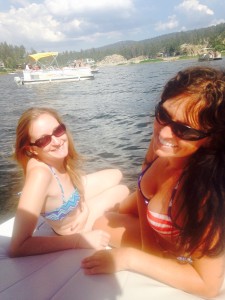 If visiting Big Bear in the summer months, your choices are to tow your boat up to Big Bear and launch it at one of our many marinas or rent a boat through many of our available boat rentals. If looking to rent a boat from one of the marinas always check out Groupon on ahead of time for the latest specials. If you plan to visit Big Bear for a holiday weekend, booking boat rentals ahead of time is always recommended. 200,000 people visit Big Bear Fourth of July weekend every year and most of the boat rentals book up very early.
The ins and out of boating on Big Bear Lake
With 70,000 acres of pristine mountain water, just where should you go for a day out on Big Bear Lake? My favorite way to enjoy a day of boating on Big Bear Lake is to go out early, right after seven and do some early morning trout fishing. Don't worry, we always bring some Bailey's and coffee. In the autumn months, the trout fishing is just fantastic and I like to bring my famous Pumpkin Spice White Russian. Don't imbibe in too many Bailey's and coffee though, even at early morning hours, our Big Bear Lake patrol is out doing their job, checking fishing permits, making sure kids under twelve are wearing life jackets and that no one is drinking too much on the lake to not be safe. The earlier you go out on the lake, the better chance you have to see bald eagles fishing in the a.m. hours, also.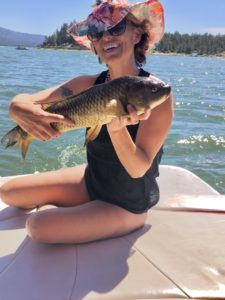 Even if fishing is not your relaxing sport of choice, the best way to really enjoy boating in Big Bear Lake is to pack a picnic lunch and a bunch of beers in your cooler and head out on the lake early. We have ten or so buoys on the west side of Big Bear Lake near the dam and on a Saturday or a Sunday morning, it is usually a race to get one of these buoys to hook up your boat and relax for the day. One great tip from a local when out boating on Big Bear is whatever SPF you usually wear, add twenty. You will get sunburned much faster while boating at altitude.
If there are no buoys available you can always dock up, carefully, close to the shoreline. If you dock your boat up closer to shore, the lake is not quite as chilly in the summer months and way more pleasant if you want to jump in and swim. The deeper areas near the dam can be pretty chilly for swimming, even in the heat of summer. Big Bear Lake does have one or two SS Reliefs for your urinating pleasure available throughout the summertime.
If you are not able to hook up to a buoy while out boating on Big Bear lake, anchoring up in Boulder Bay is also a great way to go. The giant grey boulders are just so beautiful This is one of our favorite bays in Big Bear Lake and we have spent many a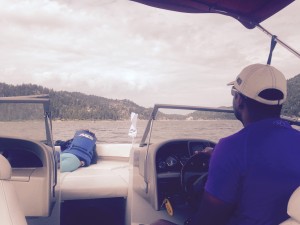 Saturday afternoon in July, reading, drinking Coronas, and listening to music in Boulder Bay.
Boat rentals on Big Bear Lake
Bringing your own boat to Big Bear can be a hassle. It is a long winding drive up to our mountain resorts at over six thousand feet and that can be hard on the engine of some older vehicles. Not to mention towing a boat up to Big Bear makes the drive take a lot longer. If you do tow your boat up to Big Bear and launch at one of our marinas, Big Bear Lake boating rules say your boat must be under twenty-six feet. Some larger pontoon boats are too big. If you are planning to tow your boat up to Big Bear Lake for some boating, always check with BBMWD ahead of time to find out all the boating rules and regulations.
If you want to rent a boat from any of the marinas in Big Bear Lake we have multiple marinas all over the lake with speed boats and pontoon boats available to rent. Most of the marinas in Big Bear also rent kayaks and paddleboards, which is a lot less expensive, much slower way to explore the lake and also get some easy cardio exercise at the same time. If you bring your own kayak with you to Big Bear for some Big Bear boating fun, make sure you get a lake permit ahead of time or lake patrol will definitely fine you. You can buy the lake permit at most marinas on Big Bear Lake or launch sites like East Launch.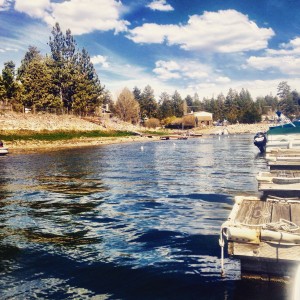 So many people come to Big Bear Lake not just for boating but for fishing as well. You could choose to rent a boat and go out fishing on your own or you can go on a guided fishing trip and try to catch the big one. Most of the marinas in Big Bear have guided fishing tours in the morning hours. Aside from fishing tours, we also have a pirate ship tour that leaves out of the Pine Knot Marina if you are looking for some family fun on the high seas of Big Bear Lake. A ninety-minute tour out on the Big Bear Queen is also a great way to go out boating on Big Bear Lake without having to tow a boat up or rent a boat of your own. The Big Bear Queen operates May through October.
Big Bear Lake is so close to most of southern California, it's so easy to visit our alpine lake for a quick day getaway.  When it's one hundred and ten degrees in August in the valley below the mountain hamlet of Big Bear, our small lakefront town is a quick and close vacation getaway with awesome open waters for boating.