I'll always remember the last week of September 2020 as so much noise; Planes and helicopters so loudly flying over our house all day and night as a massive wildfire roared through the mountains to the south of us. The wildfire was burning down one of our favorite mountain peaks to hike in the San Bernardino National Forest. Our RV was packed, the cat carriers were ready to go and we had a game plan in case the fire crossed the highway and we were evacuated at any moment. Life was beyond stressful and what with a forest fire raging and a dying feline on my hands nothing could make me feel better. Well, nothing except for a delicious gluten-free apple cake to shove at my face.
The air tankers planes were filling up in Big Bear Lake a few miles to the west of our home and as I sat out in the backyard with our favorite senior citizen feline through his last weekend with us the air traffic noise was deafening. Uncle Sy didn't give a fuck. The old silver bastard just wanted to know when he could have more chicken soup, CBD oil or bacon-flavored glucosamine. He would prowl around the backyard looking all of his seventeen cat years, looking pretty lost and that dumb dog of ours would constantly be trying to lick his whiskers. At seventeen years old Uncle Sy has decided he's too old to wash himself anymore so he has to put up with the asshole dog's shenanigans for one last weekend before we have to put our favorite grey cat to sleep on Monday.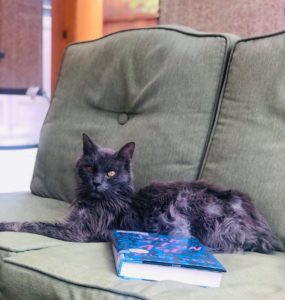 September twenty-first and we were just so thankful that the skies over Big Bear Lake were no longer grey and smoky and we could actually breathe again. All the forests surrounding us, including the San Bernardino National Forest, were closed because of all the wildfires threatening California. The asshole dog was very depressed as she couldn't go on a smoky forest hike for close to two weeks. She was taking out this aggression by pestering the poor old cat.
Life sounds pretty depressing, right? Filled with forest fires, smoky skies, and dying felines but wait! There is an apple cake! Thank God for cake in these crazy pandemic times and this is one hell of an autumn treat. We may be Stuck (Safe) At Home here in southern California but that gives us so much quality time with our pets (Some of who won't be here next week) and also time to work in the garden and wonder what on earth are we going to do with all these barrels of apples? Thank God for Apple Fritter Almond Cake.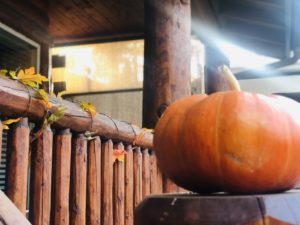 In a week that should feel like autumn but instead feels like smoky forest fires, sad cat deaths and one gassy dog, wouldn't you feel better with a whole gluten-free cake in front of you? Before you pinch your muffin top and think about that damned COVID-19 you put on since March, let me remind you; It is full of apples! And almonds!
Gluten-Free Apple Fritter Almond Cake
Nothing says fall like tree branches heavy with pink lady apples. This is one of my very favorite gluten-free fall treats. It goes great with morning coffee on a crisp autumn morning or a delightful dessert after dinner.

The best damn caramel apples
2 cups peeled and diced apples (I use Granny Smith or Pink Lady)
1/3 cup organic sugar
1/3 cup caramel
1 teaspoon cinnamon
2 tablespoons cornstarch
2 teaspoons water
1/2 cup dark brown sugar
For the delicious gluten-free apple cake layer
1/3 cup coconut oil
3/4 cups organic sugar
1/2 cup applesauce
1 teaspoon vanilla
2 eggs
1 3/4 cup almond flour
1/2 cup coconut flour
1 teaspoon baking powder
1 teaspoon baking soda
1/2 teaspoon salt
1 teaspoon cinnamon
1 teaspoon nutmeg
1 teaspoon ground cloves
1 cup Greek yogurt or sour cream
The tastiest donut glaze
2 cups powdered sugar
1/3 cup milk
1 teaspoon vanilla
For the apples
Cook the apples, sugar, cinnamon, caramel, cornstarch and water for about five minutes. Set aside to cool. Mix in the brown sugar and the cinnamon together and set aside. Preheat the oven to 350. Grease a 9×13 pan with coconut oil.
To make the best gluten-free cake that tastes like autumn ever
Cream the butter and sugar (As any good cake starts) Add the applesauce, vanilla and eggs. Combine the dry ingredients and then add the Greek yogurt or sour cream. Pour 1/2 the cake batter in the pan. Top with apple mixture and then the rest of the batter. Add the brown sugar mixture to the top. Bake the cake for 45 minutes to an hour until the cake is set. Turn the oven off and leave the cake in the oven. When baking gluten-free with a mixture of almond meal and coconut flour, it does take longer for things to bake. Turning off the oven and leaving the cake inside the oven is the best trick in my opinion.
While the oven is cooling, mix the powdered sugar milk and vanilla to make the glaze. Leave the cake cooling in the oven for an hour. Remove the cake from the oven. Poke about twenty holes in the top of the cake using a knife and pour the glaze over the top of the cake. Let the glaze set for twenty minutes and then serve.