Brap! The Best Mountain Bike Trails in Big Bear California
On a gorgeous spring day in the mountain town of Big Bear Lake, California, there are just miles of mountain single-track trails as far as the eye can see in the pine forest. Spring days in Big Bear Lake under the Jeffrey Pines bring highs of close to seventy degrees and this is truly heavenly weather for the southern California mountain biker. Mountain bike trails like Skyline reach from the Moonridge side of Big Bear all the way past Bluff Lake Reserve, over fifteen miles of dirt, sand, pinion pine cones and agitated squirrels who love to run across trails, later.
I've been mountain biking the trails here in Big Bear, California for the past three years. I started biking the dirt fire roads and Jeep trails on a used Huffy bike that showed up in our garage when I was eighteen. My dad swore it was my mountain bike, I swore he paid ten dollars for it at a yard sale. It barely had any brakes, the bike seat was so uncomfortable, it constantly had me walking like a cowboy just out of the saddle,  but that used cheap bike took me on my first few mountain biking tours in Big Bear Lake. I don't know how many miles I put on that crap bike before I bought my Cannondale mountain bike from Bear Valley Bikes three years ago. Now that I have the mountain bike of my dreams, I take her everywhere all over Big Bear. In the summertime, I even ride my mountain bike to run most of my errands. That is one thing I love about living in Big Bear Lake. Big Bear, California is so mountain bike-friendly. We have miles and miles of new mountain bike trails all over the Big Bear Valley.
Our trail maintenance crews really go the extra mile to keep our mountain bike trails well maintained and safe for the hundreds of mountain bikers who choose to vacation in Big Bear from April until the late autumn. Our trail crews are always working on ways to better our mountain biking community in Big Bear Lake.
The best mountain bike trails in Big Bear
Before hitting the mountain bike trails in Big Bear, you want to ask yourself how hard of a workout do I want? This is not mountain biking in the city and even the easiest trails are very steep. Having a mountain bike guide showing you the best trails is an excellent idea if you are visiting Big Bear from out of town. Mountain biking at over six-thousand feet is going to be a much harder workout then mountain biking at sea level. Your lungs have to work a lot harder at this elevation.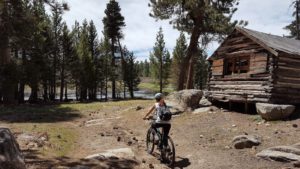 There are a ton of mountain bike trails in Big Bear near our two ski resorts, Snow Summit and Bear Mountain. If you a hardcore downhill mountain biker you probably want to bomb down some of the more intense ski runs at either of these resorts. The resorts have the ski lifts running in the summertime just for mountain bikers and the restaurants and bars are open at both resorts on the weekends. The city of Big Bear has maps of all the trails you can ride available at the Big Bear Discovery Center. There are also multiple signs posted all over the popular trails in Big Bear Lake that explain where single-track trails stop and start. This makes it so much easier not to get lost in the forest. If not going out with a mountain biking guide, I recommend always using Strava or Mapmyride apps while out mountain biking in an unknown area. I don't know how many times, when out mountain biking in Big Bear Lake, I have come across other bikers, completely lost.
My favorite time to go mountain biking in Big Bear Lake is at sunrise. If you go out mountain biking our trails at sunrise, yes you have to wear layers and dress warm but you have a better chance to see animals like deer, coyote or even Big Bear's wild donkeys. The best area in Big Bear to see animals while out mountain biking is behind Baldwin Lake from the Eye of God to Arrastre Creek Wash.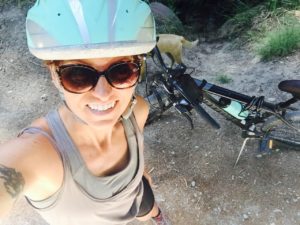 This is where the wild donkeys tend to graze and they are often hanging out by the single-track trails in the morning hours. There a ton of different mountain bike trails in the east end of Big Bear over here. If you want to go on a mountain bike ride in Big Bear, California and have a good chance of seeing the wild donkeys, going with a guide is advised.
If you did not bring your mountain bike with you on your trip to Big Bear Lake we have numerous shops that rent bikes very inexpensive. If you did bring your bike from home on your travels here to Big Bear if you have any issues with your mountain bike while in Big Bear, Bear Valley Bikes has fantastic cycologist working in their shop and they do a fantastic job of doing repairs safety.
Mountain biking is a fantastic way to get out and explore the mountain town of Big Bear Lake! With miles of trails from the north shore to Holcomb Valley and beyond, there are enough trails to keep even the hardcore bike-o-holic busy throughout the Big Bear Valley. If you do visit the Big Bear area for mountain biking there are multiple online biking groups in Big Bear if you want to go out with other mountain bikers, like Girls Gone Riding Bear.