The Hungry Mountaineer adventure guides are now offering exclusive one-on-one tours of Big Bear Lake forests. Join us on a scenic wilderness tour in an off-road vehicle in the company of a nature guide with over 25 years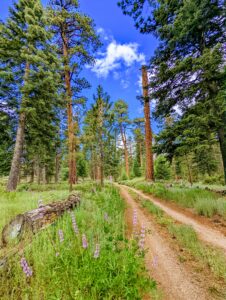 of experience exploring the dirt roads and hiking trails of this magnificent forest.
Create your own tailor-made itinerary or work with one of the Hungry Mountaineer's classic tours through the pines. Enjoy an off-road tour of some of the most scenic areas of Big Bear Lake. Your guide will stop at many points so you can take photos or hike around a bit if you prefer.
This outdoor nature experience includes a light lunch and drinks in a stunning forest location. We also offer a more substantial lunch menu featuring wholesome salads, homemade muffins and cookies. Please inquire about the seasonal menu if interested. Many vegan, keto and gluten-free choices are available. We are happy to work around dietary restrictions.
The tour lasts f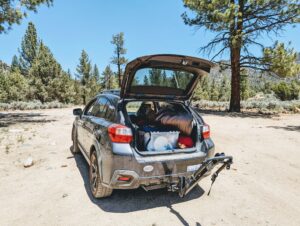 or three hours and can be upgraded to include a final stop for champagne as the sun sets over Big Bear Lake. A three-hour off-road tour with a lite lunch provided runs about $110 per person. The lunch menu is seasonal but usually includes something like cheese, crackers, salami, nuts and a lite desert such as home-baked muffins. Drink choices are water, lemonade, hot or iced tea, hot coffee or hot chocolate.
We are often asked if our outdoor experiences are dog-friendly. The off-road tour and all of our other are always pup-friendly! We do appreciate tips though if your dog is the shedding type.
For exact pricing, schedule and all other inquiries please email [email protected]