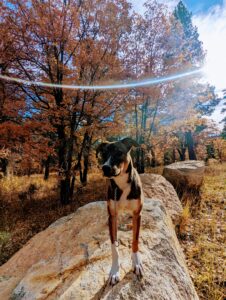 A year ago when we were on vacation in the eastern Sierras we had no idea that by the following springtime, we would own a puppy who was practically perfect in every way. (Or as perfect as a puppy can be for our lifestyle) Who knew as we scrolled through Petfinder and I swiped right on the cute Catahoula in Fallbrook California that this two-year-old pup would make our family so complete?
In a way, Luna was conceived in the Sierra. Last October as we relaxed after a full day of hiking shenanigans with our elderly vacation dog we began talking about searching for a new pup for our family. At New Shady Restaurant Campground in the fall of 2022, the idea of Luna was created. We figured out the exact type of pup that would be perfect for our active family. Now we just had to find her.
Luna the Catahoula has been in our lives now for almost a year. We celebrate her conception by returning to the Eastern Sierra Mountains of California where it all began. Whether it's at home in southern California alongside my mountain bike on an alpine-packed trail or trotting beside me here in the wilderness of the Eastern Sierra our vacation dog has found a forever home with our family. What a lucky pup!
We had no idea that the first pup we went to check out would be the one. So what does this steak sauce have to do with puppies? Well, this Black and Blue Huckleberry Steak Sauce is the one. You seriously do not need to ever make a different steak sauce in your life.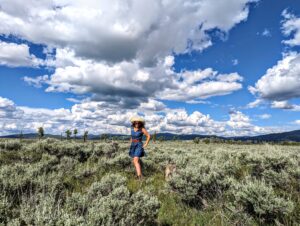 Months ago as we traveled through Jackson, Wyoming in our thirty-four-foot motorhome. Of course, we had to make a stop at The Gun Barrel for a game-filled dinner. We are conservative in this family. We have no issues with eating some delicious Bambi. However, I tend to usually go for a bison or elk steak. I had the best elk with Huckleberry Sauce I have ever had in my life at The Gun Barrel. Honestly, this may have been one of the best meals I have ever had. Before we left Wyoming, I just had to purchase some Huckleberry Jam at a gift store in Jackson. I knew I had to create my own Huckleberry Steak Sauce when I returned home to Southern California. (And I knew a Southern California staple, Point Reyes Blue Cheese would make it perfect!)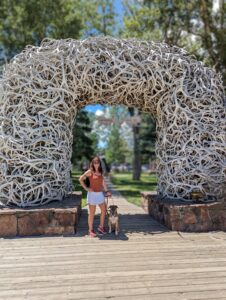 Huckleberry's may be in season during the heat of summertime but I think this delicious steak sauce with a side of elk is a great autumn meal. Serve this with a side of roasted acorn squash and you have one hell of a filling meal on a chilly autumn's eve.
This steak sauce is out of this world good with an elk backstrap but if you cannot find elk, go ahead and try it with a bison steak. I also highly recommend adding a dollop of Point Reyes blue cheese.
Black and Blue Huckleberry Steak Sauce
3/4 cups pinot noir
1/2 red onion
1 tablespoon olive oil
1 tablespoon bacon fat
1/2 teaspoon salt
1/2 teaspoon fresh cracked pepper
1/4 cup good quality blue cheese, crumbled
1 cup homemade stock, veal, beef or lamb preferred
2 teaspoons fresh ground thyme, chopped.
1/4 cup Huckleberry Jam
Slice the onion very thin and then cook very well in the oil and bacon fat. This should take ten to fifteen minutes to get the onion just right, a medium brown. Set the onion aside to cool. Add 2 tablespoons water to the onions and grind up in your Nutri-bullet. Return the onions to the saucepan with the wine, and thyme, salt and pepper. Let reduce for ten minutes on high. Mix in the veal stock.  Set to a low simmer and let reduce for thirty minutes. Mix in the Huckleberry Jam and let reduce for another ten minutes. Serve with Huckleberry Steak Sauce with an elk backstrap, bison rib eye or just your favorite barbequed bison steak.