Here in southern California, so close to the concrete jungle that is Los Angeles, everyone is trying to escape the cities this winter. Angelenos are driving to the nearby ski towns by the thousands, trying to escape from the germs and the pandemic and play in the snow with their families. Big Bear Lake is always a popular vacation destination in the snowy winter months but this year especially when it's easy to plan a family escape to a cozy cabin But where do you go for snow play in Big Bear Lake? Finding a safe place for your kids to play in the snow during a pandemic is not easy. Big Bear Lake California was blessed with sixteen inches of snow at the beginning of November and cooler temperatures throughout the late autumn have meant that some areas of the forest still have enough snow for family sledding adventures. So where do you go to play in the snow with your family this December? Hiring a hiking guide and booking a snow play experience is the best way to have a safe family fun-filled time in the wilderness.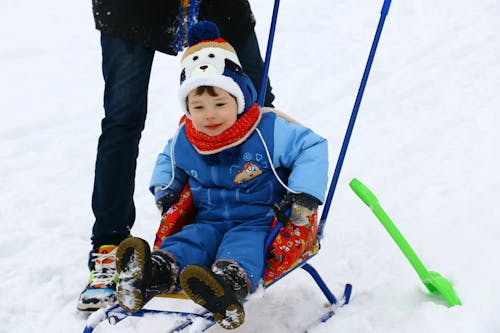 While on your drive to Big Bear Lake you might notice many tourists sledding on the sides of our mountain busy highways. This a very unsafe way to enjoy the snow. Not only that but the highway traffic is very loud, the other tourists seem to leave mounds of trash and broken sleds behind and the whole experience is not zen-like whatsoever. The best way to experience snow play in Big Bear Lake is to get out in the wilderness. But where exactly do you go? This is a very popular question here in Big Bear Lake for our visiting tourists. Lots of families are planning trips to Big Bear this winter but what are the best things to do in Big Bear for family fun? Taking your family out to play in the snow has to be at the top of that list.
When I was a kid growing up in the nineties near Big Bear Lake, California it was easy to find a safe place to get outside and play in the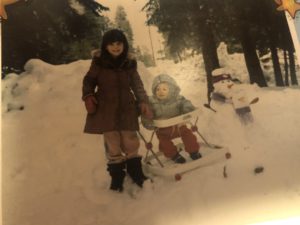 snow. My parents would hand us kid's sleds and tell us to come back when it got dark. We would run inside hours later just as the sun was setting, soaked to the bone, faces wind burnt, happy and full of all the stories of our days building snow castles and sledding racetracks in the forest. That was the eighties, a time when it was safe for kids to play outside all day without constant adult supervision. All the neighborhood kids would sled down our icy street or build snow racetracks to sled down after yet another four feet of fresh snow fell in our mountain wilderness.
This was the eighties in Big Bear Lake California, a much different time. This was a whole thirty years before the COVID19 pandemic. The scariest things we had to worry about were eighties fashion and if mom was cooking Spam for dinner. Here we are in the year 2020 and our mountain resort towns have changed a lot for the vacationing traveler. We now have an awesome snow play sledding area in Big Bear Lake as well as the Alpine Slide. There is so much fun for the whole family! What is not fun is all the germs lying in wait at these uber crowded tourist destinations. Every weekend there are thousands of tourists packed into the Alpine Slide property shoulder to shoulder, not six feet apart. If you are looking for safe for the whole family snow play in Big Bear Lake booking an experience through The Hungry Mountaineer is a great way for the family to enjoy the snow; Without being in the vicinity of all these strangers and their germs. I'm sure the Alpine Slide does their very best to sanitize their equipment but they are just so crazy busy on the weekends. I don't see how they can be doing it safely.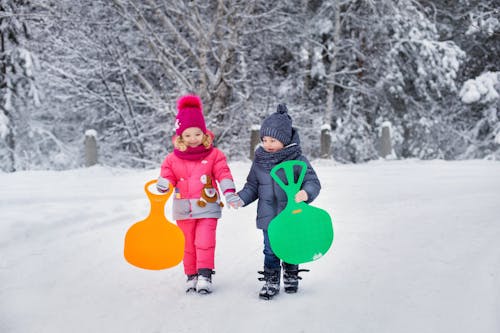 A Hidden Gem Snow Play in Big Bear Lake
The snow may be slowly melting around Big Bear Lake but with suggestions from a friendly hiking guide like The Hungry Mountaineer, your family can have a zen morning of forest fun. You and your loved ones can enjoy sledding, snowman building and even hot adult beverages are included in this package! Nothing says snowy mountain fun like sipping on a warm Baileys Irish Cream blended with coffee provided by your hiking guide, while the kids are sledding.
The Hungry Mountaineer hiking guide knows all the best places to go play in the snow with your family while on holiday in Big Bear Lake. She is out trekking trails nearly every day this winter finding the best sledding hills, the freshest snow and the best lakeview points. The hikes to some of the lake viewpoints are so easy, about a mile hike round trip. Even kids as young as six can go on this part of the hike! These viewpoints make for some epic snowy family photo moments.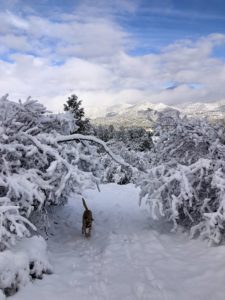 Even man's best friend loves our Hungry Mountaineer snow play experience! If you have dogs going on a snow play Big Bear Lake experience is the best way for your pup to be off-leash enjoying the fresh snow. Interested in a longer snow hike? Book a very scenic snow hike or snowshoe hike here! Snow hikes available from two hour easy hikes to harder half-day snowshoe excursions.
Let's face it; 2020 is a rough year and most families I know want to get away from the tourist-filled public places. Booking a snow play experience in Big Bear Lake is such a fun way for the entire family, Fido included to lay in some of the most scenic snowy places Big Bear has to offer.
Want more information? Email [email protected] for more details. Payments can be made via Venmo for reservations.