A Locals Tour; Airbnb Experiences in Big Bear California
Airbnb experiences in Big Bear, California might be a new adventure idea to most travelers. When I tell friends and family that I am a hiking guide in Big Bear, California through Airbnb Experiences, most people ask, what the hell is that. There are so many apps like Rover, Uber, Instacart and Wags these days to help people make some cash with their side hustle. Airbnb experiences in Big Bear is another one of these great apps you simply download to your iPhone and sign up as a host to make some extra cash doing whatever you excel at. For me, that is being the best hiking guide in Big Bear Lake California. If you happen to book an Airbnb stay for any area, you will notices before your trip on the best Airbnb experiences in the area you have booked.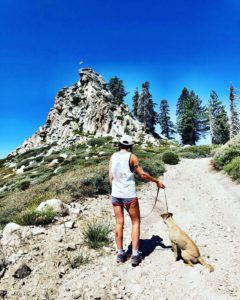 Airbnb experiences are a new endeavor begun by the creative team at Airbnb about a year and a half ago. It's a new concept to a lot of people but a great way to explore a vacation town with a local by your side. I honestly so wish this app experience had been available years ago when I was younger, exploring Alaska in my early twenties or when we road-tripped across Wyoming and Montana a few years ago in our RV. Going on a hike, a fly fishing excursion or a guided mountain bike ride with a local is something I personally would have paid good money to enjoy. That's why I brought my personal skill set to Airbnb experiences in Big Bear, California.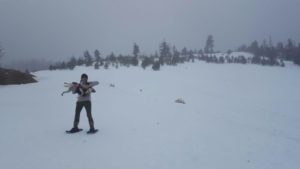 If you have never been to Big Bear Lake before, maybe you don't know what things locals do for fun in this ski town. Yes, skiing and snowboarding are the bread and butter for our mountain resort but there are actually more things to do in Big Bear once you remove your skis. When I created my Airbnb experiences in Big Bear I wanted to host events that showcase all my favorite things to do in our mountain hamlet. I've lived in the San Bernardino Mountains my entire life and every free moment I have finds me outdoors in this alpine forest; Hiking, mountain biking, trout fishing or kayaking. And you all thought Big Bear was just a ski resort! Take my word on it; The absolute best way to experience all the fun that Big Bear has to offer is to go out with a local. Thanks to Airbnb's experiences in Big Bear you can join a local for a day of fun.
Airbnb Experiences on the trails of Big Bear Lake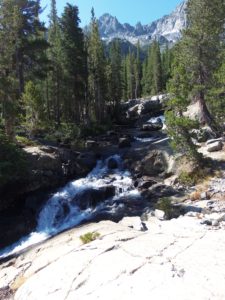 Booking a hiking tour through Airbnb experiences Big Bear Lake is the best way to get a local guide's opinion on the best hikes this alpine town has to offer. A good hiking guide knows the local flora and fauna of the local area and shares all this knowledge with the guest who booked the hike. I have been hiking the trails of the San Bernardino Mountains basically since I was twelve years old. Once I was old enough to drive myself to different trailheads, I made my way to Big Bear and by the time I was thirty I knew, seemingly, every hike between Big Bear Lake to Crestline. Joining the Airbnb experience in Big Bear Lake was easy for me as being a hiking guide, sharing all my favorite trails, comes naturally to me. I love showing our mountain visitors my favorite trails like a sunset tour of Snow Forest with the awesome lake views or my favorite wildflower hike in Big Bear Lake. One of my all-time Airbnb experiences in Big Bear is my Deep Creek swimming hole tour in the summertime. That is one of my favorite natural areas in the San Bernardino Mountains.
Other Airbnb experiences in Big Bear
I am not the only host in Big Bear Lake through Airbnb Experience but I am one of just a few. Another super unique Airbnb experience via Big Bear, California is an afternoon of coffee tasting with the gal who started Catalina Coffee Roasting. What better to do at over 6,000 feet but try loads of unique coffee drinks in a beautiful setting?
There is also another Airbnb experience in Big Bear where a dude takes you fly-fishing on the Santa Ana River. (He even includes all the equipment you need!) Fly fishing seems so difficult to me and I feel like this would be a fun day out in the mountains if you were visiting Big Bear for the first time.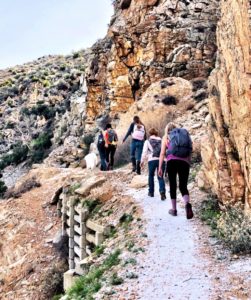 If you feel like taking a little drive from Big Bear Lake to Lake Arrowhead, take a hiking tour to the Deep Creek Hot Springs! The hike to the Deep Creek hot springs is not that advanced of a hike but the trail system is a bit convoluted and hard to find f you do not know the area well. Going with a hiking guide is definitely recommended in my opinion. My sister in law runs this experience through Airbnb and she took me here for the first time last year. Even being the expert hiker that I am in the San Bernardino Mountains, I feel like I would have had a hard time finding the hot springs on my own.
At this time VRBO does not offer any VRBO experiences although they tend to mimic Airbnb's moves so I would expect VRBO experiences to become a popular venture in the next year or so.
Planning a trip for you and your family to the local mountains in the near future? Airbnb experiences in Big Bear California is such a great vacation idea for the whole family. Hosts can cater to your experience for familiar for the most part. I always encourage my guests to bring dogs to my Airbnb experiences in Big Bear Lake. I have so many guests book with me, just because they are coming to Big Bear with their pup and have no idea what to do while on vacation with a dog in Big Bear. There is more to do in Big Bear Lake then you might think. Book an Airbnb experience and have a friendly host take you all over our awesome community and show you all the fun that Big Bear Lake holds.