I just spent a week in Jackson Wyoming hiking some of the most scenic wilderness this side of the Tetons. Obviously, I did all those treks wearing my favorite of my most cherished sustainable fashion finds. As a devotee to everything the outdoors, nature and this lovely planet of ours of course I try to curb my carbon footprint as much as possible when I can. I'm a big fan of recycled fashion and thrift shop shenanigans are one of my favorite hobbies, whether I'm at home in south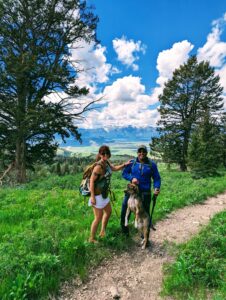 ern California or road-tripping across the country.
Of course, being that it is bougie Jackson Hole, Wyoming and such an extravagant place, I found myself shoulder to shoulder on single-track trails with other trekkers decked out in brand new looking Lulu Lemon leggings and three hundred dollar hiking pants straight off the shelves of REI. This is Jackson, Wyoming after all, part-time home to celebrities such as Kim Kardashian, Harrison Ford and Sandra Bullock who I'm sure go for a trek wearing the newest in Fjallraven women's hiking trousers. ($300 and up for a pair of pants, seriously.) No, thank you. I'll keep thrift store shopping and paying it forward with my recycled fashion finds.
So was I wearing three hundred dollar trekking pants when my Jeep was powering through the mud up Curtis Canyon and I had to wade through brown slop to spot-check the front end? Um no, actually the dirty hippie/ camper in me was all decked out in my secondhand beloved white running skort.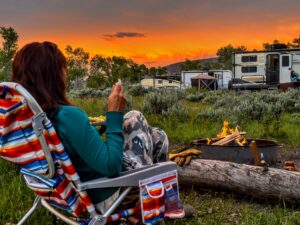 Little did I know that this five-day pit stop in Jackson Montana would be the only time I would whip out my cherished thrift store coat I purchased from Mulligan's the second-hand shop in my hometown. (A place I'm obsessed with and I sell my gently-used treasures to them all the time) for months. We were headed east and south into the wet hot mouth of humidity these folks call summertime. Jackson Hole was a fantastic five-day stop-over. I really enjoyed actually being cold by the campfire. Looking back right now I remember cold summer rain and thunderstorms. Actually feeling cold feels so long ago.
When it's too hot to hike…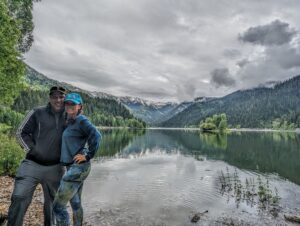 What is the happy hiker to do when it's just too damn hot to hike? I personally can not sit on my ass all day even in this oppressive southern heat. So off to a thrift store in Memphis Tennesse, I went. Oh, and you better believe I was bitching and complaining under my breath. If it is late July, I should not be hiding from that hot red ball of hate in western Tennessee. I should be hiking to a back-country lake in the mountains of the west! The humidity of the south has been so oppressive for the last two weeks, I just have to say I have no desire to hike whatsoever. The hiker in me is a little lost in the heat and humidity of the south in the summertime. Even walking the puppy around the campsite I am sweating like a whore in church. So thank God for all those memories of how nice and temperate the weather once was on the west coast. And I'm officially ready to head back to the west coast now and not sweat so much. One more reason why for me it works out to buy recycled fashion t-shirts is my white t-shirts get so unbelievably sweat-stained in the summertime. It seems nutty to spend fifty dollars on a new white t-shirt just to sweat through it, get motorhome grease on it or ghee stains when I am slaving over a Kerala Style Meatball Curry.
This summer of traveling all over the United States and one Canadian Province has taught me that damn do we have it good in the West. I mean, we may not have fireflies but we also don't have eighty to ninety percent humidity. I love the conservative values of the South. I love how they are not afraid to play that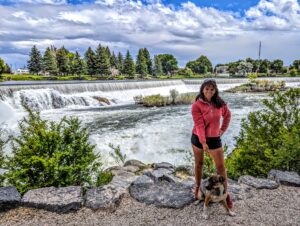 one blastema Jason Aldean song on country radio. I love that they respect their police force and law enforcement out here. And yes I love all the small-town thrift stores I have waltzed into on both sides of the Mississippi. Without all that ten miles plus of hiking a day, my ass has definitely grown larger on this holiday across the country. Thank God for sustainable recycled fashion finds like gently used mu-mus! Yes, recycled fashion thrift store finds to the rescue once again!
The best little steakhouse in Jackson
So you know you have to wear your favorite gently used prairie girl dress if you are going out for elk dinner in Jackson Hole, Wyoming. And of course, those vintage cowboy boots you purchased at that thrift store in So Cali back in May. No joke, I wore these vintage cowboy boots every day for the first month of this trip and they finally fell apart in my hands as we crossed the Canadian border, eh.
You know what they say, the West wasn't won on salad! So when traveling through Jackson Wyoming you have to indulge at the best steakhouse in town. Of course, only tourists from southern California would order the beef tenderloin. The absolute star of the show at Gun Barrel in Jackson was the elk tenderloin with the huckleberry red wine reduction. This h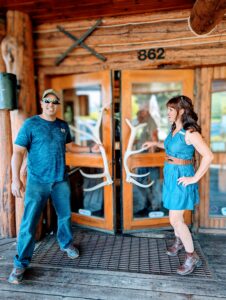 as convinced me, that I need to buy some huckleberries while I am here and I need to create my own huckleberry reduction.
I guess I need to somehow find a way to purchase some elk when I get back to southern California. This is another reason I have to thrift shop! This road trip across America has me addicted to elk steaks and they are forty dollars a pound to have them shipped to my home in southern California! This recycled fashion lifestyle keeps me in vintage cowgirl dresses and all the elk and bison a girl from southern California can afford.