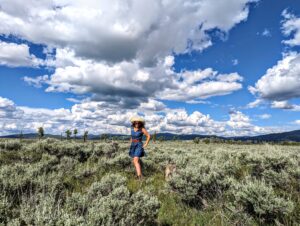 This late July, our family drove close to 8,000 miles just so I could shop at some of the best thrift stores in North America. Okay, actually we planned a cross-country road trip full of family reunions, and meet-ups with long-lost friends. And obviously, there were stops at numerous Thoroughbred racetracks across the country. We had a lot of adventures and hi-jinks on this cross-country road trip but the thrift store shopping opportunities across the United States and Canada were one of the highlights for myself.
Most vacationers and travel bloggers don't come back from holiday with a brand-new recycled wardrobe but that is one perk to traveling in a motorhome. I don't pay extra cash to airlines when my suitcases are overweight. I don't have to jam all those holiday clothing finds into my suitcase and pray it will zip. On this cross-country journey of ours, we also ran into some terribly hot and humid weather. This right here made it very hard for the outdoor hiker in me to hit the trails and get a workout. So exploring the best thrift stores in North America gave me another summertime pastime indoors where there was air conditioning.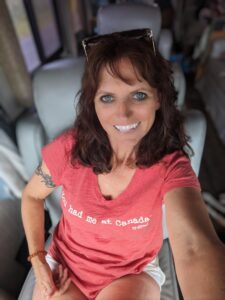 Are you also a fan of sustainable fashion? Do you just love the fun of thrift stores? Are you also traveling cross-country in a thirty-four-foot motorhome? Might you be searching for an air-conditioned pastime when it's too damn hot to hike in the summertime in Tennessee? Exploring some of the best thrift stores in North America is a great summertime hobby.
From sea to shining sea and even up north to Canda eh, north American thrift stores are full of recycled treasures. Thrifting is a fantastic way to bring home unique gifts and souvenirs from your holiday also. While traveling through Torotn I came away with so many amazing Canada souvenirs and paid thrift store prices for them! I even was lucky enough to score this awesome shirt at a southern California thrift store to wear as we were driving into Canada near Lake Superior!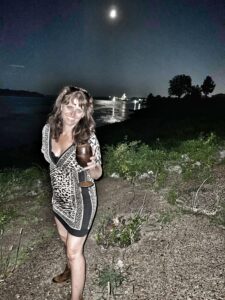 Airbnb experience thrifting tours are a fantastic way to see a city you might not know well. There is a fantastic thrifting tour you can do in Chicago. Thrifting tours are available all across America via Airbnb Experiences and believe me, it's worth every penny to go thrifting with a local host! Some more bohemian cities can have a lot of thrift stores. Some of them can be gritty, almost like estate sales and just have so much, well junk to sift through. You could waste a lot of time in these places, or you could find vintage jewelry! Different thrifters have different priorities.
Wherever you are on holiday this summertime you can probably find a great thrift store with sustainable fashion treasures. But maybe you are a bit lost thrift store shopping out of your home town. Did you know you can find a thrift store vintage buyer so easily through Airbnb Experiences? Traveling through Austin this summer? OMG, Becky! Go on this amazing thrift store tour! Are you in Austin looking for that perfect pair of vintage cowboy boots? Look no further.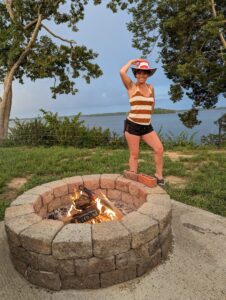 The best of southern California thrifting
Who really wants to go to Disneyland when you could go thrift store shopping? No seriously, I would rather thrift than hang out with Mickey and Minnie Mouse. Yes, Orange County California is so well known for Disneyland but did you know less than twenty miles from Mickey Mouse himself is a Goodwill Boutique store? The Goodwill Boutique is in Tustin, Califonia and totally worth a stop in between all those other touristy things. This is a great way to find souvenirs to take back home with you from southern California. Why pay twenty dollars for a hat or So Cal coffee mug when you can find something even cuter at a local thrift store for such a fraction of the cost?
My favorite secondhand clothing store of all time is Savers in Orange County. Ask anyone who knows me; I'm kind of obsessed with Savers. I find so many treasures in this mega clothing thrift store. They have locations from Yorba Linda to La Miranda to Fountain Valley and beyond.
Sustainable Fashion in Southern California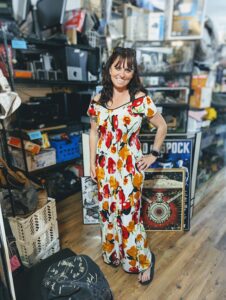 If you are a friend of sustainable fashion and you happen to be in southern California, find your way to Yucca Valley in the winter months. Forget Joshua Tree National Park or all those hot springs day spas. Unwind with a morning of thrift store shopping shenanigans instead. Yucca Valley may only have a population of 20,000 hippies but they also have ten to fifteen amazing thrift stores.
Angel View Resale Store had to be my favorite for trendy recycled fashion without breaking the bank. If you happen to find yourself sweating in the desert of southern California, they have locations all around from Hemet to La Quinta and beyond!
You have to check out New Day Thrift off of the Palm's Highway. They are not open on Sundays, just a heads up.
Unity Home Thrift is a great little thrift store with lots of clothes. When you shop here the proceeds go to end domestic violence. This is one reason I adore thrifting. Instead of contributing my paycheck to big box corporations, I am helping the world to be a better place when I shop at thrift stores like this, or Salvation Army or the Goodwill. Unity Home Thrift is closed on Mondays, just an FYI.
Even in the small towns of North America, yes you can find amazing thrift stores! My hometown of Big Bear Lake, California now has a used sporting goods and clothing store! One more reason to love this rural ski town in the mountains of southern California. Mulligans Sporting Goods is a cute little store with tons of women's clothing. They even have kid's stuff. They have a great selection of used sporting goods from mountain bikes to camping supplies and life jackets. This week I was desperate for two used life jackets to stow on my kayaks. I found two for a dollar each at Mulligan's! This is why I adore thrift store shopping!
Thrifting in Canada Eh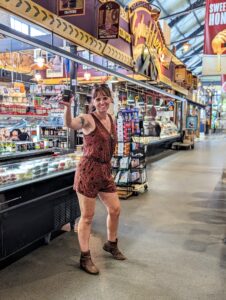 Toronto has to be one of my least favorite cities to visit of all time. The traffic, oh that Toronto traffic. Honestly, I had twenty different thrift stores in Toronto I wanted to explore in our ten days spent in Toronto, Ontario. The traffic was so God-awful that I ended up mostly just shopping at Value Village, for second-hand used treasures. Did I find some treasures during my twelve different visits to different Value Villages all over Toronto? OMG, did I! I walked out of Value Village's different locations across the city with so many skorts, rompers and summertime sundresses. By the time we were at the border crossing to get back to upstate New York, my motorhome closet was stocked up for the summer ahead.
Oh Mama, go to Dollarama
Okay, Dollarama is not a thrift store. It's Canada's version of Dollar Tree. But if you find yourself in Toronto, you just have to check out this dollar store. I bought so many inexpensive Canadian souvenirs. I bought Canada umbrellas for our rainy adventures at Saratoga Race Track the next week.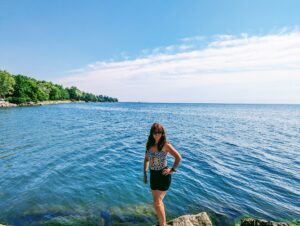 I bought awesome Canada rain slickers, also for Saratoga Race Track, just in case. These Canada rain slickers would also come in useful for my hiker's backpacks.
Keychains, coffee mugs, Canada fridge magnets, Dollarama has it all! My favorite Dollarama tourist find was chocolate Loonies. Loonies are the Canadian version of the dollar. Dollarama has over 1,300 locations all over Canada and they are just an awesome place to shop for all kinds of needs. I also bought my puppy the best dog toys eva here. No, seriously I will have to have our Canadian family mail us fifteen more Chubby Chicken chew toys.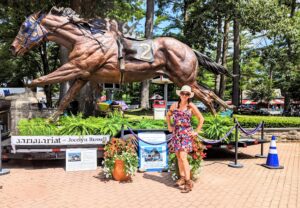 The Chubby Chicken Sandwich seems to be unique to Canada A& W. We came across A& W everywhere in Ontario. We hardly ever see them in southern California where we live. We also saw billboards advertising the seasonal Chubby Chicken Sandwich everywhere in Canada. Those Canadians they sure love their Chubby Chickens! Many Chubby Chicken jokes were made before we discovered the Chubby Chicken Best Dog Chew Toy ever.
We did make it to Kensington Market the one day we explored an incredibly hot and humid downtown Toronto but we didn't have time to make it to Vintage Depot. Next time! This thrift store is supposed to be awesome. I also hoped to make it to Double Take but man, the traffic was just so bad. I couldn't do every touristy thing we wanted to do. And to me, touristy things mean thrift shopping in towns all across America. Two weeks in the heat, humidity and traffic of Toronto was more than enough and thank God we were headed back to the good ol U.S. of A. And more thrift store delights!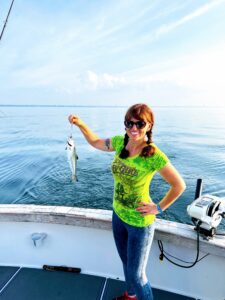 The best thrift stores in Nashville y'all
By the time we reached the heat and humidity of Nashville six weeks into our road trip, I was so over cross-country travel. The adventures of the road and discovering America were epic but the heat and humidity were not letting me live my best life. I was so over-sweating but I was still in the mood to go thrift store shopping in the air conditioning. Luckily for me and all my thrift store needs Nashville is an absolutely awesome place to go thrift store shopping. You wouldn't believe how many tiny little thrift stores there are in Nashville! Thrift Smart is a chain with multiple locations across Nashville.
Walking in here, you wouldn't even know this is a thrift store! Number one, it does not smell like a bag of farts. One thing about thrift store shopping, most thrift stores smell absolutely nasty. As soon as I walked into Thrift Smart, I noticed the store actually smelled nice. Let's face it as a shopper, I want to spend more time shopping here if the shop doesn't smell like an old man's butt.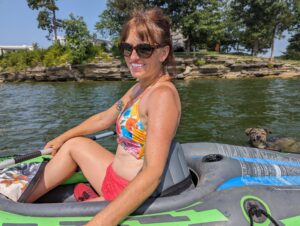 As soon as I got down to hardcore thrift shopping at Thrift Smart and picked out a pair of vintage cowboy boots that are so Nashville and exactly what I was looking for, I realized that there was Christian music playing from the speakers of the thrift store. That made me feel really good about spending my hard-earned money at this business. I come from Southern California. Even the grocery store plays rap music. Family values, my ass. Not anywhere near southern California. Here we are this week in a world where Jason Aldean's conservative country music is making national news.
Everywhere I go throughout the South I hear Try That In A Small Town on country radio. Of course, I've been spending my time in a lot of truck stops where that is probably the kind of music you would expect to hear, but people in the South actually seem to have Southern values. Here in Tennessee, Christian music is being played in a business without all the employees or customers getting uppity about their feelings. This uplifting music just really put me in the mood for some good old thrift shopping and Thrift Mart totally delivered. I walked in there looking for a pair of country cowboy boots that were comfortable to walk in and to bring back as a souvenir from my trip to Nashville. My thrift store cowboy boots that I had brought with me on this vacation gave up the ghost after the first three weeks of wearing them absolutely non-stop. So I was in desperate need of a new pair of cowboy boots and Thrift Mart totally hit the mark.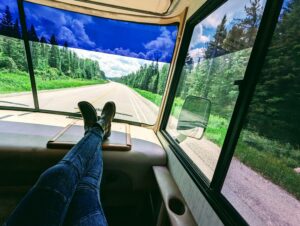 After Thrift Smart, I drove a few miles down the road to Southern Thrift. Southern Thrift also had some good finds but you definitely had to take your time and sift through the crap. You know, like a regular thrift store. I did find a few awesome sun dresses here and they were all four dollars. Yea!
If you are a thrifty shopper like I am you may be on the hunt for the best thrift stores in North America t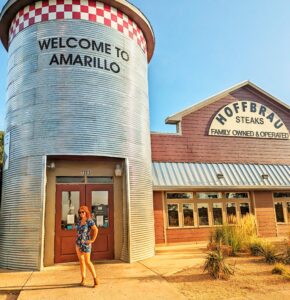 his summertime. Embracing recycled fashion is such a fun hobby and you are helping keep all that fast fashion out of landfills! Making sustainable fashion choices makes me feel good about how I am spending my paycheck. And I love the shopping aspect that what I am purchasing is not the same trendy fashion everyone else is wearing in 2023.