A Bad Day Fishing in Big Bear is Better than a Good Day at Anything Else
I met my boyfriend fishing on Big Bear Lake. You can say I caught the prize fish that day, but that might be odd. What I did catch that day, on a speedboat while trolling Big Bear Lake, were two of the biggest trout fish I have ever seen caught on our lake. Was it love at first sight or just a crazy fishermen's tale? You decide.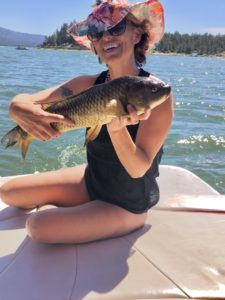 Fishing in Big Bear, California is one of the best ways to spend a day in this mountain town between when they open and begin stocking the lake in April and the end of the fall. I truly do not know peace unless I have a fishing pole in my hand, on a high alpine lake and maybe a few beers in the ice chest. Fishing in Big Bear, California can easily be my peaceful happy place. A day spent fishing in Big Bear, California is an easy day road trip from Los Angeles. It is less than a two-hour drive from most Los Angeles concrete jungle suburbs, to the alpine forests of Big Bear Lake. The fresh pine-scented air is so close, can you almost smell it? Or at least the strong odor of fish gu on your hands?
Nothing makes a fish bigger than almost being caught
There are two easy ways to enjoy a day of fishing in Big Bear, California. Either shore fishing or trolling Big Bear Lake in a boat, both are a full days worth of fun in the beautiful natural San Bernardino Mountains. The best shore fishing spots in Big Bear tend to be anywhere near one of the inlets or near the dam on the Fawnskin side. I personally love shore fishing near the dam because it's just a gorgeous spot and not too windy. If I choose to fish here mid-week, there tend to not be a lot of other people fishing at Big Bear Lake those days and my dog can more or less just hang out on the beach with me. Weekends are different though and tend to get very busy for shore fishing. If you bring your favorite pup with you to fish on the north shore near Fawnskin, expect to run into many other fishermen there and some may have dogs. If you bring your pup with you, having something to leash them to is ideal. June 6th and 7th 2020 is Big Bear's 50,000 fishing derby and that weekend the fishing community goes crazy in Big Bear Lake. The talk all over town is who caught the biggest trout. The best shore fishing spots in Big Bear will be claimed at daybreak on both of these days. If you plan on heading to Big Bear for the trout derby, make a plan weeks ahead of time. Get to the lakeshore before dawn, pack some hot coffee, water and picnic lunches for the day and be ready to get serious about shore fishing.

It's better to sit in a boat thinking about God, than to sit in a church thinking about fishing
If you have a boat or are renting a boat, trolling Big Bear Lake is a great way to be successful catching fish. My now boyfriend took me out trolling on Big Bear Lake on my first date and that is when we caught the fish of a lifetime. Within one hour I caught two massive trout. I also caught a hundred and eighty-pound Anglo-Indian fishermen that day and I have not thrown him back since. If you go out trolling on Big Bear Lake, you may not find the love of your life but hopefully, you will find some delicious trout or bass. We usually use fresh night crawlers to have the best luck. If live bait is not preferred, then something like a ned rig can also be used to catch some black bass. I personally believe that the best time to fish is when there is not a full moon (You know those old fishermen's myths) and as early in the a.m. hours as you can make it out to the docks. We seem to have the best luck fishing, for the most part in the autumn when the water is just a little bit cooler. The trout triangle near the west side of the lake is one of our favorite areas we try to fish.
A big hint for fishing in Big Bear Lake! The bald eagles know where all the fish are! If you see bald eagles fishing in the morning hours, keep an eye on where they are catching the fish. These are the hot spots!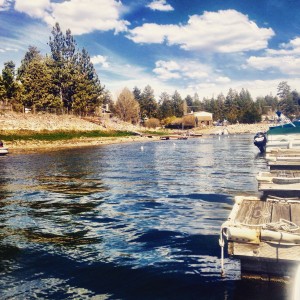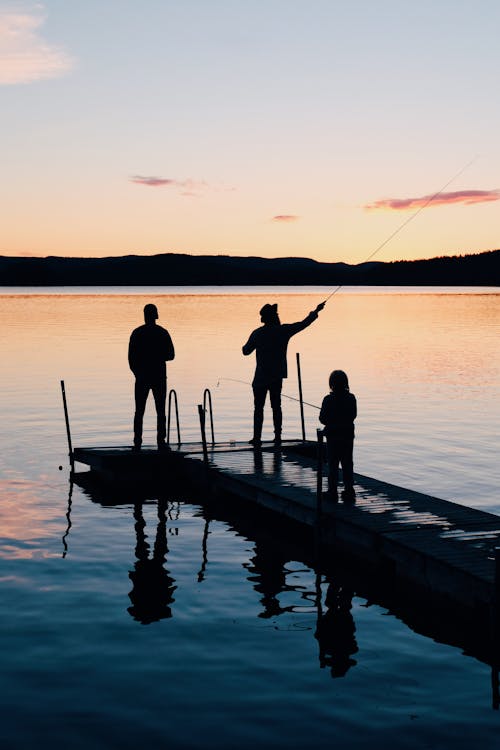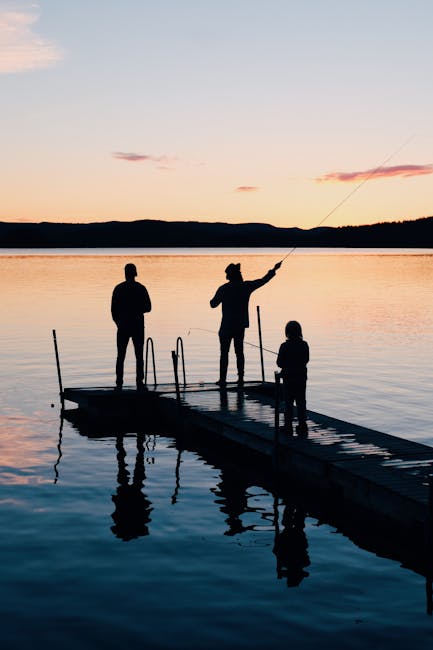 The best areas to fish in Big Bear can change by the day and by the season. If it's too hot in July or August, the fishing in Big Bear Lake might not be the best. When that happens we tend to spend our hot summer days swimming in the lake instead of fishing. Both are super fun on a hot summer day! Looking for advice on where the fish are biting and with what bait? Before heading out to the lake for a day of fishing, stop by any of our marinas or bait shops in Big Bear if you want advice on what bait to use on that particular day. If you really want to get serious about catching fish on Big Bear Lake go out with a fishing charter. Going out with the experts is honestly the best way to have a successful day out fishing in Big Bear Lake.
Fishing in Big Bear at sunset is the perfect way to end a summer's day in this rustic alpine resort town. The sunsets on Big Bear Lake are just fantastic, the sky truly explodes with colors and this is when you can see the reflection of the fish jumping out of the water. It's so tempting to any fisherman. Summer evenings tend to stay warm far after the sun goes down behind the mountains and the fish love to bite in the evening hours. Before you head back down to the cities, the traffic and the smog below the mountain communities spend just one last sunset lakeside with a fishing pole in your hand on the shores of Big Bear Lake.