Why am I spinning through the autumn oak leaves in my brand-new to me, thrift store workout skirt? Why have I been throwing bunches of freshly fallen leaves in the air daily? And why exactly have I been walking my cat on a leash around the neighborhood? The neighbors may be wondering why do I always have that selfie stick in my hand?
Am I having a mental break or did I just give in to even more social media in my life? The travel blogger and small business owner in me hates to admit it but I gave in to the darkside.
Yes, you guessed it. I gave in. I TikTok now.
I learned how to TikTok last week. I didn't want to. Lord knows I have enough social media in my life. But my girlfriend who is also a small business owner convinced me what my small business is missing is the TikTok. So here I find myself deep into autumn, trying to hashtag pumpkin spice latte as much as possible and also trying to get creative, very creative with everything autumn. I mean let's face it; Autumn is the very best weather to get out and go for a hike. Becoming Big Bear Lake's most sought-after hiking guide means I am often out on the trails all October long, trekking through fallen leaves and now trying to get creative with leaves, my selfie stick and Tiktok.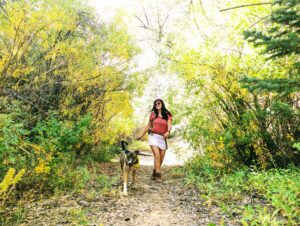 After a full morning of leading hiking tours through fields of freshly fallen autumn leaves and then losing hours of my day as I fell down the rabbit hole that is the TikTok, perhaps I needed an afternoon coffee by the time 2 p.m. rolled around. Thank the Lord I had extra homemade toffee sauce from the other day when I created some Sticky Toffee Pudding.
I'm not the biggest fan of a sweet coffee. I always think to myself, OMG I can feel the diabetes already. Anytime I walk into Starbucks in the autumn, that is exactly what I'm thinking when I see all those Starbucks Frappa-latte menus. That is one reason I like to create my own Pumpkin Spiced Lattes in my home kitchen.
What is more trendy than the TikTok? Why Pumpkin Spiced Lattes of course!
Toffee Pumpkin Spiced Lattes
1 cup freshly brewed espresso
2 teaspoons heavy cream
1 teaspoon homemade Pumpkin Spiced Latte Powder
1 teaspoon Homemade Toffee Sauce
Combine all your PSL ingredients in your Nutribullet. Blitz it up real nice. the Nutribullet should make it just a little bit foamy like a cappuccino. You can always add homemade whipped cream if you feel like being a bad hombre.
How to make the toffee
3/4 cup heavy cream
3/4 cup brown organic sugar
1/2 cup organic grass-fed unsalted butter
Pinch of salt
1 teaspoon vanilla
Melt the butter on low heat. Do not leave the butter to go pet your Norwegian Forest cat for ten minutes! Angry British Chef would totally have yelled at me if he witnessed my first attempt ever at making toffee, But somehow I saved the toffee even with my cute Forest Cat detour.
Add the brown sugar to the butter. Start whisking. Mix in the cream and continue to whisk on medium heat for 5-8 minutes. the toffee will deepen in color just a bit. Do not let it stick or burn. As it darkens, at the very end, add the salt and the vanilla. Stir for just thirty seconds and then remove the toffee from the heat.