The Best Family Sledding Adventures, A day of Snow Play in Big Bear
So many families head to the local San Bernardino Mountains as soon as the first snowflakes start falling in Big Bear Lake. Snow play in Big Bear California is usually at the top of each family's list of fun things to do in the mountains. Big Bear Lake is so close and convenient to the suburbs of Los Angeles. That makes it a great family getaway. Sledding, building snowmen and making snow angels are just a two-hour drive from the concrete jungle of Los Angeles down below the pines. But where is the best place to go for snow play in Big Bear?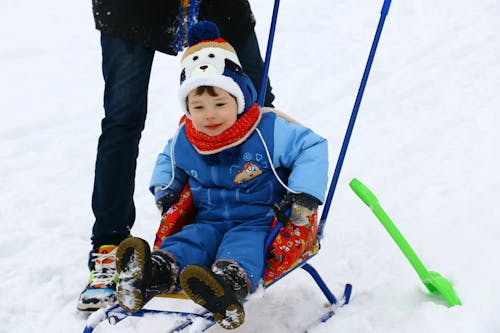 Trying to locate a great snowy hillside for snow play in Big Bear may be harder than you would think. If you drive up the winding mountain roads to Big Bear Lake, I'm sure you will see a ton of people sledding on the sides of the highway, so close to traffic whizzing by on the winding mountain highways. In my opinion, this is flat out dangerous and not my idea of mountain fun for the whole family. When planning your trip to the mountains with the family, plan on sledding somewhere safe. The best way to have a safe and fun snow play day in the San Bernardino Mountains is to book a guided snow play hike with the Hungry Mountaineer through Airbnb Experiences!
The easiest safest option is Snow Play at Snow Valley. Snow Valley resort now offers a tubing area off of Highway 18 just a few miles outside of Running Springs. This is a great area to safety have family snow fun. I suggest getting there when they open if you are taking the family out tubing at Snow Valley on a weekend or around the Christmas holidays. This place gets very busy on weekends.
Another great area to go tubing while on holiday in Big Bear Lake is Big Bear Snow Play. Big Bear Snow Play is a much bigger area. They have a giant parking lot and never get sold out. They also offer glow tubing throughout the holiday season. I personally prefer the snow play area at Snow Valley as it's a little more in nature then the place in Big Bear City. But if you happen to be staying in Big Bear then Big Bear Snow Play is much more convenient to visit.
When friends come to visit us at our home in Big Bear Lake when they want to play in the snow with the kids, we take them out into the forest away from the highways, the traffic and the crowds. I think snow play in Big Bear should happen in the snowy forest where your family can enjoy nature at it's best.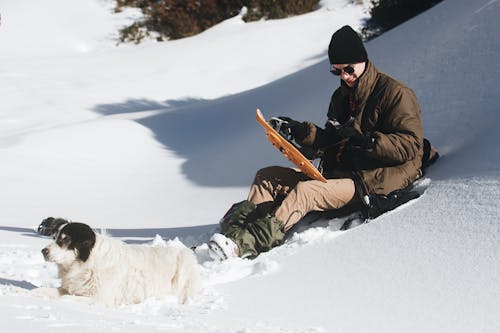 The most popular place for snow play in Big Bear Lake has to be Snow Forest. Snow Forest is an abandoned ski resort on the west side of the Big Bear Valley. Snow Forest is extremely popular in December through early March. While the snowy white hills here are so perfect for sledding for the kiddos please know in advance Snow Forest is crazy busy on the weekends. There is very minimal parking here at Snow Forest and it is well known to be the best snow play in Big Bear, California. It is very nice on weekdays though. The city of Big Bear even includes a big dumpster for broken sleds and a porta-potty for all your needs in between building snowmen and sledding.
Here is a hidden tip for Snow Forest. If you walk up the forest road to the north of the area where everyone sleds, you will find a majestic view of Big Bear Lake. For whatever reason tourist never go over here. Most tourists just stay in the snow play area and don't even think to go make a snowman with this majestic view behind them.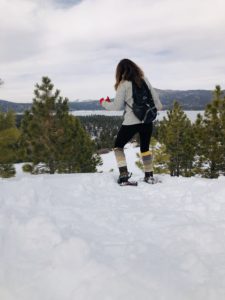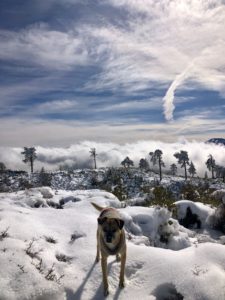 Going out with a hiking guide can be a great way to discover a secluded snow play area in Big Bear for your family. A local hiking guide can take you to a great snow play area without fifteen other families leaving trash everywhere. This is a great snow play experience too if you want to take your pup with you to play in the snow. Snow play in Big Bear is so much fun for the whole family; Even Fido!
If you are on your way to the mountains for snow play in Big Bear California, make sure you come prepared. Wear layers. Bring an extra sled if you plan to sled in the forest and not at one of the snow play areas. Sleds are cheaply made and break very easily. Always bring gloves. Otherwise, your hands will get snow burn. Bring band-aids for snow burn just in case. Always bring a trash bag. please carry your trash out with you and leave our beautiful forest as pristine as you found it!