In our neck of the woods here in southern California, yes it is fall at last. No that does not mean baking with pumpkins, at least this year. This year that means just what the hell shall I do with five hundred peaches? I hope all of my friends and family love Peach Indian Chutney, the way I love Peach Indian Chutney. I mean how can you not love this South Indian Chutney bursting with ginger, black peppercorns and cloves?  It may not be chock full of pumpkin spice but in our household, this spice-filled chutney is a fantastic addition to all our fall favorites, especially Bison Burgers filled with the earthiness of freshly ground Garam Masala.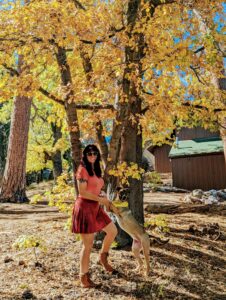 Do you know what else I love about the cooler autumn months? Cruising around our hometown of Big Bear Lake in my brand-new Jeep of course! Man, do I love this 2022 Jeep Cherokee! We purchased this Jeep after the craziest winter our ski town has seen since 1978 and as soon as I drove home on the snowy mountain roads I knew I was a Jeep girl. My Jeep is fantastic in the snow, it has the Active Drive II which in tow mode locks the front and rear drive shafts and allows for towing so we can tow it behind our motorhome without racking up all those towing miles. Best of all this Jeep Cherokee has a 120-volt household outlet cable charger in the backseat!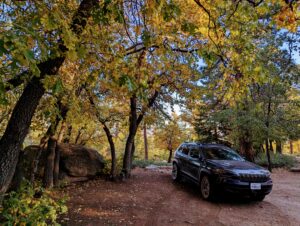 I have to say, when I purchased my Jeep, this plug in the backseat was a big selling point! When I'm car camping I can use both my flat iron and my Nutribullet! Technology at its finest from those nice people at Jeep! Okay, it's also going to come in extremely useful for car camping and being able to charge my laptop.
When I bought this Jeep I was looking for off-road availability for my Big Bear Lake Jeep tours and a great vehicle for commuting on snowy mountain roads in the winter months. This Jeep Cherokee has not disappointed me one bit! And yes, I thank God all the time that I no longer drive a shitty Subaru.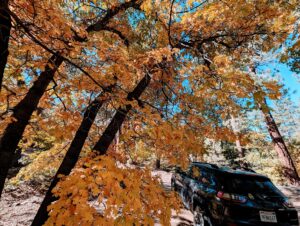 This Peach and Ginger Indian Chutney is one hell of a side dish to offer this Thanksgiving alongside that turkey. Here in our household, I baste the turkey with Date Chutney and Garama Masala of course. Sound divine? Well, it truly is. Try out the recipe here!
Peach and Ginger Indian Chutney
1 red onion, sliced thin
2-4 red Chinese chiles, depending on how spicy you like it
2 teaspoons ghee
1 teaspoon grated raw ginger
8 cardamom pods
6 cloves
1 teaspoon black peppercorns
1 teaspoon mustard seeds
1 cinnamon stick
2 cups peaches, cut in half and pit removed
1/2 cup apple cider vinegar
1/8 cup malt vinegar
1/2 cup water
1/2 teaspoon salt
1/2-3/4 cups sugar or honey
1 cup raisins
In a pan roast the chilies in the ghee. Add the red onion slices and cook very well until browned at least ten minutes. Add the ginger and let fry just a bit with the onions until not raw. Add the onions to a nutri-bullet along with the vinegar. Blend well. Add the onions to the saucepan. Rinse out the nutr-bullet with that 1/2 cup of water so you don't lose any bits of the onions and add that into the saucepan along with the sugar or honey, peaches, cloves, cardamom seeds, peppercorns, mustard seeds, and cinnamon stick.  Let simmer and reduce for forty-five minutes, stirring every ten minutes or so so it does not stick. Mix in the raisins and the salt. Let cook an additional 10-20 minutes until the sauce has thickened and reduced.