It's autumn at last here in our ski town! Break out those fall-favorite hiking boots! If you are an eco-conscientious hiker like me that could mean you purchased your favorite Uggs or Merril hiking boots at your local thrift store. Good for you! I'm a huge fan of thrift store fashion. Curbing our carbon footprint starts in the smallest ways, from recycling in our kitchens, to composting and yes even to what we wear to go on a hike. True hikers and nature lovers don't just leave no trace when they hike, they try to leave no trace with their carbon footprint everyday.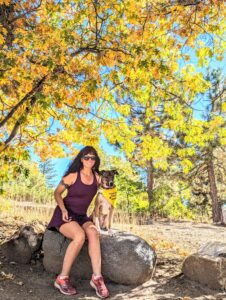 When it comes to autumn weather, sometimes I feel like I could wear an entire wardrobe in just one day! One thing about the fall weather in these mountain towns, it is constantly changing from sunrise to sunset! You might need leggings, a sweater and a vest when you start your hike at eight a.m. and it's only thirty-five degrees outside in this mountain town. Yet by noon I can usually be found in the backyard, splitting wood for the cold winter ahead and sweating in my favorite comfy autumn romper. Because most lumberjacks wear rompers, right? Living in a mountain town means that every changing season means work and the shorter cooler days of autumn are no exception. Yes, this outdoor wanderer would love to just hike with the puppy all day but there is wood to gather for the cold winter ahead. And five hundred ripe peaches in the kitchen that need to be preserved and canned. The Hungry Mountaineers' work is never done, it seems some days, most especially in the autumn months.
If it's autumn here in southern California that means those fall temps have finally cooled down in the desert near us. That means that just maybe I will venture down to Yucca Valley with my favorite thrifting buddy, my sister-in-law, for an awesome fall fashion sustainable shopping spree. Yucca Valley thrift stores here we come! Sometimes I just have to take a break from skipping through the falling yellow oak leaves. If it's early October you can find me combing my favorite Goodwill for thrift store fashion treasures in one of the nearby cities. A girl can only hike so much without rejuvenating her autumn wardrobe at her favorite thrift mecca! I was so blessed this week when we journeyed to the desert to walk away with an armload of treasures; Two new extremely warm sweaters, a gorgeous India inspired sundress for when we head to San Felipe, Baja California in a few weeks and a new pair of cozy warm slippers, new with tags on still to wear as I frolic around the house baking everything from fall favorites like Sticky Toffee Pudding to Anglo Indian Plum Cake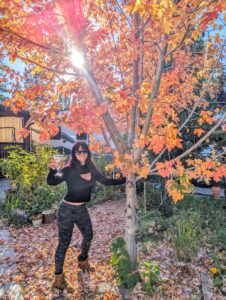 Thrift store fashion hullababoo
When galivanting around Yucca Valley checking out the best this thrift mecca has to offer you might work up an appetite. Yucca Valley knows how to deliver when it comes to a healthy lunch! Take a break at some point from your sustainable shopping spree and hop into the Frontier Cafe for a Green Dream Sandwich with homemade artichoke spread. And of course you have to try a Honey Lavender Latte before you get back to searching for the best thrift store fashion in Yucca Valley.
I try to get to the city when I have a day off from work to get my sustainable fall closet stocked up for the winter to come. Yes, living and working in a mountain town means chopping firewood and other not exactly fun fall antics like being our own chimney sweep. But I also need some new to me gently used sweaters for all those winter days I'll be outdoors working from sunrise to sunset in temperatures as low as nineteen degrees. Escaping to the city for an afternoon is something I try to plan each autumn.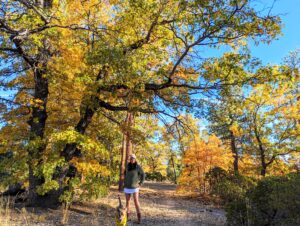 Why try to be a sustainable hiker?
Well the simple answer is this outdoor explorer just loves this planet of ours! Whether I am teaching young hikers about native plants or doing my eco-tourism part by picking up eighty trash bags full of garbage all in one winter, I try to do my small part. I try my best to be a good steward for this land that I love.
Robert Swan, a conservationist who is trying to save the icecaps at Antarctica said, "The greatest threat to our planet is the belief that someone else will save it" Sometimes it seems like an uphill battle to love this planet of ours when so many southern Californians just don't care at all. Every time I see someone in a Prius throw a Starbucks cup out of their car window on the freeway, I feel a special kind of rage I have a hard time controlling. My anger at Snow Pigs for destroying this planet of ours can consume me.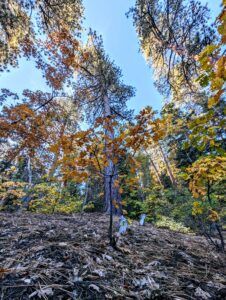 So I try to drown my sustainable sorrows in thrift store fashion. Only a new pair of gently used cowboy boots can curb my agitation at the stupid-ness and selfishness of humans. Do these dumb-dumbs realize we only have one planet? This right here is another reason why I try to find my zen in the fall in the wilderness amongst the changing colors of autumn. And I might just find that zen while skipping through fields of fallen oak leaves in my new to me gently used romper.
It's just nuts how here in the southwest that particles from wildfire smoke have destroyed decades of work to reverse the effects of climate change. It doesn't matter how many Teslas you buy or if you fed your family Grassfed beef, here in the year 2023 we are actually descending backward every wildfire season as our skies turn brown with smoke particles. On top of those worries, it breaks my heart the way our earth is treated by so many. It's truly dismal how many acres of wilderness burn each summer by wildfires. There are trails, long burned to the ground, I used to trek in my twenties that will never be the same even when I am eighty years old and limping along in the forest.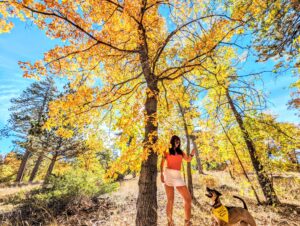 So how do I run a sustainable business?
I hike every day and run the most affluent guided hike company in Big Bear Lake because I love this planet damnit. I try my best to influence my guests to be Leave No Trace hikers. I pick up so much trash every day when I hike. I always bag my dog's poo and pack it out. I try to influence my hikers to do the same. I break down illegal firepits when I come across them. And yes, I totally brag about my Columbia sweatshirt that I paid ten dollars for at the thrift store. I am a huge supporter of thrift store fashion and I let everyone know it. I'm not ashamed to say I bought these hiking boots at my favorite little thrift chain in Nashville, Tennessee. I helped keep fast fashion out of dumpsters today, what did you do? Thrift store fashion is a lifestyle for me and yes, also a fun hobby that helps our planet, rather than harms it.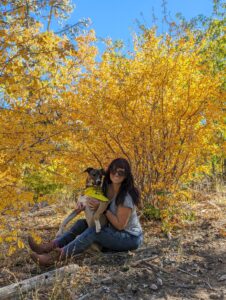 Really I just try to educate my audience that we can do better. Even though so many vacationers come to this beautiful wilderness of Big Bear Lake California and basically trash it, leaving broken sleds, dirty used diapers and much, much worse in their wake, I try to be a good conservationist.
One of the first things God asks of us in Genesis 2:15 is to do our part in conservation, We are stewards of the earth, and we have a responsibility to care for it. Fantastic words to remember as you trek through the changing colors of autumn in our forests this October.