I used to run the trails of the San Gorgonio Wilderness.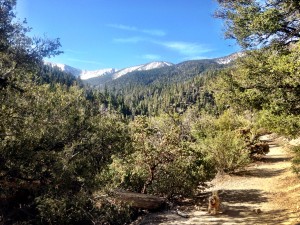 Last fall feels like a life time ago. The leaves of the Aspen grove, our only Aspen grove in our entire mountain range, did a mesmerizing yellow-orange dance in the fall breeze.
After off roading up a back country road that would scare off most people you run down hill about five hundred feet before entering the Aspen grove and the wilderness boundary sign of the San Gorgonio Wilderness. You cross Fish Creek here and take the trail straight up hill for two miles until you meet the Fish Creek Trail that goes to the top of San G at well over 12,000 feet.
I'll probably never run this trail again. I've spent the last six months suffering from terrible back pain and I'm having surgery on Tuesday. I'm so out of shape at this point running twelve miles in a morning feels impossible.
And that's not the worst of it.
Sixty percent of the San Gorgonio Wilderness burned in a fire that's on going even now a week later. It feels like a nightmare that never ends.
I wake up every morning to pictures via Facebook of my once gorgeous wilderness, aspens skeletons smoldering next to one hundred year old pines that exploded in the blaze.
It breaks my heart again every single morning. I keep thinking about the last six months and all the trail runs I missed out on throughout the spring and the early summer. I just hate my body for breaking down right before this massive wildfire destroyed my favorite area to run. This whole experience just makes me realize you really do need to live and cherish every moment because you never really know what tomorrow holds.