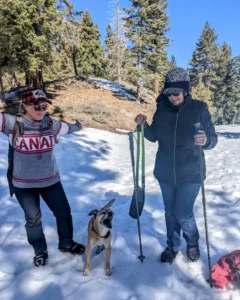 The first time someone yelled at me to put my dog on a leash in my own neighborhood I just thought, this cannot be real. We live in a very quiet neighborhood where every neighbor knows one another. Even if we don't all agree politically we are all friendly. I know every neighbor who walks their dogs here and I am one of many who has walked their friendly dog off-leash for years. That has all changed now that our once family neighborhood is now all short-term rentals in Big Bear Lake, California. We constantly have strangers prancing through our neighborhood, or driving way too fast down our street. We find ourselves even on a random Wednesday having to call the sheriff because of a coke-fueled party involving underage kids next door. I might not be that old man yelling "Get off my lawn" But I could be that neighbor hollering at the tourists to stop playing in the snow in my front yard thanks to this abundance of short-term rentals in Big Bear Lake California.
Get off my lawn!
These mountain woods used to be a nice place to call home. Before this global pandemic and the prices of homes in our small mountain town going through the roof, you used to be able to go a restaurant in Big Bear Lake and not wait two and a half hours for a table on a random Monday night. Short-term rentals in Big Bear Lake are ruining our small-town life here in this ski town. Short-term rentals in Big Bear Lake are full of rude guests starting fires in rural backyards. If you are a neighbor who tries to complain don't be surprised if meth-crazed renters don't try to kick your ass. True story, in 2020 a Big Bear resident knocked on the door of a short-term rental in Big Bear Lake to complain about the partying and some crazed drug addicts beat the living shit out of this Big Bear resident. (And the abusive tourist never even faced any jail time for it)
I can't believe I can't even walk my dog in the woods behind our house without being harrassed by snow pigs from the city. Not only that, but the alpine woods behind our house, once a local secret, are be full of Mcdonald's bags, broken sleds and Monster energy drink cans this winter. If there is one thing the snow pigs that visit this mountain like to do, it is leave their trash, dirty diapers and discarded cigarette butts in the woods. Because obviously, this forest is just like Disneyland and Smokey the Bear is going to follow behind you to pick up you're discarded In and Out cups. Never mind the fact that the wild burros of Big Bear Lake are likely to ingest that Mcdonald's burrito trash you left behind and possibly colic.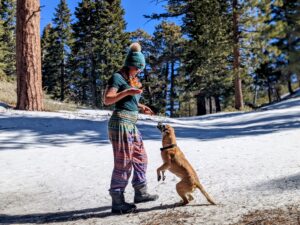 Back in my day…
I grew up in a quiet neighborhood in these mountains. Every neighbor lets their dogs run off-leash. There were no fences in yards. Neighborhood dogs hung out on front porches most of the time. Except when they were running through the streets playing with the dirty mountain children who grew up playing in the forest and swimming through the creeks of this mountain town. I'm not at all used to all these new rules and regulations the cabin rental companies are decreeing on the locals who live here full time. Cabin rentals are only allowed so many cars in their driveways. Even if you are a local and throwing a family-friendly birthday party for a sixteen-year-old don't be surprised if code enforcement shows up and says you have too many vehicles parked on your property. Don't be surprised if you are splitting wood in your backyard and get a county code officer pounding on your door because someone called in a noise ordinance on a Sunday afternoon. Thiese are our neighborhoods; We pay taxes here. We live here full time and I think I have every right to blare Garth Brooks in my driveway while washing my car on the weekends.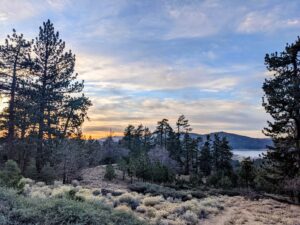 The snow pigs who show up every day and trash our forests and party until 2 a.m. on a Tuesday and act like Big Bear Lake is the Las Vegas Strip are ruining these small mountain towns. I'm really sick of having to a be a bitch and say "Don't let your dog pee on my plants in my front yard" Because obviously, these snow pigs can't read the sign that specifically says don't let your dog pee on my plants. If you come here to the mountains on vacations you are no longer in Los Angeles. There is no place to charge your Tesla, we don't have a Whole Foods and you sure as shit are not invited to take selfies in the snow in my front yard.
I never thought our quiet nei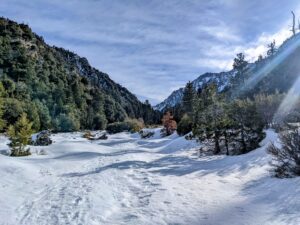 ghborhood would be so overrun with traffic on a random Tuesday. But then again, I never thought all our awesome neighbors would take advantage of home prices soaring through the roof, sell their properties and pack up and leave Big Bear. This left our peaceful neighborhood ripe for investors to buy up homes and turn them into Airbnbs and VRBOs and houses full of STRAH's (That's Short Term Rental Ass Holes)
Post pandemic life in a small town
Yup, our once calm neighborhood was now brimming with short-term rentals in Big Bear Lake. Short-term rentals in Big Bear Lake have been a huge nuisance for the families who live in Big Bear Lake for so many years but before this global pandemic and the popularity of mountain towns like Big Bear, it was never our problem. Our neighborhood is nearly unrecognizable from the beginning of the pandemic to the dear God, I hope, end of this pandemic as 2022 is dawning. We don't recognize the cars in every driveway (As half are visitors from the city) We don't recognize the strangers walking their Labradoodles and Cockapoodles up and down our boulevards. I definitely have no idea who that is next door setting off fireworks at midnight DURING A DROUGHT IN A SKI TOWN. If you live in a mountain resort town like Big Bear Lake, Mammoth Lakes or Lake Tahoe these are our problems in 2022.
All of these short-term rentals in Big Bear Lake have me feeling way less holly jolly than I should this last holiday season. I am just thanking God our home sits far away from the ski slopes in this skier and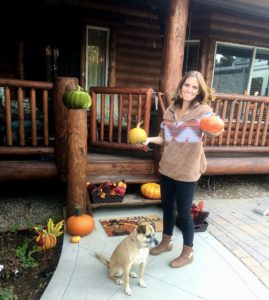 snowboarder paradise. And also that the STR next door does not have a jacuzzi. That makes it way less of a party house and I definitely don't call the sheriff as often as I might if our home were in Big Bear Lake proper.
As a local whose business relies on tourism, short-term rentals in Big Bear Lake puts me in a difficult situation. On one hand, tourism is my business. Without tourism, I have no income. So I do try my best to be polite and understanding with the tourist but man, it's hard when you have to tell them not to urinate in your front yard. (I wish I was making this shit up, literally)
Small towns, big problems
I used to be able to walk my dog in the national forest without ignorant city folk yelling at me. This morning I was taking the dog for a trek in the national forest. It was snowy out on the trails. The backroad I was on was covered in ice and it was 22 degrees at 8 a.m. So obviously there was a two-wheel-drive van with no chains on who had spun out on the icy road and was stuck precariously about to go over the edge of the mountain. I didn't stop to see if the van occupants were okay because that would mean I would have to stop on an uphill on a sheet of ice. I didn't want to get stuck. Why does their stupid mistake have to turn into my problem? Oh yeah, because I live in a ski town where people tie rope around their tires for traction instead of buying tire chains.
I went out into the chilly morning, did my hike up to the viewpoint and made my way back down Mill Creek Road three hours later. The van was still waiting for a tow truck. Obviously, a tow vehicle had just shown up when I tried to drive through and was then blocking the road trying to tow this dumb dumb out. One thing about short-term rental assholes in Big Bear Lake, California, they definitely are not prepared for our icy mountain roads.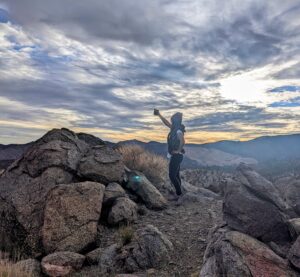 As a Big Bear local I think the market in Big Bear is so saturated with STR's that soon the bubble will burst. People are going to start getting on planes again. A lot of tourists will stop traveling to Big Bear and will start flying again. But in the meantime, it's a very hard time for locals who live here in this ski town. Short-term rentals in Big Bear Lake are nearly 26,000 in numbers and only 20,000 residents live here in the Big Bear Valley full time. What that means is there is nowhere for locals to live. A lot of our businesses are so understaffed they can't stay open. I would like to help support local restaurants during this difficult time but all my favorite Big Bear restaurants are no longer serving to go food as they are so short-staffed. And I'm not feeling like sitting shoulder to shoulder with those unvaccinated millennials who just came back from Coachella.
It's a nutty time to live in a ski town. Plus it sucks to watch all our friends packing up and selling and getting the hell out of this toilet California has become. I guess what I'm saying is I just miss the way these serene mountains were before every influencer found my favorite secret hiking trail on all trails and decided to overwhelm our mountain.