In our small mountain town, the Pacific Crest Trail hikers are a welcome sight in the springtime. (Even if that one I just picked up hitchhiking through Big Bear Lake was a stinky sweaty mess) It might look like our small resort town has been overrun by bearded hippies wearing North Face puffy down jacket every April but the return of these thru-hikers ( Thru–hiking means to hike the entirety of an established long-distance trail) is a welcome sight as the snow melts off our mountain trails and the mud in the forest relents to meadows of wild purple lupine flowers.
Just like the return of the cactus flowers, baby donkeys and rattlesnakes littering our dusty trails, PCT trekkers heading northwards towards the eastern Sierras are a welcome sight that the chilly winter has finally left our mountains behind. Are lake days and kayaking in my distant future? Except for in the year 2021. This year is nothing but kooky. During a global pandemic, shit is just wacky, whether you live in the city or a once deserted mountain town at 7,000 feet. The PCT stretches from barren Campo, California at the border of Mexico to the Northern Terminus Monument about two feet south of the Canadian border, eh. I don't think there is a small town in between all those 2,650 miles of rugged dirt trails that has not felt the effect of this berserk worldwide health crisis.
As for our family, we are lucky to reside in Big Bear Lake, this COVID-19 pandemic paradise at eight thousand feet. In the spring of 2020, so strangely, PCT hikers were few and far between. You didn't see them buying Cliff bars at Stater Brothers. You didn't glance at them hungrily attacking their refuel boxes full of delicious Vermont smoked meat sticks and organic brazil nuts outside the local post office. You definitely didn't see them hitchhiking through town. It's just odd. I saw many more wild burros sauntering along the Pacific Crest Trail last April than I did PCT hikers. Pacific Crest Trail hikers have been trekking through Big Bear Lake and taking a zero-day ( A day in which you do no hiking. So named because you do zero PCT miles. A zero-day is almost always taken at a town stop.) since the '70s. 2020 was a year like no other on and off the trail for sure.
Technology and the PCT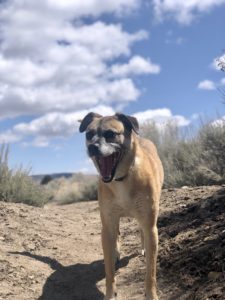 It's so funny how the PCT lifestyle has evolved, in the last five years specifically. Made it all the way to Big Bear at over six thousand feet from the hot desert and sea level below? What if you are a Pacific Crest Trail thru-hiker who has already hiked 266 miles in Section E of the trail and finally made it to your first stretch of alpine forest just to discover your tent is on its last legs? We have Uber now! (Sometimes) You can (sometimes) easily request an Uber and get a lift off the mountain to the closest REI, an hour away from a Big Bear.
Besides the (somewhat) ease of using rideshare apps like Uber, technology like google and the internet on any smartphone can make it so much easier and yes, safer to thru-hike the Pacific Crest Trail. What kind of plant is this? Is it edible? Poisonous? Will it cause you to itch for three days straight? Just Google it! Modern technology and not to mention this crazy everything is legal, world we live in here in 2019 just blows me away sometimes.
As in the ability to have some weed before you hike through a snake-filled forest! Yes, there are signs in every trail town in California about which dispensary gives discounts to thru-hikers. Isn't the point of hiking a trail like the PCT from the deserts of Mexico to the snowy eastern Sierras and beyond, more about sleeping under the stars and being one with nature? Or is it about getting baked in every resort town you wander through and thinking Smoky the Bear is chasing you through the pine-filled forest?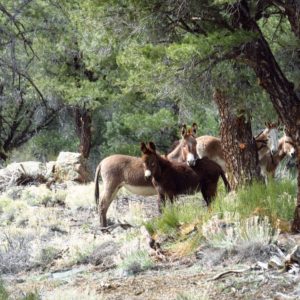 I feel like modern technology must be such a help to the Pacific Crest Trail thru-hikers in some ways. You can chat with other hikers on Facebook to find out just how snowy those eastern Sierras trails are. You can find out if the Covid numbers are spiking off the charts in the town you are thinking about taking a zero-day in. You can book an Airbnb with a jacuzzi tub for those tired hikers muscles when you arrive in a resort town like Big Bear Lake. If you were bitten by a poisonous snake, search and rescue can get to your GPS location on the trail a hell of a lot quicker these days. Just heard a crazy scary noise? What the hell was that? You can google it! It was probably just a jack (A sultry male donkey) during mating season on the Pacific Crest Trail.
You can even have Instacart deliver your groceries to you at Cushionberry Summit just outside of Big Bear Lake and not have to go into town. Craving an Avocado Bomb ( A crazy avocado stuffed with sashimi then deep-fried concoction you can only find in Big Bear Lake) while trekking the 39 miles of Pacific Crest Trail through the Big Bear Valley? Order one from Big Bear Lake Brewing Company. Just Doordash an Avocado Bomb (Or two) to be delivered to you trailside at Onyx Summit before your ascent into the Big Bear Valley. Oh, technology. Now if we could just find a cure for this damn global pandemic.
What is the hungry thru-hiker to do in Big Bear Lake?
Are you thru-hiking the PCT this springtime 2021? If you make it 266 mountain miles to the ski resort of Big Bear Lake, you must be starving. What are the best things to fill your stomach in Big Bear Lake?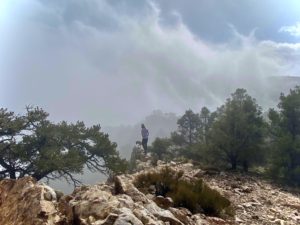 You have to try a Bloody Mary from the before mentioned Big Bear Lake Brewing Company. This mixture of spicy tomato juice is full of sodium and potassium and electrolytes to refuel your exhausted hiker body. What with the vitamin C and B6 from the tomatoes it is just the spicy cure to refuel those tired hiker muscles. And vodka. Yea.
One of my favorite restaurants in Big Bear Lake is 572 Social (Or The Social to locals) Their wood-fired pizzas are just the carbs your exhausted thu-hiker body was praying for. I love their short ribs too; Just the protein your tired body needs.
The Himalayan; The food of Nepal is just the thing for the exhausted thru-hiker resting up in Big Bear Lake. Take my advice and recharge with the palak paneer and a huge helping of freshly baked parathas.
Are you a vegetarian thru-hiker and looking for a filling meal? Order a huge side of the Brussel Sprouts with mango chipotle sauce from Fire Rock Burgers.
You just hiked 266 uphill (Mostly) miles to Big Bear Lake! I think you really deserve some cheese curds and Jalapeno bottle caps. And maybe a protein burger from Get the Burger
Technology is so great when we have been hiking for days and sometimes weeks and just need a giant side of cheese curds to be delivered trailside. Yet something of the nature experience is lost when technology has us constantly checking our phones for the latest Instagram stories when we should be admiring the wild donkeys that dot the hillsides of Big Bear as long-haul trekkers roam our trails. There are so many times as a day trekkers who call Big Bear Lake home, I talk to thru-hikers and they have no idea there are even wild donkeys all over these yellow rabbitbrush and sagebrush-covered hills! Sometimes you just need to stop and smell the cactus blossoms.
The oncoming warmer days and springtime sunshine of April 2021 has me really wondering when life will return to normal in this resort town. Will the Pacific Crest Trail thru-hikers return this April? When will we see hairy thru-hikers at the Deep Creek Hot Springs again?
Hidden hot springs on the Pacific Crest Trail
The Deep Creek Hot Springs are a hidden secret in the San Bernardino National Forest. Where else can you soak in secluded hot springs in southern California with a bunch of other naked hippies? The Pacific Crest Trail may evolve with the help of technology. The trail might be a lot easier to navigate now in 2021 with the help of your iPhone and apps like AllTrails but an afternoon spent soaking in the hot waters of Deep Creek will take you straight back to the seventies; Hippies playing drums (Did they really carry them all the way down that 1,000-foot hill?) and more hippies in their birthday suits smoking weed.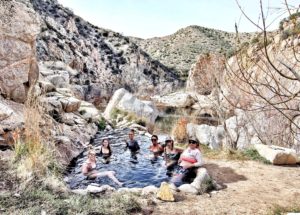 That is an afternoon spent at the Deep Creek Hot Springs.  This is a fantastic place deep in nature not far off the Pacific Crest Trail to detour and soak in natural waters. Here in the spring of 2021 the hot springs tend to be busier then normal with every city dweller whoever owned a pair of Merrell Hiking Boots is anxious to hit the trails and have an outdoor adventure. The hot springs are not the easiest to find, hiring a hiking guide to take you to the Deep Creek Hot Springs is a fantastic idea. (Especially when that hiking guide is also an excellent photographer)
As winter warms up into an April springtime I spend a lot of miles trekking the Pacific Crest Trail. This year is just so different without picking up Pacific Crest Trail hitchhikers (The germ-a-phobe in me just can't do it during a global pandemic. It is definitely still strange to pull up my mask every time I pass a thru-hiker. Just like those first 266 miles between Mexico and Big Bear Lake pretty soon this pandemic, should, I hope and pray be in our rearview mirror here in the spring of 2021.