The first time we put gas in our new but actually old RV the pump switched off at one hundred dollars. Well this was one of many new experiences into the RV world. Did you know most credit card companies will only let you buy one hundred dollars worth of gas at a gas station? In the great big world of RV adventures buying one hundred dollars worth of gasoline barely gave us three-quarters of a tank. I would highly recommend after our experience that you read some RV reviews before buying one so you are prepared for what is to come. It is really important also to consider where you will store your RV when it is not in use. Many owners have a driveway big enough to accommodate the vehicle over the Winter, however, some people have to consider alternative storage (such as this Storage in West Pueblo). There are many companies that offer RV storage you just have to research into which one will be the best one for you. This is something you will have to consider budgeting for before buying your RV. Although not always cheap to store, it is important you don't only look after the interior of the RV but also the exterior so you don't have any unwanted, costly problems in the future.
In the last six months, we have done a hell of a lot of work to our '99 Fleetwood South Wind Storm, including;
$100 for new seat covers
$3 a square foot in laminate flooring (we nearly went with Wooden Flooring but had to save weight)
Materials to completely re-texture and paint the shower
$25 in new dishes and kitchen do-dads from the Salvation Army
New toilet for the RV bathroom
$20 each for collapsible ottomans
$200 leather repair kit for the dash
New window screens
Buying an old RV is expensive enough. And these figures don't include the tools we've used for the task, which we've chosen carefully from a friend's recommendation. They spend a long time researching power tools, even reading blogs like Power Tools Rater for extra knowledge, so we've trusted their advice for this. Either way, trying to make it a home away from home and be budget conscience is not easy. Neither is looking at this very dated nineties furniture while traveling sixty miles an hour on the 5 freeway some where between Mexico and Canada.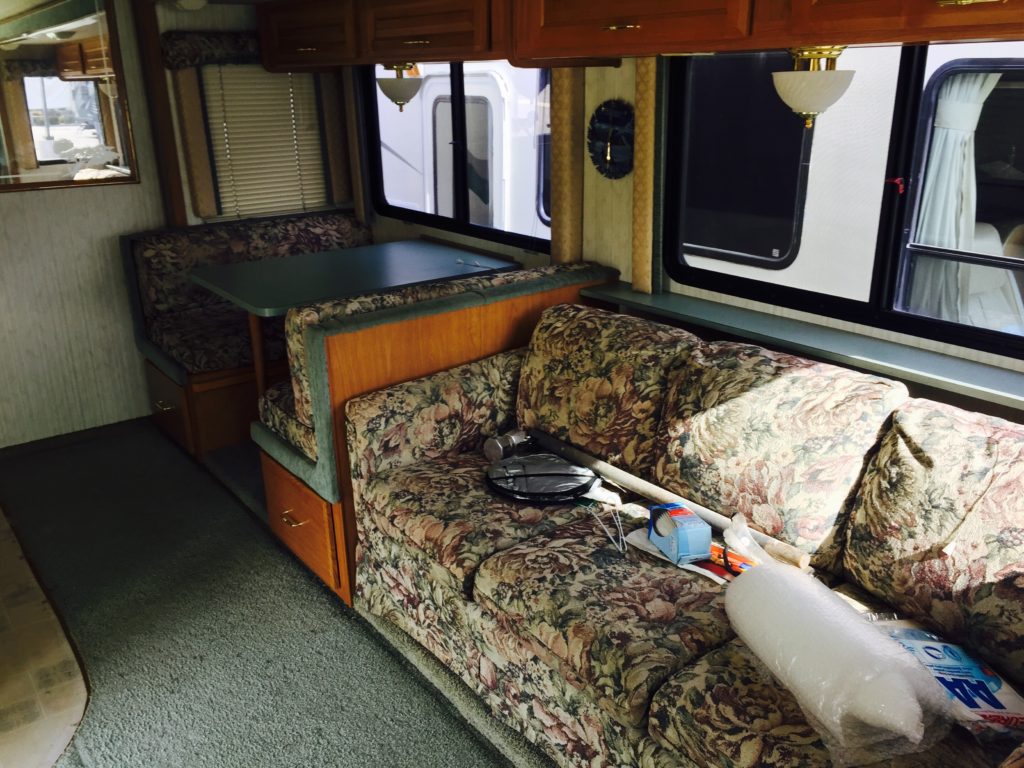 Let me tell you a few helpful hints on how to make the inside of your old RV look like the cozy home away from home you need while away from your actual home.
Your new on the road home away from home
This fancy cat would really like to go camping. But we would need the best cordless stick vacuums to clean up all his hairs, so we don't tend to take him, sorry!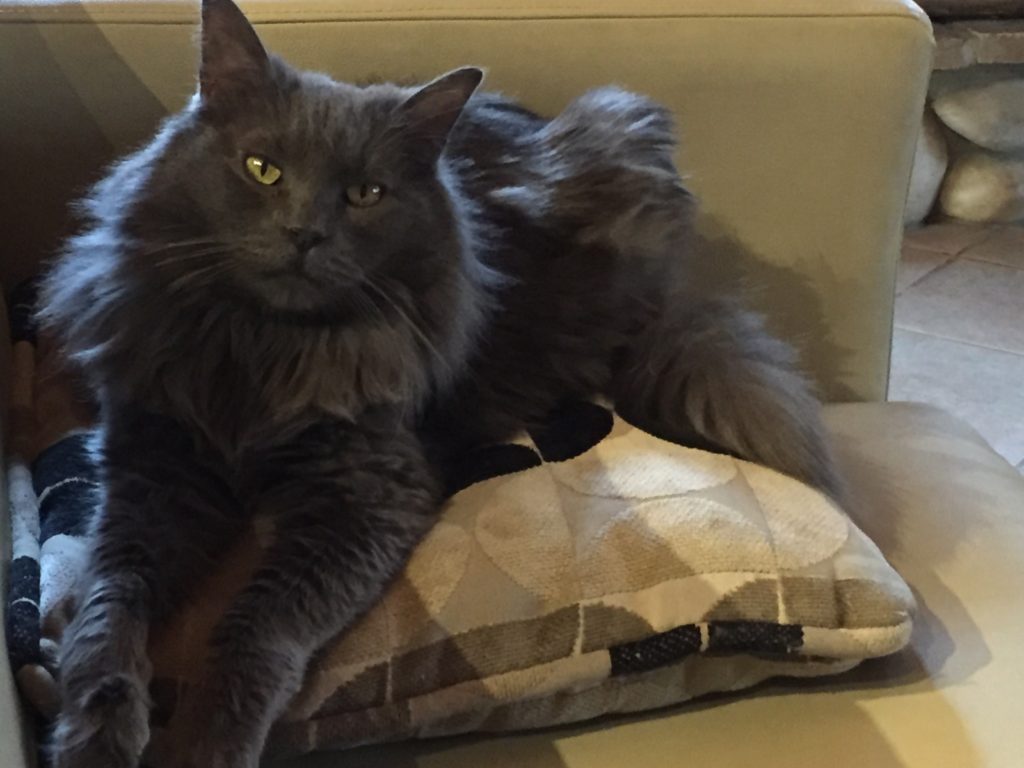 Any time we go out to the RV to work on little projects; From fixing the vinyl on the dash to completely redoing the shower area we bring Uncle Sy to hang out. He loves to sit on the dash and guard the neighborhood against chipmunks and bunny rabbits.
All this 13-year-old hairy beast wants is to go camping. I'll admit it, Uncle Sy has inhaled a few paint fumes in his day, or in the past few weeks hanging out in the RV with us as we insert laminate hardwood floors in the kitchen where the hideous ripped linoleum used to be, and completely gut and repaint the inside of the shower stall.
Don't judge Sy! He's old!
When you are done judging this old ding-dong just because he wants to go on vacation with us think about buying a few baskets to hang and stuff with fluffy towels. This is a great way to have towels handy in the bathroom without taking up any much-needed space.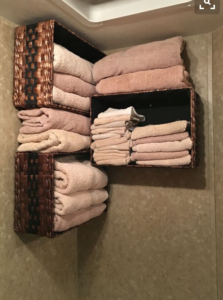 Or you can put up hooks everywhere, as we have done. You can literally hang wet towels anywhere you want! Or just outside on the awning support after a day of dogs being dogs at the lake and in the lake. You may have a few wet beach towels to dry out.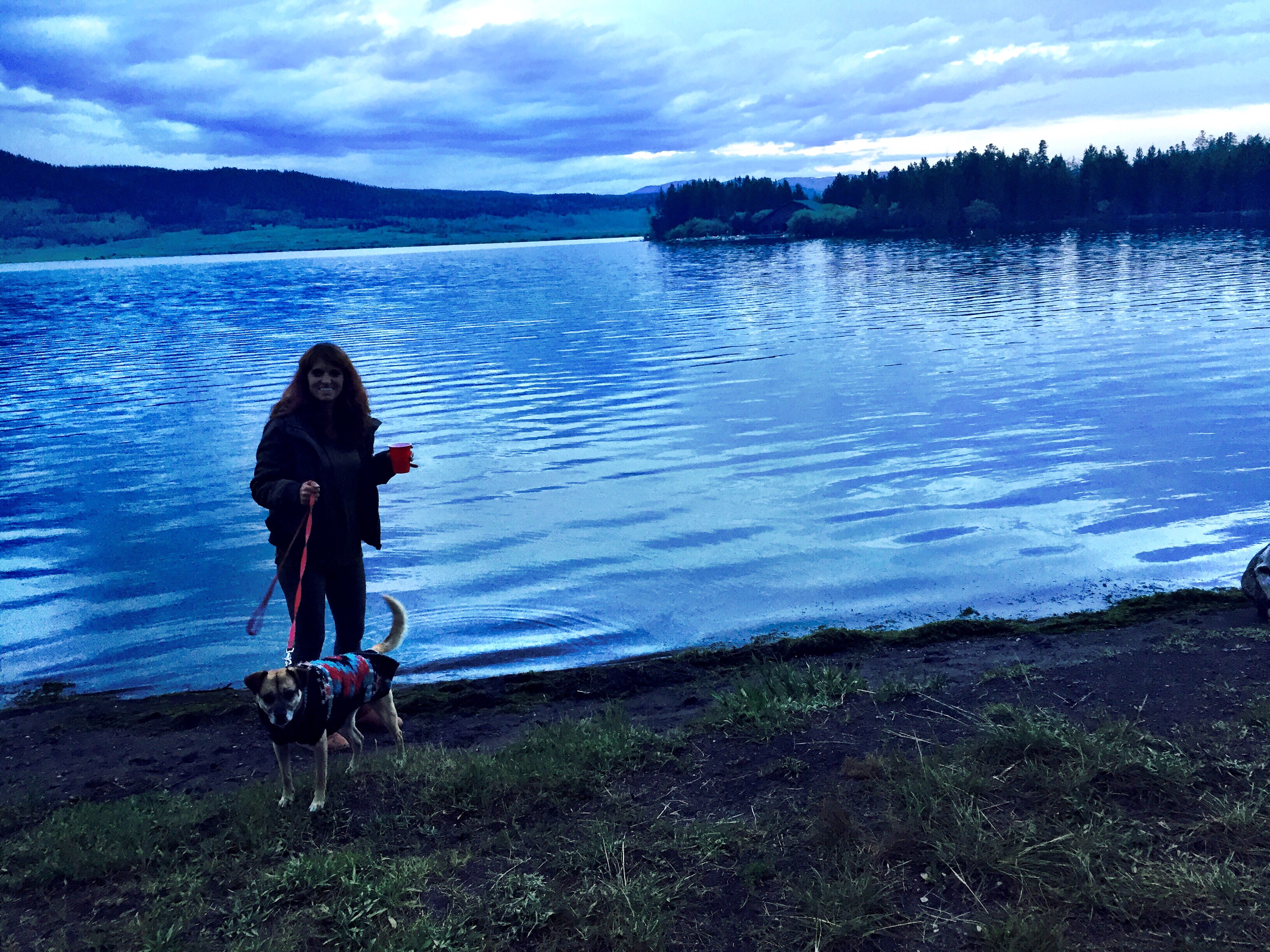 Need a little privacy for those days out in the RV roughing it? You may be nudists but even in a crowded campground the families around you don't need to know that! These awesome screens fit over the windows of the front of the RV and you can lounge away in your birthday suit and your neighbors (And the camp host) will never know!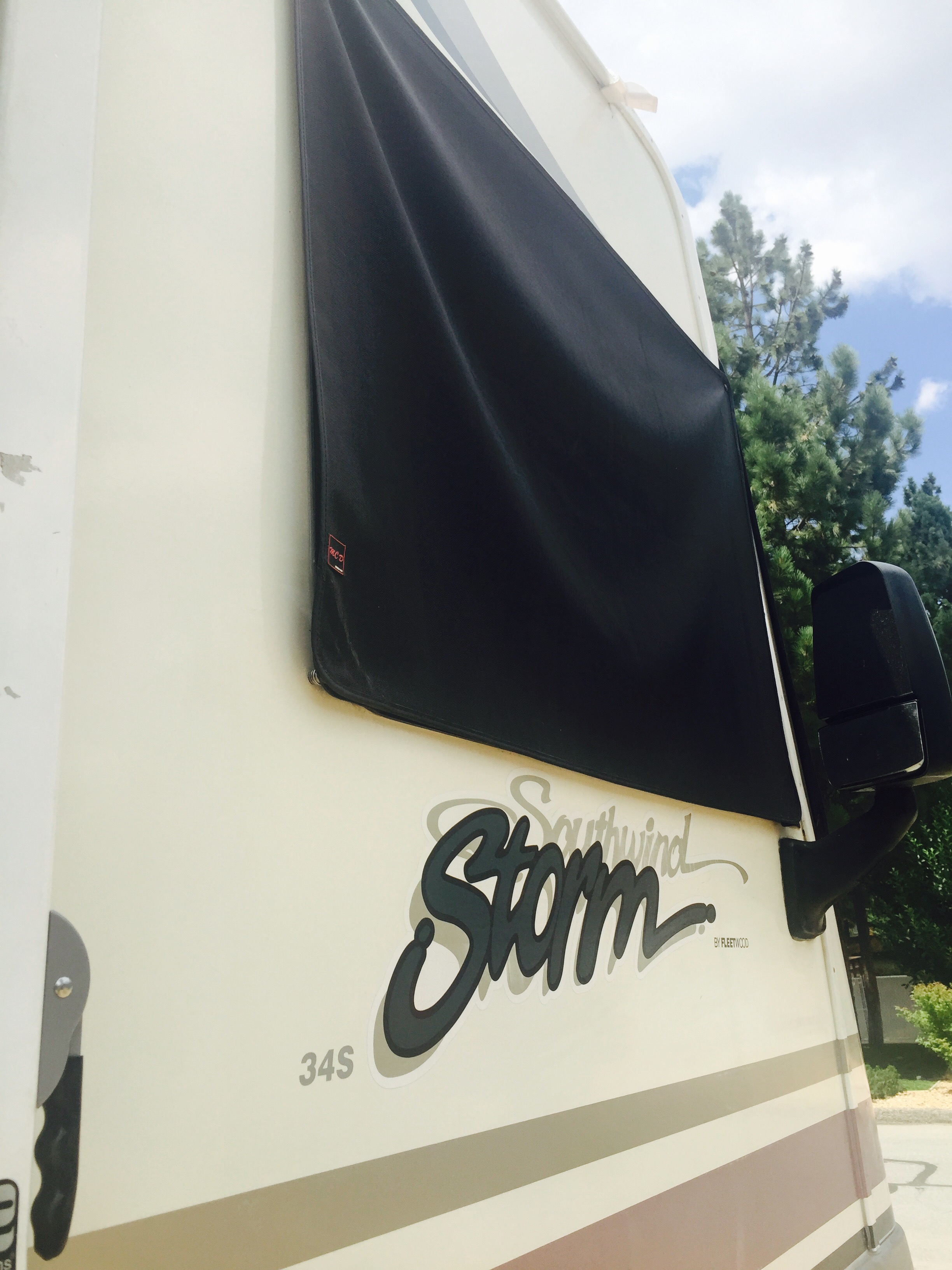 Cover old ugly couches in cute pooches!
I mean cover old ugly couches with festive blankets. At home this little lady is not allowed on the couch. Nope, not ever. Then my boyfriends eleven year old daughter decided there are no rules on vacation. We may have created a monster (Who thinks she is allowed on the couch now) I'm obviously talking about our dog and not an 11-year-old girl. Festive blankets like this one I bought in Mexico bring some bright and lively colors to this drab old RV.
When we brought our old RV home the captains chairs were thrashed! Replacing the captains chairs is extremely pricy; Think over eight hundred dollars a chair. We bought these chair covers on Amazon for just around one hundred dollars and the chairs are more comfortable for driving (I mean you can't tell by my face in this photo as I white knuckle the steering wheel but I swear I'm comfortable!) and they look way classier then the old torn captains seats.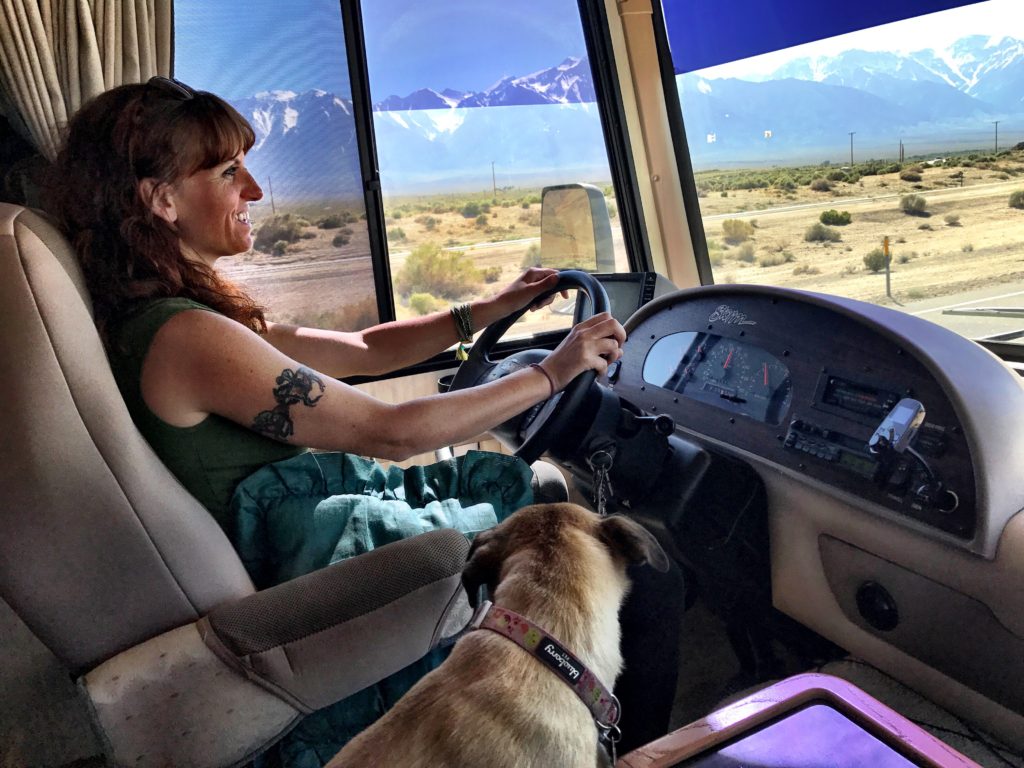 The salvation Army is your BFF
Thrift store shopping and spending afternoons wading through some one elses crap has never been the way I spend my afternoons. Than we bought an RV and I realized we needed EVERYTHING for the kitchen. The timing could not have been worse as eight months ago I sold my home and donated a couple thousand dollars worth of junk to my local thrift store.
On this early March morning I find myself thinking, could I please have my junk back? As I march up and down the dusty moth ball smelling isles and throw silverware sets and coffee mugs in my basket, and then I got distracted and threw in a summer romper for four dollars. (For future trips to Lake Powell in the RV of course, lounging lakeside with a margarita in hand. The new RV does not even have its full tank of gas and we are already planning out all the adventures it will take us on!)
I bought this vintage dish set for three dollars at our local thrift store one afternoon while we waited on our new Toad (tow car) to get smogged. This is going to look fantastic with some pork Vindaloo one cold summers evening when we are camping in Yellowstone National Park.
One evening after work I raided our local Big Lots and stocked up on these inexpensive kitchen plates, breakfast bowls and plastic cups. Yup these babies are going to be great for breakfast sandwich when we are camping.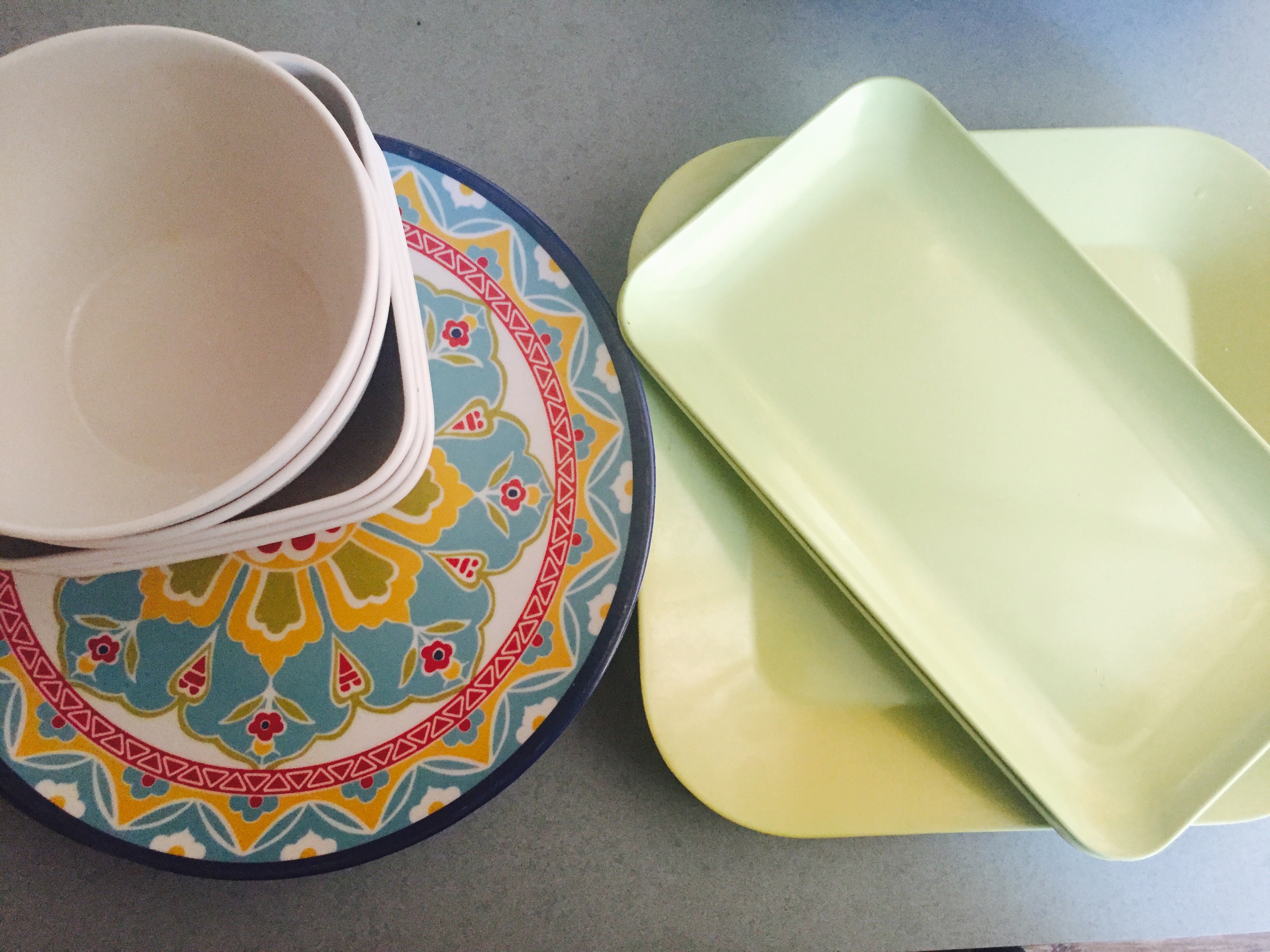 I searched Amazon for hours for the perfect tablecloth and pillow case covers to add some color to the dour nineties look of our 2009 Fleetwood Storm motor home. I love theses pillow case covers covered with maps. These are perfect for the wanderlust filled traveler.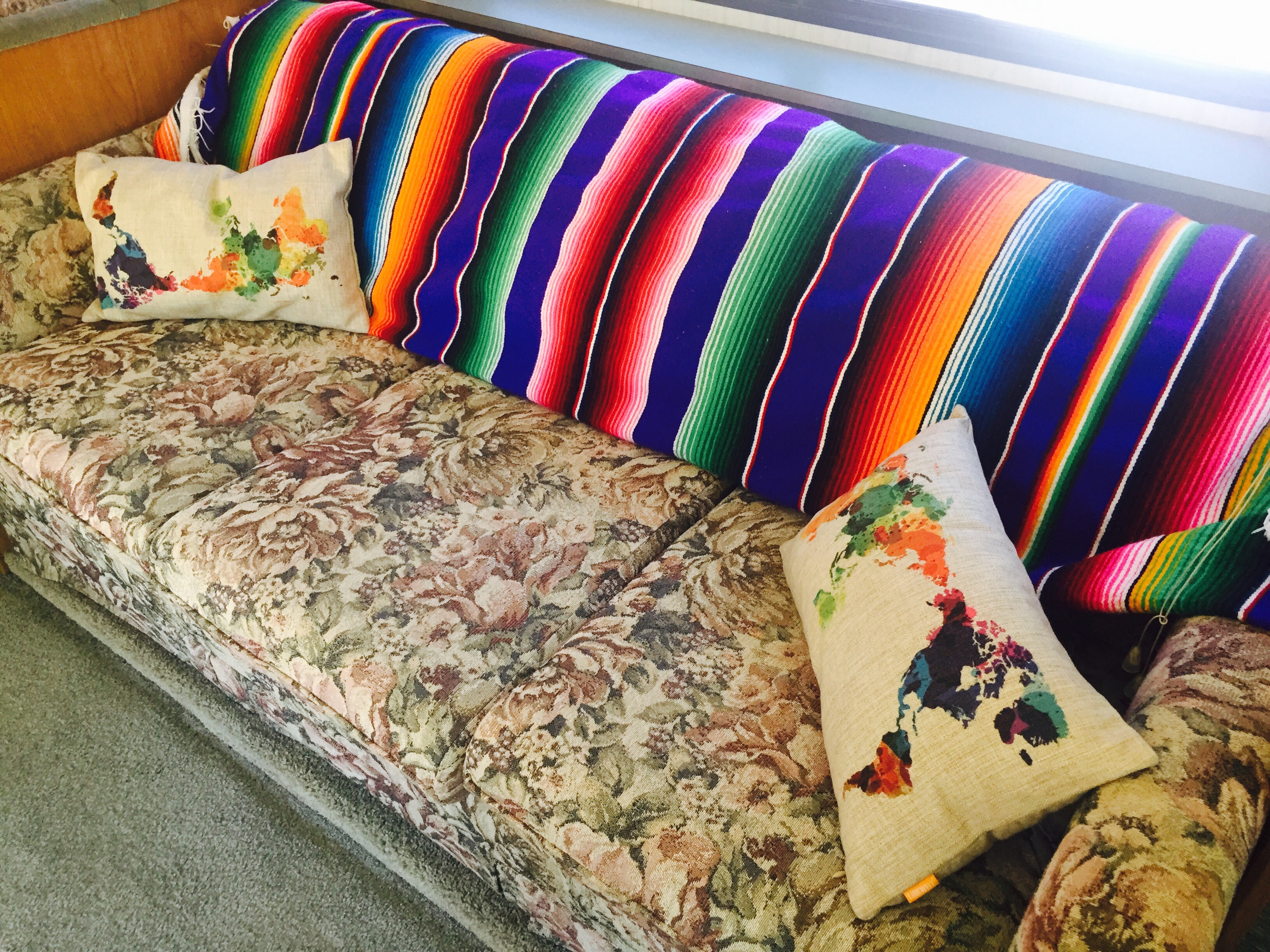 Some upgrades are more pricy
When we bought Mac the 2009 Fleetwood the carpet was not in great condition. Replacing beat up old carpet in a 34 foot RV with laminate hardwood is not expensive. We did look at getting carpeting from somewhere like Carpet Now – Carpet Installation but we decided to look into laminate flooring. Even for this larger size RV it only took 6 boxes of laminate flooring at three dollars a square foot from Home Depot to get the job done. Having hardwood floors in an RV when you are out on the road completely beats carpet! You only have so much space inside a 34 foot RV and lets face it when traveling to exotic destinations like Cody, Wyoming I would need to stock up all the cupboards with organic avocados from California, Rudy's gluten-free breads from Whole Foods and everything cashew butter from Trader Joe's. There is no extra room for a vacuum cleaner because I just had to pack the Nutribullet and the tortilla maker! (Do you think I'm joking about the tortilla maker?)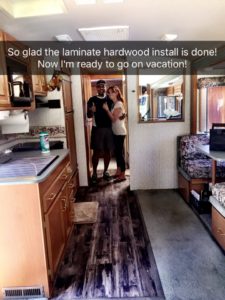 Having fake hardwood floors in the RV not only classes up this older model RV but is convenient from a no carpet perspective. The 2009 carpet stank when we pulled it out too. I feel like the whole RV will smell much better (Even with the two drooling, farting beasts in it) sans the nasty old carpet. If you do still have carpet in your older model RV defiantly shampoo it and those boxes of carpet refresher that you shake onto the carpet and vacuum up are very helpful in covering up old smells (Like old farty dog smell)
Our old RV; What the hell is that smell?
Where is that God awful smell coming from?
We asked ourselves this question about thirty times in the two weeks after we came back from our first camping trip. It was a practice trip and we had camped for two nights less than an hour from our house. How on earth did the RV smell so terrible? We had made Indian food one night and I swear the smell of rotting onions just filled the inside of the old RV. I seriously looked everywhere trying to figure out where the stench was coming from. My boyfriend even took apart the pipes under the sink to see if it was clogged with rotting onions. Nope.
We came to the conclusion that even though we had emptied the grey tank the smell must be coming from the inside of the grey tank. If your RV smells musty, there are a number of precautions you can take to try and find the root of the problem.
The first thing I tried using was the organic approach; I mixed hot water and about a cup of baking soda and rinsed this mixture down the drain. It did seem to help somewhat but the smell did fester. My boyfriend found lemon scented grey tank cleaner on Amazon and this seemed to actually mask the smell! Will we stop making Indian food in our 34 foot old RV?
Hell no! This adventure is just beginning!