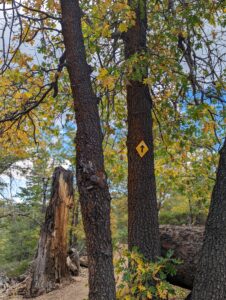 Here in the United States, we refer to autumn as fall because, well we are villagers. The maple and oak leaves fall from the deciduous trees therefore it is fall. Now give me my sugary Pumpkin Spice Latte said the girl in the red, white and blue Ugg's and the MAGA hat. Americans are known to be obsessed with autumn, from shopping to decorating to fall food. It seems like every Tesla driving blonde I know is also obsessed with sugary sweet Pumpkin Spice Lattes from Starbucks as soon as the first leaf hits the concrete sidewalks of Los Angeles. Hold on Tara, before you go full diabetic coma, let me show you how to make a wholesome PSL that won't make your teeth hurt from all that sugar.
You go, girl! Straight into all autumn has to offer
Here in our resort town of Big Bear Lake California that I am so very blessed to call home, we actually get to experience the fall colors as September meets October and the days grow shorter. As I'm sitting in my backyard under the already changing aspen leaves typing this there are hundreds of songbirds migrating through my backyard, heading south for the winter. My cats are very overwhelmed. Yes it feels like fall, all I need is some fall food like my Apple Fritter Cake to round out this post-summer day. I celebrated this nice crisp and chilly autumn day with friends and an early morning fall hike. Yes, I provided the Pumpkin Spice Lattes for our local Hiker Babe group as I just created the best Homemade Pumpkin Spice Powder basically ever.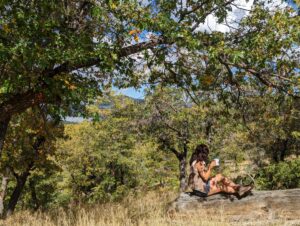 Now I feel like I have to share that recipe with all my favorite coffee-loving girlfriends. Seriously, you will never go back to a crap fake ingredients Starbucks PSL ever again. After the fall colors trek, it was off to the local Dollar Store, where I bought everything. Our extended family has decided to join us here at our home in Big Bear Lake for Thanksgiving. I am a planner, so I am already hoarding autumn decorations, Pin the Tail on the Turkey game for the kids and I even purchased the cutest turkey pinatas, because kids are never too young to hit a fake bird with a bat. It's going to be a festive Thanksgiving this year, Big Bear style!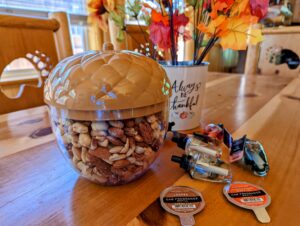 If it's the first day of fall here in my mountain town at over six thousand feet that means I can finally, finally clean my oven. As a Hungry Mountaineer who is basically always in the kitchen, my oven can be a giant mess every single day. Back in the day maybe I would have sprayed it down with chemical Easy Off oven cleaner but here and now and way fewer nasty chemicals in my life, I would rather just run a self-clean every month or so. That is almost impossible in the hot and humid days of summer. Thinking about turning the oven on to broil for five hours in August? That will have our mountain cabin feeling like a sauna by ten a.m. No thank you. As soon as the leaves start changing to a bright burgundy on our Autumn Blaze maple tree, I break out my Uggs. That means it is time to clean the oven and make the whole house smell incredibly smoky for a few hours.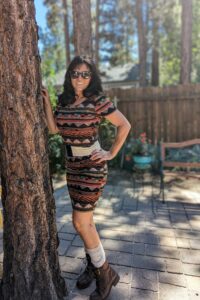 Of course, if you are interested in your house being perfumed more like fall try these fall favorite scents from Bath and Body Works. The Pumpkin Waffle is my absolute favorite this autumn. Do you live two hours from Bath and Body Works like I do? Want to make your house smell like autumn and not smoke and farty felines? Try this easy Autumn Room Elixir.
Fall food, fashion reading must-haves 2022
I really don't spend a lot of time roaming the isles of big chain stores like Bath and Body works and Target but here we are in 2022 and I can't find canned cat food anywhere. There is a nationwide aluminum shortage and canned cat food has been almost impossible to get for years now. My cats are angry and testy just like Donald Trump supporters. That is how I found myself forced to wander through the isles of Target on a hot Las Vegas morning.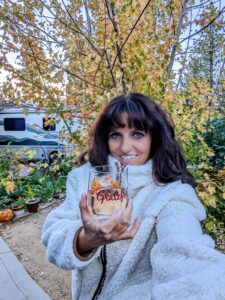 This jacket from Target
I'm not usually a fan of fast fashion so I only buy new to me fashion when it is a classic item that I know I will wear for years like this fleece coat from Target. I have to admit, it might have been one hundred and eight degrees on the Las Vegas Strip a few weeks ago when I purchased this coat but I fell in love (And not with sweaty Las Vegas) I don't usually pay this much for a clothing item, but sometimes you just have to give in to the commercialism that is Target. And I hardly ever do.
I made up for that jacket which was probably made in a sweatshop by picking out this posh nice and warm jean jacket from my favorite thrift store a week later. Such a deal at only sixteen dollars for my savvy shopper fall wardrobe.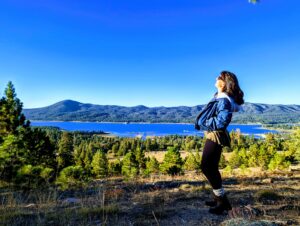 These leggings/skirt from Goodwill
I've basically given up buying pants and leggings at the Goodwill or my favorite thrift store because I swear that every time I do they end up having a hole in the crotch. I mean saying that I am in love with these leggings/skirt. Yes, it is a one-piece sewn all together. It is truly amazing! I purchased this at Goodwill in Las Vegas. Did you know that Las Vegas has the best Goodwill? The Goodwill off of Flamingo is the absolute best. Their prices are so much cheaper than the California Goodwills! I like shopping at Goodwill too because they give back to the communities, and they employ people with barriers to employment. They give free job connection services, English as a second language classes, plus career training a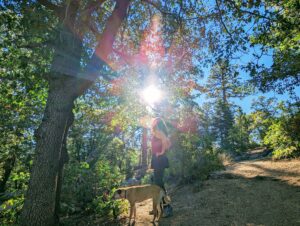 nd development. Shopping at Goodwill makes me feel much better about my retail choices than shopping at the mall.
These comfy leggings from Target
If you happen to be on holiday in sin city make sure you check out the Goodwill on Flamingo. When I shopped til I dropped here in early September, I literally purchased an all-new to-me autumn wardrobe for just under ninety bucks for twenty-two pre-loved items.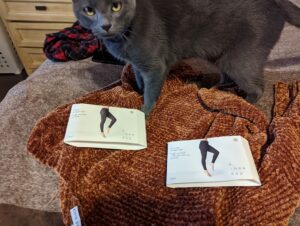 But sometimes I just have to give in and buy some leggings from Target. After examining every pair of leggings in two different Target's I came away with these two pairs that looked perfect. And they have pockets! And no holes in the crotch! Win, win!
The very best Goodwill ever
But back to the absolute best Goodwill ever; I scored an awesome Dress Barn rust-colored blazer (Good Lord, I must be over forty. I never imagined I would brag about my Dress Barn finds ever in my life) I shop at Goodwill's here in California all the time and their prices are cheaper than say, TJ Maxx (but without the trend meant for millennials. Somebody else's used body suit or crop tops? No thanks Kayla) but at the California Goodwill's you can still expect to pay nine dollars to sixteen dollars for any item. The Goodwill off Flamingo in Las Vegas was glorious for us thrifty shoppers! Nevada Goodwill had prices from before Joe Biden was president! I still might be filling up my Subaru with five-dollar gas, in Nevada of all places but this Goodwill's prices took me back to 2017, I feel it coming by the Weekend blaring from the speakers of my favorite thrift store. From now on every time I holiday in Las Vegas, it's shopping at the Flamingo Goodwill first, and breakfast at Hash House A Go Go second.
The best autumn booties for hiking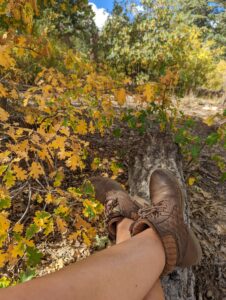 One of my favorite things about fall is wearing the cutest little booties while hiking trails full of orange and red autumn leaves. My plantar fasciitis has become much worse since last autumn and I spending way too much time looking for autumn perfect and yet comfy with lots of padding autumn booties.
These boots Goodwill Las Vegas
I tried on a ton of gently used booties at thrift stores this autumn season before stumbling on to a few pairs I loved. One thing about buying boots and sweaters at the thrift stores; Always try on both boots and make sure all the zippers work. Always check to make sure neither boot rubs anywhere. No joke I will do some squats, jumping jacks or high knee runs with the boots on. Yup, I'm that crazy weirdo you saw doing burpees in the Goodwill last week! This is all to make sure my new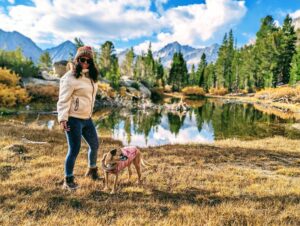 autumn boots will not rub while trekking up trails. Yes, that might sound odd but you see a lot of weirdos in thrift stores. I blend in well.
Fall food. Cardamom, cinnamon and cloves
Have you ever tried putting a touch of ground cardamom in your coffee on chilly autumn mornings? I like to do some dark espresso, a hint of cream and a touch of ground white cardamom pods. That is so perfect on a crisp morning. This is fall food, a bit of spice in a coffee mug right there. I'm not a pumpkin spice frappa-latte lover but give me cardamom in my coffee any day in September or October.
While on holiday in Las Vegas we stocked up on Indian groceries at Rani's World Foods the best little Indian market you will find alongside the I-15 in Las Vegas. Rani's has been in business since 2009  for those hard to find in most American towns Indian kitchen items.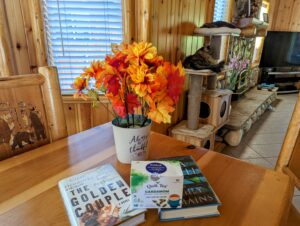 You can actually buy products like fennel candies or jaggery from Rani's online too! I purchased some cardamom chai tea from Rani's and I am extremely addicted to this spicy-sweet tea that is just perfect on a cold and foggy autumn afternoon. This tea is my official favorite fall food in 2022.
Forget about PSL. Hello, cardamom chai tea. I picked up the box of sweetened chai tea wh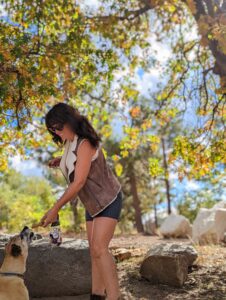 ile we were stocking up in Chinatown at Rani's World Foods and I regret not buying five of these! I love this fantastic little Indian market that is so very close to the strip. I kid you not, this cup of zesty cardamom tea I enjoyed as the leaves fell around me in my backyard was better than any chai tea I had while we were in India. The cardamom flavor was spicy and really took me back to all the spices of India. What I really loved was it was a little sweet but not too overwhelmingly sweet.
One of my all-time favorite things about fall is actually being able to turn on my oven again for hours at a time and roast a prime rib or brisket. Except for this autumn in Joe Biden's America, I can't afford to go on a shopping spree at Hobby Lobby and throw everything red and orange in my cart. I can't possibly buy that ridiculously pretty fake red maple tree I saw at TJ Maxx for eighty dollars and I can't waste the money on a prime rib roast that is twenty dollars a pound. So instead when it comes to delicious fall food cravings I took my mom's famous prime rib crust and I slathered it on cheaper (Only seven dollars a pound) beef short ribs.
Mama's Best Horseradish-Crusted Short Ribs
For these Horseradish-Crusted Short Ribs, simply steam your ribs in the pressure cooker for fif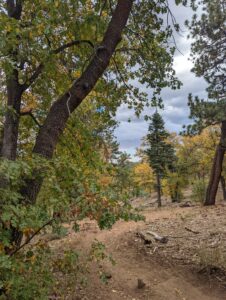 teen minutes with some Worcestershire. Turn off the pressure cooker and let the ribs sit in the steam for thirty minutes. At this time chop 4 cloves of garlic. Mix that with 1 teaspoon salt, 1 teaspoon fresh rosemary chopped, 2 teaspoons ground horseradish and 1 teaspoon olive oil. When the ribs are cool enough to handle, slather the top of the ribs well with this mixture. Put the ribs back in the oven at 325 for forty-five minutes.
Millions of peaches
When one thinks of fall they probably don't think of peaches but we do in our house. We may not live in the south, but wow do our trees have some delicious peaches this early fall!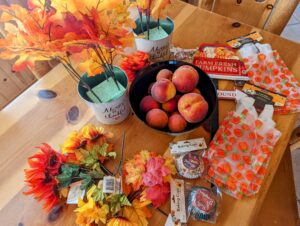 Now that it's September our two peach trees have peaches falling off each and every day. I'm busy baking peach muffins for my pop-up picnic clients and baking my world-famous Peach Cobbler Muffins for family and friends. This recipe is an instant fall favorite. Cardamom is just one of my favorite autumn flavors.
So what is my favorite fall alcoholic beverage you may be wondering? Well my foodie friend Jolene makes the best Autumn Honeycrisp Chiller basically ever.
Autumn Honeycrisp Chiller
2 Honeycrisp apples, cut into small pieces
1 cinnamon stick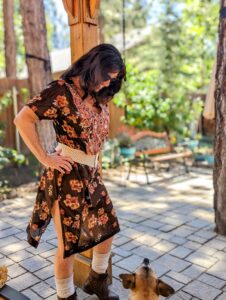 4 cloves
4 cardamom seeds
2 bottles of inexpensive pinot grigio (I like the Skinny
from Trader Joe's because it only has
carbs
1 cup Honeycrisp apple cider
In a large glass canister, and the apples. Wrap the cinnamon sticks, cloves and cardamom seeds in cheesecloth and throw that baby in. Add in the pinot grigio and the Honeycrisp apple cider. Give it a stir and serve over ice while relaxing in the backyard in an autumn-inspired thrifted kurti on an Indian summer afternoon.
A fall fashion excursion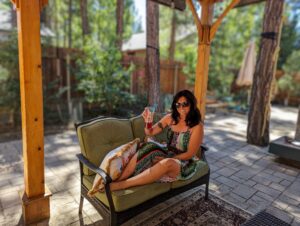 This last week I escaped to the city on a cool and crisp southern California autumn day. By that, I mean it was eighty-five degrees. But I still wore boots while out shopping, because autumn, damn it! I hadn't done any grocery or thrift shopping in close to forty-five degrees and I made out like a thrift store bandit. The thrift store God's were smiling upon me as I found multiple autumn dresses, autumn decorations and even a summertime romper/jumpsuit that I'm obsessed with! It will be too cold to wear it in a week here in my mountain town but I don't care.
I also purchased a new to me gently used sweater for my pup for those cold autumn nights in the backyard relaxing by the fire pit. And I managed to buy a few more giant ridiculous pumpkins for my outdoor collection and also found all the spices I need to make all my friends and family fresh batches of the Hungry Mountaineer's Pumpkin Spice Powder. The problem with fall is I get a little overwhelmed with all the awesome fall stuff to purchase. Tiny little decorated with pumpkins dog treat bags? Yes, please! I'll just fill them up with homemade doggy treats for family and friends! Cute decorated to go coffee cups covered with orange and green pumpkins? Yup, I guess I have to buy those too. I have no self-restraint when it comes to cute fall swag.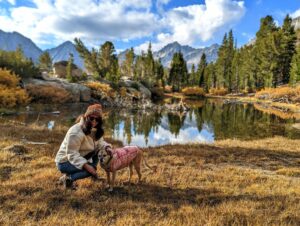 I also kind of got lost in Hobby Lobby yesterday. Note to self, never, ever walk into Hobby Lobby again, especially in the autumn. You will find yourself basically lost in a maze of six isles of fall decor, fancy pumpkin decorations, and all kinds of fall-inspired baking gear like the cutest muffin tins ever. They even had fall-inspired ziplock bags! The autumn baker in me needed them! And everything orange, yellow and red was fifty percent off! I had to call a friend and have her drag me out of there kicking and screaming and waving my American Express card in the air. But the organic baker in me did purchase the cutest fall print ziplock bags for packaging up my Sweet Potato Candied Ginger Muffins with a Maple Glaze for my hiking guests this coming weekend.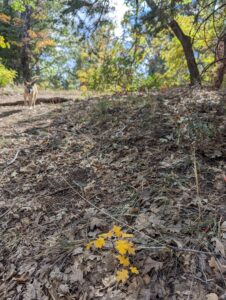 So you have shopped (For a new fall wardrobe) til you almost dropped. You baked delicious fall food like cardamom spiced muffins. You must be exhausted and ready to unwind with your cats that are pissed that there is no wet cat food since 2020. So you might also be asking, what is the perfect book to read while sipping on a Pumpkin Spice White Russian or a mug of hot cardamom chai tea? I read two books this early autumn that had me hooked from page ten; The Family Remains by Lisa Jewell and the Golden Couple by Greer Hendricks and Sarah Pekkanen. Both I highly, highly recommend. These are the best to read while relaxing during a late autumn thunderstorm.
Happy fall y'all!