The morning began with my pup trying to go for a swim in her favorite sweater at a tiny trailside lake above the Litle Lake's Valley. The autumn colors were simply amazing here but it was not good weather for a swim. This was before it began snowing.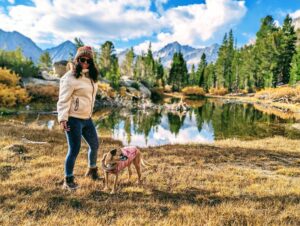 I was not in shape to hike up a 12,000-foot mountain pass this morning. To be fair my hiking goal today was actually the fifteen-mile Big Mcgee Lake hike and that would have even been harder than the trek I actually accomplished this morning! I woke up on this chilly almost rainy October morning in Mammoth Lakes California and our twenty-year-old tow car was making a new and delightful noise. I decided that taking the dirt road two miles up to the Mcgee Creek parking area might not be the greatest idea for Suzy the Suzuki this morning as she was complaining like an old lady on this beautiful fall morning. I mean it was a cold forty-degree morning, my old bones were also complaining!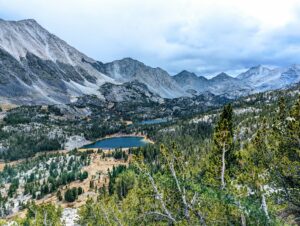 So I made a new plan. Mono Pass it would be! And this time, unlike the first time I summited Mono Pass, I would not have altitude sickness! I was not expecting a three-hour snowstorm as I trekked to over ten thousand feet but that's okay because nothing makes me happier than clouds, snow and fall colors. This is the only day of our eastern Sierras vacation we are expecting any weather and I honestly wish we had clouds every day. The contrast of the clouds and the amber aspen leaves is just so pretty. My thirteen-year-old trail pup unlike me is not the biggest fan of the cold but I dressed her in her favorite sweater and away we went to Mosquito Flat's and the adventures that lay ahead.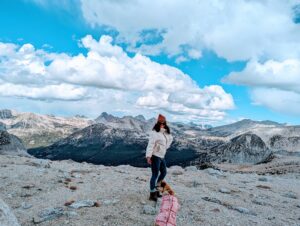 What was so shocking about this hike was we saw one person on the trail all day. That is just crazy nuts for this popular trail, especially on a sudo holiday like Columbus Day and during the fall color season in the eastern Sierras! I couldn't believe our luck to have this section of trail all to ourselves. Normally you would see backpackers at least trekking into the Pioneer Lakes Basin for some overnight camping shenanigans.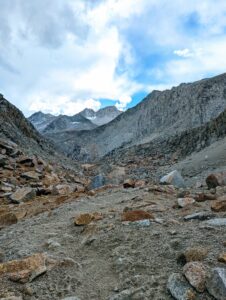 It turns out I am not in shape to hike over two thousand feet of altitude gain in just four miles of uphill. For whatever reason, I was thinking Mono Pass was only slightly harder than Morgan Pass. Maybe that's because when we trekked this five years ago I spent half the hike puking. Take my advice, don't go for a hike when you have acute mountain sickness. It is just not a good time. That was the one and only time in my life I had altitude sickness and never want to go through that again.
If you feel like a real badass as you ascend the Mono Pass, you can even take the trail up to Mount Starr at over 12,000 feet. But we continued on past Summit Lake and took a good look at all those pretty lakes in the Pioneer Lakes Basin instead. At this point, the snow was really coming down and I began to worry about if there would be snow back at Mosquito Flats where my twenty-year-old Suzuki was parked. I have not driven a two-wheel drive stick shift in the snow since I was in my twenties. And was not looking forward to the memories of those times.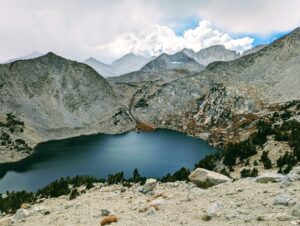 Luckily trekking down from Mono Pass is so much easier and we flew down that trail, not even stopping for lunch. I think it took me three hours to hike up with multiple dog selfie breaks and two hours to reach Suzy the Suzuki in a luckily snow-free parking lot.
This trail didn't have the best of the best fall colors like the rest of the Little Lake Valley hikes do this time of year but it was way from the crowds and you did have really pretty views looking down on Heart Lake and the rest of the Little Lakes Valley.
Plan your trip to the eastern Sierras now! The fall colors are changing daily!