Last week our Hiker Babe Big Bear group went on our annual stroll through the fall colors with your favorite pup walk. And I of course, as the leader of the group brought homemade pumpkin spice lattes for everyone. This powder is so ridiculously, fresh and aromatic. You will never ever go back to another Starbucks pumpkin spice latte ever again!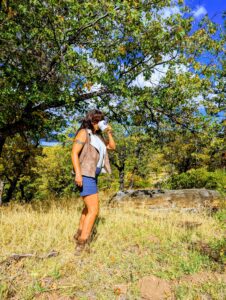 ADBB PSL
One thing about those Indian summer days of autumn; You never know what to wear! The sustainable thrift store shopping fashionista in me does a lot of laundries that first week in October because I start my morning bundled up in sweats and my favorite gently used sweater. By the time it's dog walking time I have switched out the sweats for shorts and my favorite hiking booties. Here I am in October 2022 and I have an ankle injury that does not allow me to wear my running shoes. Remember back in the day when I used to run and not be a fat ass who sat on the porch shoving Apple Fritter Cake at my face? I can't even do a burpee if I tried these days because lacing up my favorite Saucony trail runners has my Achilles tendon aching!
Cool and crisp autumn days normally have me out trekking trails as often as I possibly can but this damn ankle pain is setting me back. It is however a great excuse to wear my new cute fall booties everywhere I go. I set out with the pup early this a.m. for a fall colors hike before the thunderstorms rolled in this afternoon. It couldn't have been a more scenic day in Big Bear Lake under the changing red and golden leaves of the black oak trees.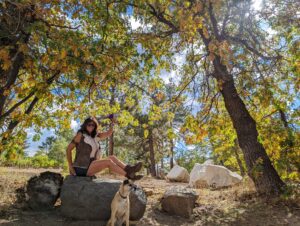 After a brisk morning trek through some fallen leaves with the pup admiring all those fall colors just starting to change I really should clean my house. But then the sun came out after the rain poured down on our garden and it was hot and humid like an August afternoon. Warm afternoon weather is very fleeting here in the mountains of southern California in October. House cleaning be damned, it can wait until tomorrow when we have nice warm summer afternoons, I might just put on my favorite romper. It's nice weather to enjoy this one hour of the day when the temps reach eighty degrees in October and read a good book in the backyard. And sip on a homemade pumpkin spice latte of course.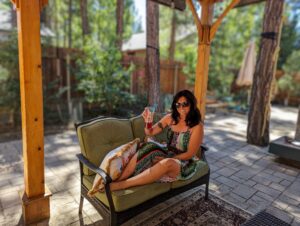 Did you know a medium-sized PSL from Starbucks has over your entire sugar content for one day? Yes, your favorite fall beverage from Starbucks has as much sugar in it as ten oreo cookies! I am not a coffee drinker who likes my coffee teeth aching sweat, to begin with. I use a quarter teaspoon of raw honey in my homemade pumpkin spice latte. I find that to be plenty.
To make the best at-home pumpkin spice latte or coffee just combine hot coffee or espresso, cream and 1/2 a teaspoon of this pumpkin spice latte powder. Add honey to taste. I like to put the whole thing in my nutribullet to make it a little foamy like a cappuccino.
Pumpkin Spice Latte Powder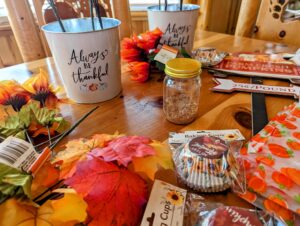 ¼ teaspoon nutmeg
4 cardamom cloves
Combine all these fresh spices in your nutribullet. You can even use a coffee grinder for this. You will never go back to a Starbucks pumpkin spice latte again!