I've spent a lot of time traveling through Baja, Mexico and I consider myself a condesour of what makes a good taco. Back here in the mountains of southern California I can import some great authentic Baja flavors with the help of one can of smokey adobe chilies.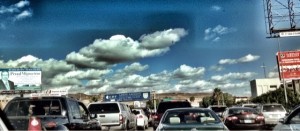 It's a summer sultry afternoon in the beach town of Rosario, Mexico. As you wander the streets among the street urchens and taco stands, past Papas and Beer and some less then legit looking "dance clubs" the question is, where is it safe to eat a street taco? If you want my expert advice from an expert Baja traveler, dive right in to the world of street tacos, whether that means fish, shrimp or carne asada. Get brave and try some really authentic Baja cuisine. The number one rule of how to find tasty authentic Mexican food; Don't be afraid to eat street food. Sure sometimes you get sick (and sometimes you get so sick the border patrol asks you to never come back to Mexico; True story) but having the most authentic Mexican food means you have to eat at every delicious taco stand in Ensenada and Rosarito Beach.
Being a native Californian we usually eat a healthier version of Mexican food a few times a week. Sometimes this means we have carnitas or shrimp taco protein bowls with plenty of brown rice and veggies. If I am making taco protein bowls then we are definitely adding one of my favorite "Secret ingredients" Adobe chilies.
Adobe Chilies' are something that I always have to have stocked up in our cupboard. They go into pretty much every Mexican dish that we make as well as some of my favorite spicy autumn stews. Adobe chilies are roasted jalapeno chilies that are smoked and then stewed in tomato sauce. They give such a smokey bite to every dish you throw them into. I simply cannot make tacos or enchiladas without a side of my favorite Adobe Chili Yogurt Sauce. Whenever we have friends over for these meals they always ask
"What on earth is in that delicious sauce!?"
Always remember when using the spicy chilies in a can that they are really spicy. Only use a little bit in the beginning to decide how much of this smoky spiciness you can take. If the chilies are too hot for you then just use the smoky tomato sauce. These chilies freeze really well if you just use a little of the can also.
I love me some adobe chili goodness. Adobe chilies can spice up any meal from pulled pork to salsas, tacos and Cheesy Corn Chowders.
Adobe Chili Yogurt can turn you favorite taco from ho hum to take me back to Rosarito Beach absolutely amazing! Try this low-calorie sauce on carnitas tacos or shrimp tacos.
Have you ever tried an Adobe Bloody Mary? Simply add a little of the chilies puréed with the tomatoes to your favorite Bloody Mary mix to give it a little spicy kick. This simple step can turn your Bloody Mary from just tomato juice to a zesty fiesta in your mouth! (With vodka! Yea!)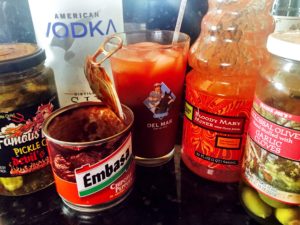 Besides throwing them into you favorite cocktail, adobe chilies are that ingredient all your best winter dishes are missing. Stock up on a few cans of these tasty chilies this week!