A delicious carnitas dinner is the kind of meal you need waiting at home in the crock pot after severely injuring yourself mountain biking. This is the kind of made in advance meal you hope to have waiting hot and steaming and yes spicy in the crock pot at as you sit on the side of a deserted mountain trail, crying, cursing and bleeding. That is if you are anything like me.
I can feel my head hitting the dirt and the only thought crashing through my head and my brain and my skull was "Oh thank God I'm wearing a helmet" It was eight a.m. on one of the first severely hot days of the summer and I was celebrating the soon to come summer solstice by crashing my mountain bike in the middle of nowhere.
After my head smashed into the dirt my next thought was my knee was bleeding badly and I was pretty sure I could see a bone if I really looked hard enough at the puncture wound in my right knee. I couldn't bring myself to look through the oozing blood and torn muscle to see if that was in fact my knee sticking out of my jagged skin. I hadn't even been traveling at a high rate of speed down the steep gravel and rock covered hill. Why hadn't I protected my knees better when I flew over the handlebars?
My third or fourth thought as I lay there in the dirt hyperventilating (No, for once that thought was not food; it wasn't carnitas!) was well shit, at least this scar was going to be extremely close to the old scar I had on the same knee from last summer when I tore my knee open trail running. In fact I think they will now be one and the same scar and people will just assume at this point that I am a walking talking accident! I'm just glad that I've been able to avoid any serious injuries up until this point though. Even if I did, I would be sure to get in touch with somewhere like The Keating Firm (look at their home page here) to see if I was able to make a compensation claim, especially if it wasn't my fault in the first place. Although, I hope that I don't have to worry about this at all.
Normally when out on a mountain bike ride in the middle of nowhere just me and the pup I don't like to run into other people but as I lay there in the dirt wondering if anything was broken and staring at my once intact helmet now in two pieces from the force of the blow of my head hitting the dirt, I was hoping and praying a forest ranger would come up this desolate fire road and lend a helping hand or at least a band-aid or two.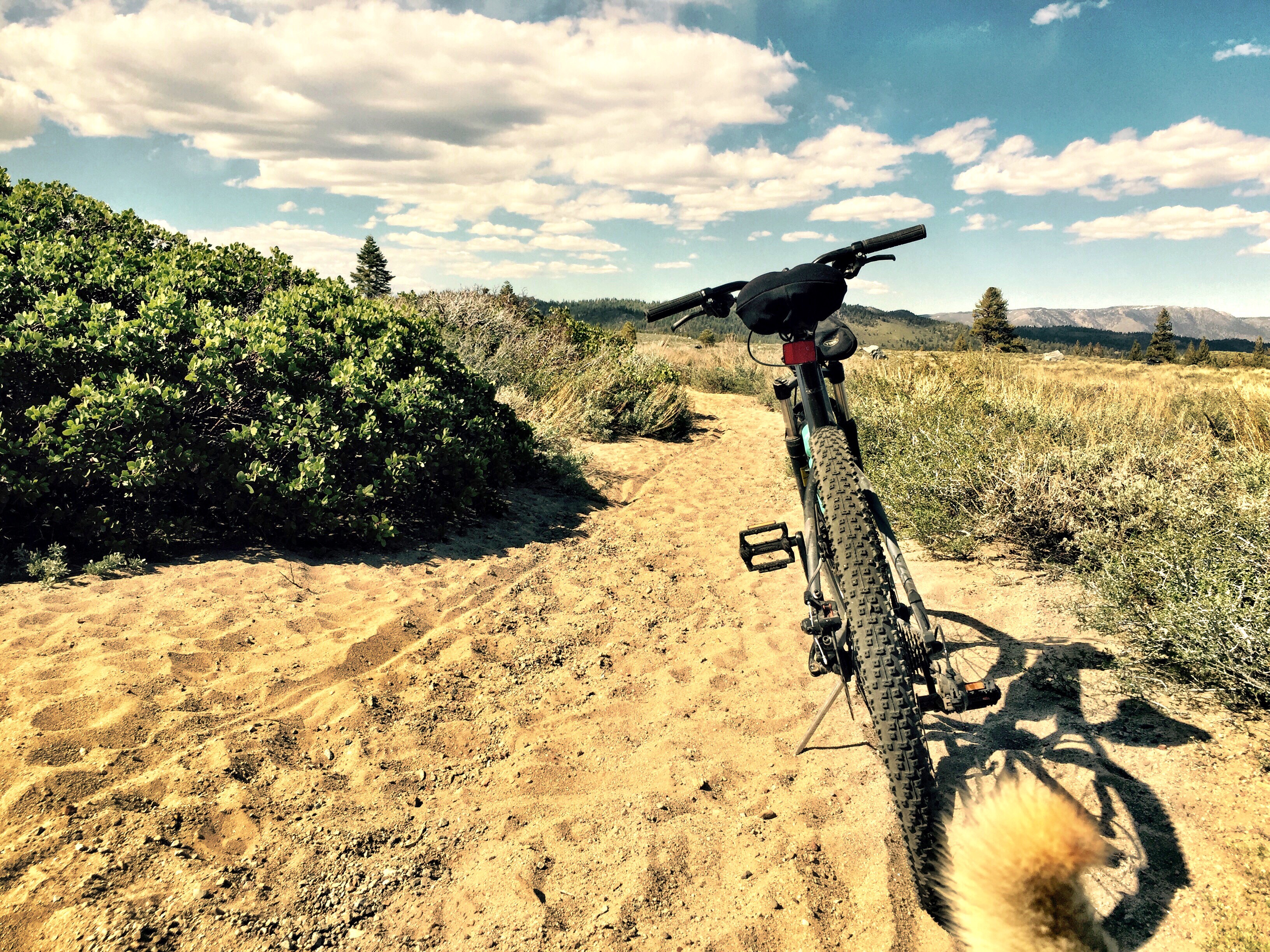 Seriously, don't be like me! Carry band-aids and first aid supplies while mountain biking!
Laying in the hot summer dirt, staring at my bleeding knees, I was in a lot of pain but pretty sure nothing was broken. I needed to get my sanity back and stop hyperventilating so that I could ride three miles back to my car. Three miles of dirt fire roads that were fortunately all down hill. I flung my pack apart looking for a band-aid of some kind (I had none) and wondered if my knee was bleeding bad enough that I should rip off my Big Bear Half Marathon t-shirt to make a tourniquet. I stopped the bleeding a bit with some paper towels in my pack, but not before splashing blood on my shirt, my face and my dog. I was bleeding a lot and sitting there in the hot sun was not helping. I needed to get back on my bike and ride back to my car.
If you crash on your mountain bike because you are day dreaming about carnitas and not focused, drink some water, stop hyperventilating and get back on your bike!
There is nothing quite as terrible as having to walk or ride back to your car while severely injured. Is this the first time for me? Nope. I was lucky this time though because the ride back to my car was almost all down hill. I was able to coast very slowly almost the entire way. I did have to pedal a little bit which was actually good, as I was not quite sure yet that nothing was broken in my knee and this let me try out my knee a bit. It hurt like a bitch but pedaling was do-able.
It was a hard ride back to my Subaru, almost three miles and I have never been so happy to get back to my car and yes! Band-aids! Which really did no good as my knees just bled right through them. I somehow managed to drive home, still hyperventilating and I'm pretty sure in a little bit of shock from such a bad fall. The weird thing is even though my head hit the dirt hard my head didn't hurt at all! Thank you helmet!
I'm not going to lie. I did not go to urgent care and get stitches. There was one puncture wound that bled for about six hours after I crashed. It was literally just a puncture wound though. Could they even put a stitch in it, it was so small? So super glue came to the rescue. A great hiker and mountain biker trick for cuts that are not to deep is super glue. They recommend not putting it on bendy body parts (Like knees and elbows) but this is the only thing that made my knee stop bleeding after hours and hours and hell, it saved me a trip to the ER! After all I went to on the trails today the very last thing I wanted to do was go sit in an emergency room for a few hours!
Today was rough and man do I deserve some hot pork goodness.
Thank God for carnitas, helmets and crock pot dinners!
Spicy Adobe Chilies Carnitas
Pork shoulder
1 tablespoon cumin
1/2 cup orange juice
1/4 cup adobe chilies in sauce
1 bay leave
1 teaspoon salt
Pickled red onions
Cabbage
Avocado
Corn
Corn tortillas
To make the carnitas add the pork shoulder, 1 and 1/2 cups water, the orange juice, the chilies, bay leaves and salt to he crock pot. Let cook 4-6 hours on low. Remove the chunk of meat. Let cool twenty minutes then shred. Return to the spicy broth and mix in to get lots of the sauce all over the meat.
Serve the carnitas with avocados, corn and pickled red onions in a tortilla.
Or you can make a carnitas protein bowl by adding brown rice, red cabbage, avocado, corn and the pickled red onion.
Love this spicy recipe? Don't forget to pin it!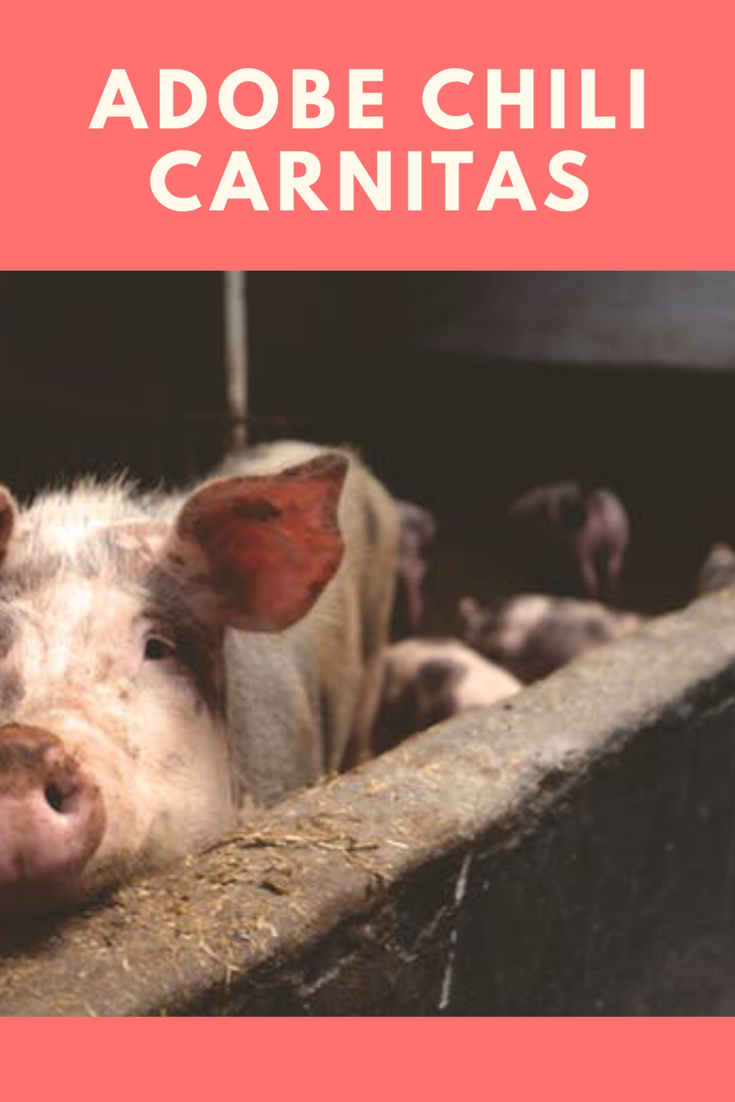 This week I am linking up with the following blog hops; http://www.mizhelenscountrycottage.com/2015/09/full-plate-thursday-9-17-15.html
http://www.abountifullove.com/
http://lifewithlorelai.com/2017/03/30/home-matters-linky-party-129/
http://designsbygollum.blogspot.com/