Southern California has been besieged with explosive wildfires this week. I remember once upon a time here in the southland when a 10,000-acre wildfire was the largest this sunshine state had ever seen. Now here we are in pandemic plagued 2020, sometimes it feels like the end of days especially if you are the one trying to escape the wildfires on a wilderness highway under blood-red smoky skies. As a lifelong Californian and outdoor lover, it seems like there is nowhere to go to escape the red smoky unhealthy air this September in southern California. I knew there was a massive wildfire in the western Sierras in the Sierra National Forest when Donna and I were putting the finishing touches on our girls getaway to the eastern Sierras earlier in the week. But here's the thing; The Sierras have been plagued with smoky air for the last two weeks since I sluggishly hiked to the tippy top of Mt Whitney at 14,000 feet.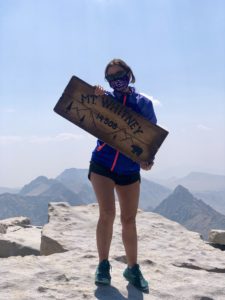 The dense smoke burned my lungs but at least it wasn't the COVID and I still fought my way to the top of that mountain and thought about how I would be returning back to the eastern Sierras in just fourteen days. Fire season is bad, very bad these days in southern California but it's just unheard of for these firestorms and purple extremely unhealthy air quality to last for two damn weeks. I figured by the time Donna and I were packing up my SUV and driving up the 395 the air quality would be getting better and the fires would be a bit contained. I was so wrong.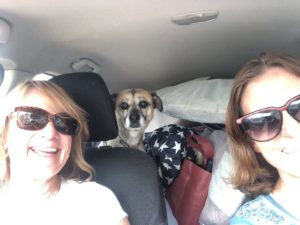 The stories that are coming out of this fire season are just insane. My brother and his inlaws vacation every year at Shaver Lake, which is exactly where the Creek Fire started. This morning I read about how Search and Rescue basically can't rescue people anymore because it's just too dangerous. Hikers are dying and having strokes out in the smoky wilderness and military helicopters can't land to rescue them as the smoke is just too bad. The air quality here in California is as bad as Hong Kong or Mumbai and we are located just a few hours from Los Angeles! It's insane times! Donna and I had no idea what we were getting ourselves into as we drove north on Highway 395 towards Mammoth Lakes.
Yes, it was smoky as we drove north but I figured one day of smoke and the wind would send the smoke in another direction. We had campsite reservations, a cooler full of delectable vidles and plans to do some serious scenic hikes. We were not going to let a few embers slow us down! (We did have one tank full of serious bad gas slow us down though)
We were going camping in the eastern Sierras so help me God!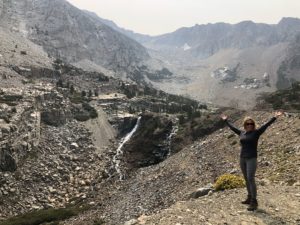 Wildfires be damned, Donna and I left Big Bear at just after dawn on Labor Day Sunday and made our way to a very smoky Bishop where we stopped at the best little bar-b-que shack along the 395 north and had a great brisket and hot links break before my car decided it hated the gas we bought at Kramer Junction as we raced up Sherwin Summit at over 8,000 feet and we changed the nights camping plans to not burp and belch our way up the Tioga Past (I mean the car not us ladies full of bar-b-que) and instead camp in smoky Mammoth Lakes. We managed to snag the very last campsite at New Shady Rest; You know that one campground with all the bears?
Did I mention Donna is basically a first-time camper? She did bring her own canister of bear spray through and I cautioned her "If you aim that at Yogi's face in the middle of the night, you have a better chance of the overspray getting in your own eyes" A much better option for scaring off bears is a very loud shrill whistle kind of like Nancy Pelosi's voice in my nightmares. But if you don't have your own Nancy Pelosi whistle then any old whistle will do.
So obviously at some point in the middle of the night, we had a mama bear roaming her campground looking for her cubs. I mean you can't take the first-time camper out for an adventure without Smokey the Bear showing his snout, right? Luckily in the morning as we stood sipping on our delicious camp coffee Donna told me she was sure the "Bear noises" were a very upset baby crying. This was just the start of our twenty four hour shenanigan filled camping adventure. Oh and have a I mentioned also a skunk had sprayed our campground the night before? In all my trips to the eastern Sierras, I have never seen or smelled a skunk here so that was a bit surprising. I guess it goes to show when the first-time camper Donna shows up all the wild animals emerge from the forest, kind of like in Sleeping Beauty. (And this was before the Bambi wandered up to me so close I could pet it and then my dog lunged at it trying to "Protect me")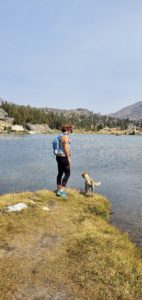 We may have had a scant twenty-four hours to enjoy a smoky fast road trip to the eastern Sierras but we managed to do all the things; We made a delicious dinner of healthy protein burgers by the campfire, we did an epic hike in the Twenty Lakes Basin and we saw a lot of wildlife; deer, red-tailed hawks and even bears crying like babies, in a twenty-four-hour period of time. Looking back now I have friends at the same time who were on holiday in Utah at Zion and Bryce Canyon and looking at their photos I keep thinking, man I would love to be somewhere not smoky right about now. But this fire season is just insane. Every year it seems like our wildfires get a bit worse here on the west coast. With politicians in office who don't care about forest maintenance and how to keep the forests thinned to a manageable level, it's hard to predict fire season being less any time soon.  Living in a state where arsonists barely get a slap on the wrist when they do actually get arrested makes it super frustrating every time a new fire breaks out. We all breathe in chunky smoky air for weeks and spend our days getting ready to evacuate our forest homes while bat shit crazy arsonists barely serve any time in this ass-backward state that is California.
Maybe I'm just grumpy from staring at grey-brown smokey air for the last week and a half. I'm starting to forget what blue skies looked like. This is supposed to be fall here in southern California, red Maple leaves, Fairytale pumpkins ripe on the vine in our garden and black oak leaf-covered trails to hike. Instead, it's the smokiest introduction to fall I can ever remember in my thirty-five years of mountain living.