Some people may see that thrift store fake Christmas tree and think who needs that crap? I do. I'm the one who wants desperately to buy a new gently used, truly loved thrift store fake Christmas tree. But luckily after an entire day of thrift store Christmas shopping, there was no room in the Subaru for a fake Christmas tree. (If I'm thrift store Christmas shopping, I must drive  Subaru, right?)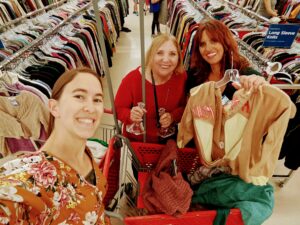 Yes, I just raised my middle finger at cyber Monday and corporations like Walmart, Best Buy and the Big A; Amazon. We spent this cyber Monday spending our hard-earned cash at thrift stores and the Goodwill. Did you know that your local Goodwill helps local charities and also people with disabilities to re-enter the workplace? Now wouldn't you rather shop through Goodwill instead of purchasing the latest American Girl Yuppie teen so expensive doll from Costco?
The urge is high to overspend, over shop and do the easy thing and buy gifts through Amazon and other mass producers during the Christmas season. Small changes in the way you Christmas shop can help our planet and maybe you can find your friends and family some unique gifts and not just the same gifts every one buys at retailers like Costco. We may be four months away from Earth Day but you have a chance even in December to go green, just a little bit. And I don't mean that mistletoe.
It's beginning to look a lot like a sustainable Christmas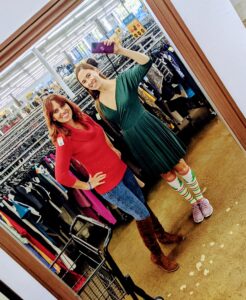 I will admit I was not dressed Christmas-y for our day in Orange County thrift store Christmas shopping. I failed as my outfit had zero holiday cheer involved. I mean, all my holiday swag was already unpacked and decorating our guest room (I mean covering every surface) Why didn't I at least don a Santa hat or one of my many light-up Christmas bulb necklaces? Total thrift store Christmas shopping party fail on my part.
My mom was the champion when it came to thrift store Christmas shopping! She found the ultimate treasure; A new still in the box set of National Lampoon pint glasses! I admit, I so wish I had found them!
Thrift store Christmas treasures
I picked out a perfect vintage-looking dress covered in roses for my mom to buy for myself for Christmas. This will be perfect for our Kentucky Derby party in May at work! I also found an absolutely awesome grey travel bag that looks brand new from DSW that my mom is also going to give me for Christmas. For that day coming someday soon when this travel blogger feels safe getting on a plane again! My mom picked out an adorable Christmas kitty cat pajama shirt for Christmas morning. I found multiple colorful collared shirts to wrap up for my brother for Christmas gifts, and a bunch of vintage dresses my sister-in-law picked out for her Christmas gifts.
All of these gently used recycled clothing gifts are so much more unique than what you would find at any mall! I literally found so many great gifts for almost everyone in my family. I also helped keep textiles out of dumpsters! Christmas just feels a little bit more jolly when you are helping to curb your carbon footprint.
Have a holly jolly eco-friendly Christmas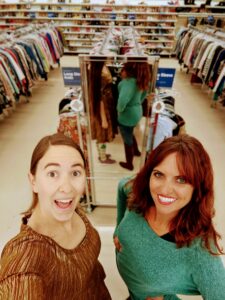 Between so many thrift stores, a stop at the family-owned Japanese market and a couple of Goodwill's I am done Christmas shopping. It's not even the first week of December yet!
After our early morning start to drive two hours to the big city far from our rural mountain home, and many thrift store stops, we were starving for some lunch by noon. Have you ever heard of Tempo Urban Kitchen? If you are ever in the Los Angeles suburbs you really must check out this fusion restaurant out and trust me have the tacos; Have all the tacos, especially the braised short rib tacos.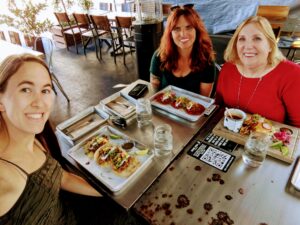 My dad thought he was a real comedian when he called at two p.m. He pestered my mom about how much money she had spent on Christmas shopping.
"Dad, we are thrift store Christmas shopping. This is probably the least mom has ever spent Christmas shopping in her life" I told him. I mean, I spent more on lunch than I did at the Brea Goodwill, and I made some awesome finds at the Brea Goodwill!
What Christmas comes down to is spending time with the ones you love. It's not the latest trendy piece of workout equipment that Kim Kardashian says your husband should buy you. It's not the trendiest toy for your kids that you can't even find on Amazon.
My best Christmas store find for all my nephews came from the dollar store! And my cousins will either love me or hate me when all their kids unwrap whoopie cousins on Christmas morning. I think the perfect Christmas gift comes from the heart, not from the wallet.
Some families may think Christmas is about all that excess food, the Christmas tree-shaped cheese ball and mulled wine. In our household it's unwrapping unique Christmas gifts you would never find at any mall. And maybe Dad asking his three-year-old granddaughter to pull his finger for the first time.