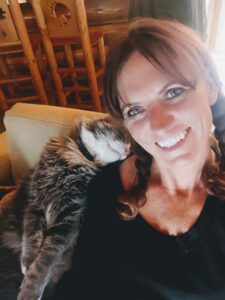 I hate when I order a terrible salad at a really good restaurant. Nothing makes me so mad as when I order a great-sounding winter salad at a cafe and the dressing tastes like a store-bought vinaigrette. Okay, almost nothing makes me that mad. These days clickbait journalism is the bane of my existence. If I click on an article about worldwide pandemic travel woes I don't want to find myself reading an article about Miley Cyrus. Luckily here I have for you, an easy recipe for a fantastic winter salad. In fact, this is my favorite winter salad ever. It has everything. Delicious apples. Spiced Nuts. Cornbread croutons. It might even have some lettuce. And that sage vinaigrette dressing…I use sage picked from our home garden and this vinaigrette tastes nothing like a bottled dressing. PS if you are looking for a more keto-friendly salad, use a pinch of monk fruit instead of the maple syrup.
Our local news here in California is just so terrible recently. It seems like fifty percent of the articles I click on are not actually about Kamala Harris losing staff members. They are really about
If I gave a shit about all the fake new AOC is spreading I would google dumb ass representatives from New York.
When politics and the world get me down I drown my sorrows in the most delicious winter salad ever. Because it may be 28 degrees and snowing outside my window but I still need some winter greens. And there are some hidden in this delicious winter salad, I swear. I mean underneath piles of feta cheese of course.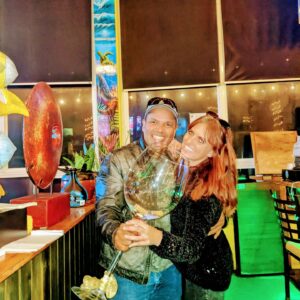 If we were spending Thanksgiving with family this year this is the salad I would be serving. But because of the pandemic we are staying away from family who may be at high risk for germs this holiday season and saying Bienvenidos to Mexico instead. There is no turkey in our immediate future but there will be grilled Baja lobsters for sure! We may have missed out on all of the Thanksgiving feasts this 2021 holiday season but come Christmas day this is the winter salad my family will be enjoying as we pray for a white Christmas in our drought-stricken California ski town.
In my opinion, the best cornbread croutons of all time come from the Claim Jumper. Unfortunately, where I live in southern California, most Claim Jumpers have gone out of business. Luckily, the tastiest cornbread croutons are easy enough to make at home, as long as you have some day-old cornbread to work with. Have you ever made cornbread in a cast-iron skillet? It is a life-changing corny experience. Looking for a great cornbread recipe? Try this one!
My favorite Winter Salad;
Spiced Nuts, Sweet Apples and Homemade Cornbread Croutons. And maybe lettuce. And maybe the best Sage Vinaigrette
1 package spring mix
2 honey crisp apples
1/4 cups dried pears
1/4 cups feta
12 whole fresh sage leaves
4 slices of bacon
1/2 cup rotisserie chicken
Cook the bacon slices. Set aside to cool and just briefly cook the sage leaves in the drippings. Crumble the bacon and add to the lettuce, apples, pears and shredded chicken. Add the dressing and then the sage leaves, nuts and croutons to the top of the salad.
The best Sage Vinaigrette
1/2 cup olive oil
1/2 cup apple cider vinegar
1 teaspoon maple syrup
1 teaspoon salt
1 teaspoon white pepper
1/2 teaspoon garlic powder
1 teaspoon dijon mustard
1 teaspoon fresh sage chopped
1 teaspoon fresh thyme chopped
Blend all together in a nutribullet or blender.
Homemade Cornbread croutons
This is the cornbread recipe I recommend but feel free to use your favorite cornbread.
1 cup cornbread, chopped into bite-size crotons like pieces
2 teaspoons ghee, melted
1/2 teaspoon salt
1/2 teaspoons ground white pepper
1 teaspoon paprika
Preheat the oven to 375. Pour the ghee over the cornbread pieces then dust with the spices. Bake for ten minutes. Turn the pieces over carefully. Bake another 7-15 minutes until toasty brown. Turn the oven off and leave them to cool in the oven.
The best spiced nuts
This makes a lot. You will want to have extras to munch on every night.
1 cup pecans
1 cup walnuts
1 teaspoon ground white pepper
1 teaspoon salt
1 teaspoon paprika
1 teaspoon cinnamon
2 teaspoons maple syrup
1/2 teaspoon chili powder
Firstly drizzle the nuts with maple syrup. Add the rest of the ingredients. Spread on a cookie sheet in a thin line. Bake at 350 for 10-15 minutes.