"It's my Birthday" And all I really want is a rainy day with a side of baking and maybe a good book to read while snuggling my pets. But wait! I just got the best gift of all! Mexico says I am welcome! It has been over a year since I applied for my global entry so I can basically use the fast track lane anytime I get to a United States border crossing. Oh man, would this have helped us out forty-five days ago when our family was driving across the U.S. Canadian border at Grand Portage? Maybe the Yupper border patrol agents would have realized we don't look like criminals and decided a strip search at the border was really not necessary. But today in our families' email in-boxes we all had great news from Homeland Security. Alejandro Mayorkas says we are good to go for our interviews!
Why is Global Entry so backlogged?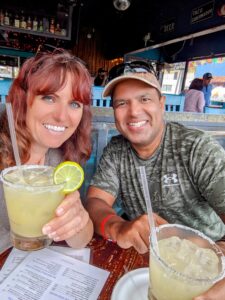 According to the CBP, nearly 8 million people were part of the program last year. However, lately, appointments have become coveted and it's hard to find a slot. Blame the pandemic, the backlog, staff shortages, or the popularity of the program among travelers who've realized what a great deal it is.
We paid one hundred dollars a year ago for the chance to someday one day, maybe, get approved for global entry. This means every time we travel to Baja Mexico we can skip that four-hour border wait. Years ago when my boyfriend and I first drove to Ensenada together for a romantic getaway at the Rosarito Beach Hotel, we waited for four hours at the border checkpoint. I told my boyfriend his bathroom choices included peeing in an empty water bottle. He did tell me that this little incident at the border made our romantic getaway a hell of a lot less romantic. But eight years later and he still puts up with my shenanigans! We had no idea that eight years into the future global entry would be a wonderful option.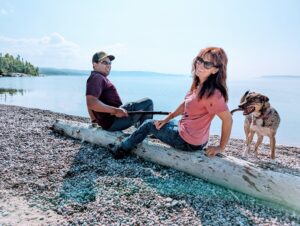 And it will be someday. We are working so hard to get our global entry info completed. Our applications were approved but now we need to do an interview. But not in California where we live. If we want to do our global entry interviews in California we have to wait until May 2024. We just came back from an eight-month road trip that saw us journeying around Lake Superior in Ontario Canada. (That is where we met Officer Cockington who decided we look like criminals or at least like we voted for Trump and decided to spend hours searching our motorhome at the border) Once Officer Cockerspanial finally decided to let us cross the border at Grand Portage we were on our way up north and around beautiful and scenic Lake Superior. We did many days later make it up north to Saute St Marie, one of the larger towns on the Lake Superior Circle Tour. So what is so interesting about this little Canadian tale? Well, we could actually get an interview for our global entry in Saute St Marie next week! It's one of the only cities in North America that has availability for global entry interviews next week.
Rather than head north to Canada again, eh, we are on our way to Nogales Arizona next week for an impromptu birthday road trip! So what is Nogales Arizona known for?
Well, there is the historic Mission Los Santos Ángeles de Guevavi or you can check out the Nogales border plaza shops. Or you can stay in Tuscon with better restaurant choices and drive the hour to Nogales for your interviews. Tucson seemed a safer option so we stayed there. The area in Tucson we stayed in had a Savers; my favorite thrift store, Trader Joe's and Sprout's all within a five-minute drive of our hotel.
There is also a really scenic mission in Tucson, Mission San Xavier del Bac is a historic Spanish Catholic mission located about 10 miles south of downtown Tucson, Arizona, on the Tohono O'odham Nation San Xavier Indian Reservation. It's a great location close to the freeway to check out, get some photos and take in some local history. If we ever head out this way again we hope to make a stop at Tombstone but we just ran out of time on this trip.
What else is there to do in the Tucson area? Betting on the ponies at Rillito Park! If we had visited during the winter, that is, Rillito Park races February 4th-April 20th. Next time, Tucson. Next time. And of course while in Arizona you have to indulge in some great Tex-Mex food. Charro Steak and Del Rey has to be the best little Tex-Mex steakhouse around.
So aside from an impromptu day trip to an Arizona border town, what else have we been up to? Our rural mountain town is about to be slammed by Hurricane Hillary. Yes, a hurricane in southern California! Only in the year 2023, am I right? And you thought Hillary could not do any more damage?
We have been readying the yard for this unexpected cyclone. Yes, that means stripping a lot of the plums from our Methley plum trees. We have so many plums on our trees they actually look like bunches of grapes. It's wild. Do you have a plethora of plums (Or other stone fruit) this late summer? Just what the hell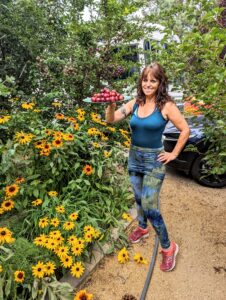 can you do with all those plums? I'm a big fan of chutneys and they are a great way to use up any extra fruit you may have in your garden.
How can you use plum and ginger chutney?
As a garnish with samosas or pakoras
To accompany a cheese platter. I love this with cheddar or an aged Swiss cheese
Serve this delicious chutney over cream cheese for a savory dip.
Use this sweet and sour Ginger and Plum Chutney on a turkey sandwich or wrap.
Serve as a side with pappadums and my famous Mint Chutney.
Plum and Ginger Chutney
1 red onion, sliced thin
2-4 red Chinese chiles, depending on how spicy you like it
2 teaspoons ghee
1 teaspoon grated raw ginger
8 cardamom pods
6 cloves
1 teaspoon black peppercorns
1 teaspoon mustard seeds
1 cinnamon stick
2 cups plums, cut in half and deseeded
1/2 cup apple cider vinegar
1/8 cup malt vinegar
1/2 cup water
1/2 teaspoon salt
1/2-3/4 cups sugar or honey
1 cup raisins
In a pan roast the chilies in the ghee. Add the red onion slices and cook very well until browned at least ten minutes. Add the ginger and let fry just a bit with the onions until not raw. Add the onions to a nutri-bullet along with the vinegar. Blend well. Add the onions to the saucepan. Rinse out the nutr-bullet with that 1/2 cup of water so you don't lose any bits of the onions and add that into the saucepan along with the sugar or honey, plums, cloves, cardamom seeds, peppercorns, mustard seeds, and cinnamon stick.  Let simmer and reduce for forty-five minutes, stirring every ten minutes or so so it does not stick. Mix in the raisins and the salt. Let cook an additional 10-20 minutes until the sauce has thickened and reduced.