It's been said "When you are tired of Idaho you are tired of life" Yup. I can see that. Idaho holds so much pristine beauty, even though in 2023 over 17,000 spoiled Califonias packed their Teslas and their ridiculous bro flat ball caps and moved to Boise and Coeur d'Alene. The wilderness of Idaho feels so far from the urban jungle of southern Califonia, there is not a Whole Foods to be seen for five hundred miles! So why wouldn't you want to road trip Eastern Idaho with your family this summer?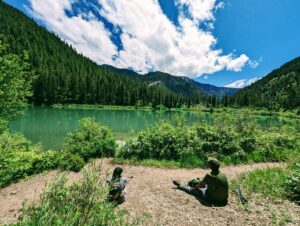 Our family journeyed over seven thousand miles across North America this summer on an epic family road trip. We left the rugged peaks of our Southern California Mountains behind us on June 17th. My boyfriend's daughter had just graduated from high school the evening before. She put away her cap and gown, we all threw our hiking boots in the motorhome and our first big stop was southern Idaho of course! We had spent almost a year planning our eight-week road trip across North America. A family vacation for us began with a road trip Eastern Idaho adventure.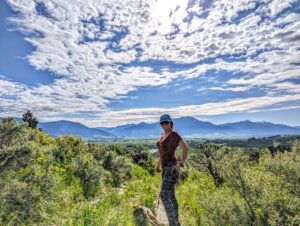 Idaho Falls could be considered the gateway to all things Yellowstone National Park or possibly Teton National Park. Or it could be a seven-hour drive from Coeur d'Alene you know at the base of the serene Sawtooth Range. Or it could be where the Idaho Woodyards settled in the early 2,000s. One way or another, the Idaho Falls area was our home away from home for a few days in late June 2023. I had only driven through Lava Hot Springs and Idaho Falls in the past and hadn't stopped for more than a quick family hello the last time we drove through Idaho before the pandemic.
Southern Idaho is a lot of things. It's a huge settling ground for those of the Mormon religion since the early 1900s. It's home to the Potato Museum. And it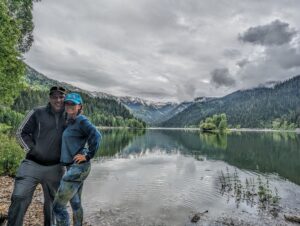 's a great place to raft the Snake River on a hot summer day. Idaho Falls also has a ton of marmots, especially at the RV park we stayed at right next to the Snake River. I was shocked because I thought marmots only lived at over 10,000 feet. Here in Idaho, I guess they live all over in the forested areas. Idaho Falls was a great place for our family to camp for a few days during our vacation because it was a good place to stop before drove over Teton Pass and down into Wyoming in a few days. It was also convenient for a family get-together for us.
The best hike near Idaho Falls
The absolute best hike we did near Swan Valley was Upper Palisades Lake. For more info on the Upper Palisades Lake hike click here. Wow, was this hike is beautiful! The whole hike was about fourteen miles roundtrip but not with a ton of elevation gain so it wasn't too strenuous. It had rained the night before so the trail was a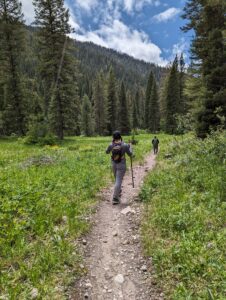 bit muddy when we hiked this in late June but what a scenic day! We followed elk prints fresh in the mud from earlier in the morning the whole hike. Although elk had been spotted here recently we didn't run into any elk on the trail. We did see a lot of gopher snakes on the way back down from Palisades Lakes, once the sun came out. No joke, we saw five snakes in forty-five minutes! Just a FYI they do not have rattlesnakes in this area if you are hiking here with dogs.
Swan Valley has an interesting history for my family as my uncle's wife's family was one of the founding families in Swan Valley back in the late 1800s. Their wagons broke down on the Oregon Trail and Swan Valley became their home. What a gorgeous farming community to homestead! We felt like we were on the set of Yellowstone, driving through here. (I said that multiple times on this vacation through Northern Utah, Idaho and rolling into Wyoming)
Marmots and rotisserie chicken
Did you know that Idaho Falls has a Costco? Seriously but Idaho Falls was the first time I saw a good quality rotisserie chicken and almond flour by the sack since we left southern California. After a fourten mile hike of course I needed a healthy snack. I count on that rotisserie chicken from Costco to create my famous Mango Curried Chicken Salad.
By the time we were on this road trip Eastern Idaho, we had been on the highways of America for five days and we definitely needed to stock up on a few supplies. I was thrilled to be able to buy some of my favorite healthy snacks at Trader Joe's and stock up on a few things at Costco. As scenic as Northern Utah was, we hadn't been in a real town for quite a while! We prefer on these road trips to stick to the small towns, camp in rural areas or on Harvest Host farms but sometimes you just have to head to a bigger city to get a few supplies. Especially for this family full of foodies.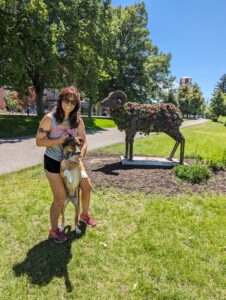 No, we did not go to the potato museum while we stopped in Idaho Falls. Did you know there is more to do in Idaho Falls than go to the Potato Museum? For instance, the walk along the falls is so incredibly scenic! There are these cute little benches and unique pieces of art all along the walk. Like this bison statue, my pup was terrified of.
Fun at Lava Hot Springs
Lava is the place to go for summertime tubing on the Snake River. Unfortunately, when we journeyed through Lava Hot Springs in late June 2023 it was not a good time for rafting down the river. There had actually been massive flooding just a few weeks before further down the Snake River towards Pocatello. Because of the crazy snow-laden winter, the entire west coast has seen this year, the river was running far too fast to raft in late June. Which is nuts because that is usually the beginning of the rafting season! So we did some epic hikes nearby in Swan Valley instead.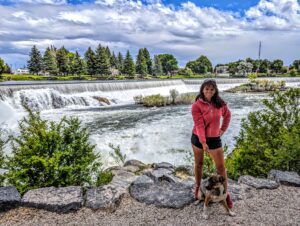 I'm so blessed we were able to spend a few days enjoying the road trip Eastern Idaho beauty. We had a lil family dinner, had some laughs, and did a magical hike. We even saw bald eagles fighting as we drove into Swan Valley on the first day! We really had a quick fun little Idaho adventure before we were back on the road, headed to the Tetons.