The year 2020 has dawned with snow glittering like diamonds in our pine forests as I hauled my fat ass up mountain passes and through the snowy forest. I was a sweaty mess and trying desperately to get back into shape. It was the very beginning of 2020 and I knew keto was going to help me fit in my favorite yoga pants again soon.
This is exactly what I get after spending nearly a month in the lands of carbs; India and Italy. Just ask this camel, who was very insulted having to lug my butter naan filled big ass up and down Paradise Beach in the Indian state of Maharashtra.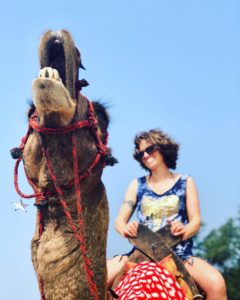 I tried twice in 2019 to ride a camel and it never seemed to be camel season in the U.S. so, despite the fact that I had been inhaling beer and parathas for ten days between Goa and Bangalore, I hauled my big butter chicken ass up this hump-backed monster and settled in for a beach ride. For five minutes, then we were off to drink more beer beachside with kittens.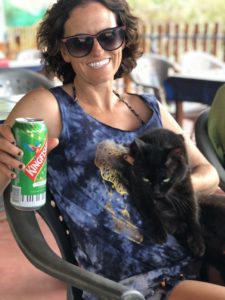 Which may be one of my favorite beachside holiday activities. At this point, my boyfriend and I have asses that are growing larger and larger on this trek through the land of carbs and we hadn't even made it to Italy, home of pizza at this point! As January and 2020 looked ahead of us, I could see a keto diet once again on our horizon, as soon as we were done devouring all the pizzas in Rome.
Here is a picture of me frolicking in the snow with Carly and Raya and her flapping jaws of fun; Pre-paratha. My goal is to get back to my pre-paratha weight. And keto is going to help me do that!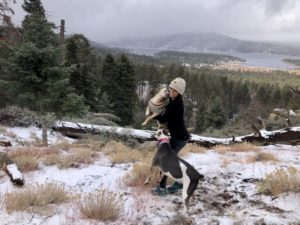 The reason I'm so crazy about keto is that I have a secret. I secretly love cheese. Okay, really it's not much of a secret. Everyone knows I'm obsessed with cheese. Did you know cheese can actually make you live forever? True story. Maybe. At least that is what the internet told me.
2019; The year I learned to Chaffle
The first time I heard the term chaffle it sounded like something that would happen if I rode my mountain bike too long. Let me tell you, a chaffle has nothing to do with chaffing and everything to do with cheese. A waffle chock full of all the good cheeses? Sign me up! I just don't use my waffle maker enough so if I have an excuse to fill it up with cheese I am so going to do that. Especially if sharp cheddar cheese, bacon and jalapeños are involved.
I'll admit, the first time I tried to chaffle it did kind of turn into a cheesy disaster. The recipe called for spraying your waffle iron with oil first which I found a bit ridiculous. I mean, cheese is basically just oil and butter and fat anyways. Do I really need to add more fat to my lard sandwich? In order to make the perfect chaffle, yes, you really do.

We eat spicy delicious treats like jalapeno poppers in our household almost every day. So that means heading to India for ten days has us upping our spice content and getting ready for some seriously spicy food. We are trying to train our palettes and our stomachs, here comes curry!
My homemade Jalapeño Poppers are unbelievable and most people can only eat one or two. Friendships have been forged over these spicy BBQ glazed poppers. In the days before we flew to the spice capital of the world, we were on the keto craze, so always looking out for a sugar-free and BBQ sauce free jalapeño popper. Aw, hell, let's just throw the entire mess of Jalapeno popper nonsense into the waffle maker, I thought. And the Jalapeno popper chaffle was born.
If you do not like your jalapeno poppers super spicy, then deseed the jalapenos before adding them to the batter.
To some people, autumn might mean sports ball and pumpkin spice lattes (maybe not at the same time.) If you ask me, autumn tastes like acorn squash with the smell of wood fires in the chilly air. Okay, okay maybe acorn squash is not one hundred percent keto (And neither is the maple butter from Trader Joe's obviously) but these Acorn Squash waffles are still gluten-free, whole grain and delicious.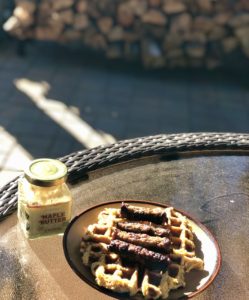 Yes, you can drink a keto-friendly smoothie!
When you think of a keto-friendly no sugar lifestyle smoothies seem like a thing of the past. The hardest part of keto for me is not having a breakfast smoothie. Until now. Introducing a low sugar alternative to a breakfast smoothie.
In your blender combine the following;
blueberries
blackberries
avocado
almond butter
collagen powder
high-fat Greek yogurt.
Add just a bit of water or low carb nut milk to make it liquid enough.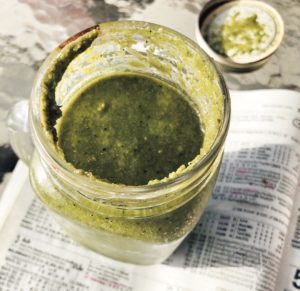 What else can I have for my keto low carb breakfast? Keto Pancakes are so easy and delicious. I love anything with almond flour so keto pancakes are right in my wheelhouse. Not a pancake fan? How about a Keto Bagel?
Simple Spicy Almond Cheese Crackers
Sometimes I hike twenty miles on a Monday. Sometimes my day pack is stuffed full of Ghost Pepper Keto-friendly Cheese Crackers and I'm counting down the minutes and the miles until the first backcountry lake, so I can stop trailside and shove some of these delicious gluten-free snacks into my face. When you are a Hiker Babe, you may call these Monday Miles, as in hashtag Monday Miles or hashtag Monday Motivation, I mean if you are into hashtagging your life. The best thing about hiking twenty miles is I figure I can eat as much cheese as I want. #CheesePlease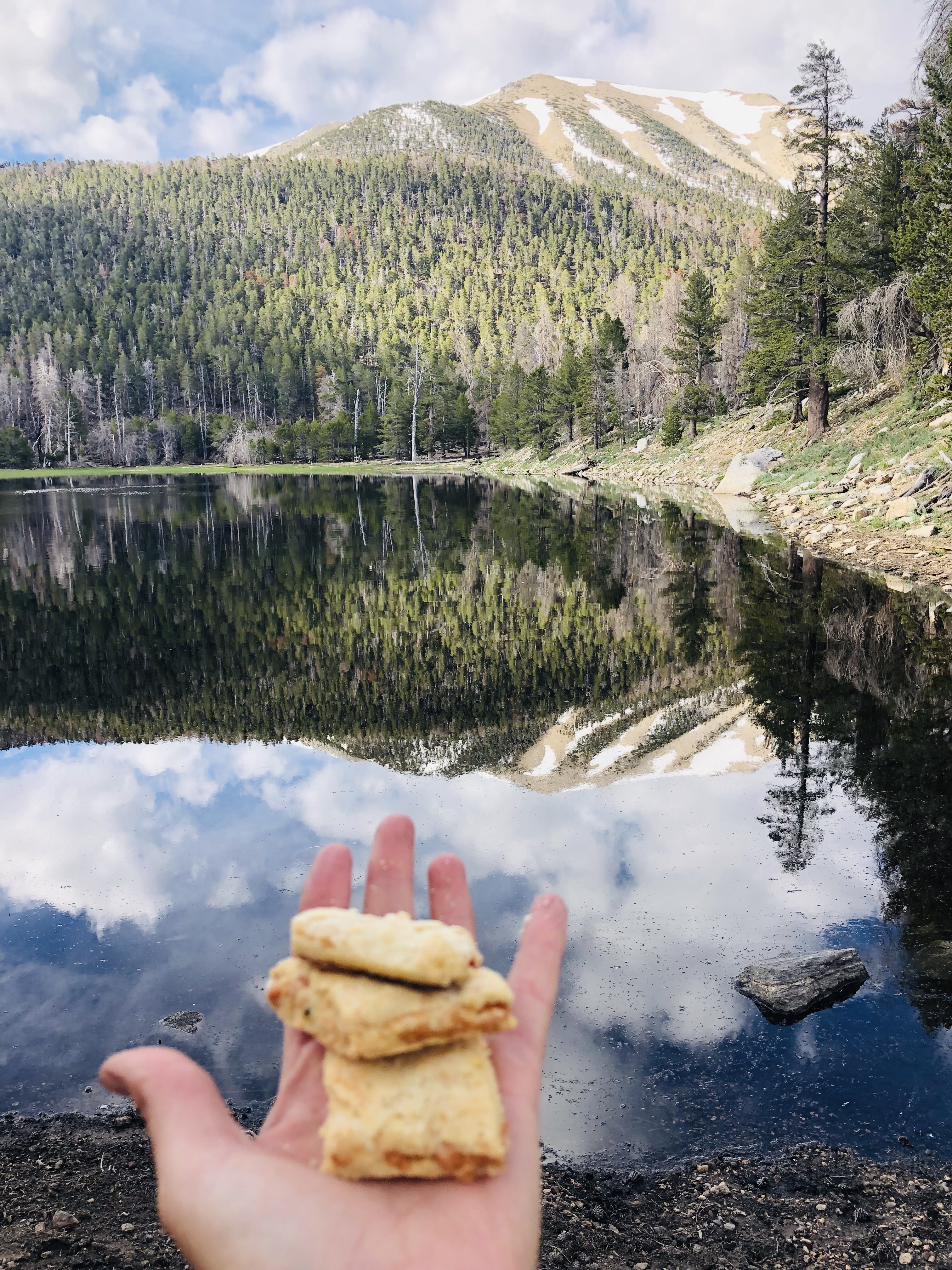 Being on the keto diet is super hard for people who crave bread. There are quite a few different bread options when it comes to a keto diet. I mean Cloud Bread is the obvious choice when it comes to baking low carb bread. But what other bread options does a keto maniac have?
This Cashew Bread is not one hundred percent keto but it is gluten-free and delicious. You could try substituting almonds for the cashews to get the carb count down a bit. The first time I made this delicious cashew bread it came out perfect; Nutty, delicious and perfect with cream cheese or Kerrygold Irish butter.
The second time I tried to make cashew bread there was a kitchen explosion. And obviously, when I explode something in the kitchen, covering everything and I do mean everything from the kitchen to the living room in a frothy fermented cashew paste, there was no one around to see it happen but the cats. Forty-five minutes later while I was still cleaning up cashew mess on the tv across the living room and trying to convince the dog to help me clean the floor with her dirty mouth, my boyfriend finally came downstairs and asked what the mad scientist of the kitchen was up to.
I think my problem may have been that my apple cider vinegar was kind of old and more fermented then normal and I did shake it before adding it to the batter in my nutribullet; I mean, I wanted to get all that good stuff in the bottom of the apple cider bottle. I whipped up this easy batter in my nutribullet, tried removing the lid and POW! The lid shot off and cashew mess flew six feet high and covered everything around including the cats. Thank God our kitchen ceilings are high or that would be more of a nightmare. That being said, this bread is delicious and easy as long as you don't blow up the kitchen.
Goodbye potatoes, hello cauliflower you stinky white veggie!
I happen to adore cauliflower in all forms, whether that be riced, mashed or pizza crust. After a day of hiking mountain trails covered in crispy leaves with my favorite pup, I'm ready to relax with a glass of wine and maybe a big bowl of my all-time favorite elk chili. Elk chili is delicious over a bed of Keto friendly Cauliflower Mash. This healthy cauliflower mash is one of my easiest an
d healthiest fall recipes and I love to use it as a veggie-filled base for many fall favorite recipes, such as this amazing Beef Tips with Gravy.
There are so many great keto recipes you can do with cauliflower. We eat a lot of cauliflower in our home, especially since I started making this easy Cauliflower Jalapeño Rice. Just stir fry up the cauli rice with Trader Joe's Jalapeño Sauce. That's it. So easy and delicious.
One of my favorite additions to any keto meal has to be Mexican Style Cauliflower Rice. This amazing keto veggie treat is the best when served alongside Adobe Beef Barbacoa or in a fish protein bowl with coleslaw.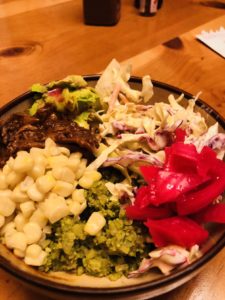 One of my absolute favorite keto-friendly low carb appetizers are these Ricotta and Cauliflower Tater Tots. I've honestly never been a fan of tater tots in my life but I am a huge fan of cheese. That's actually why I love keto so much… Because I can eat all the cheese I want!
What else can you do with delicious keto cauliflower besides cauli rice and cauli mash? How about these delicious breakfast treats, Curried Cauliflower Hash Browns. Don't have time to make your own delicious cauliflower side? Try this easy, microwavable Buffalo Cauliflower, A few minutes in the microwave and you have an easy and spicy cauliflower treat.
Aside from cauliflower, broccoli is another veggie that is amazingly easy to rice and this delicious Broccoli and Shrimp Soup is just fantastic over broccoli rice.
The best Keto Coleslaw
Want to make an easy keto salad that probably won't explode in your face? My hiking buddy Elaine introduced me to keto Ruben Slaw and I'm a little obsessed. This is now my favorite crispy spicy pickle laced keto coleslaw.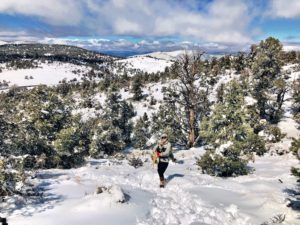 So what are some of my favorite keto-friendly dinners for after my long-distance snow treks? This keto-friendly lamb burger is the very best. We may live in Big Bear Lake, California not Edinburg or Cambridge but cooler fall days always have me craving English comfort food like homemade lamb burgers. The great thing about making your lamb burgers as opposed to ordering one in a smoky London pub is these American style lamb burgers are not dried out and cardboard-like. (And mine are not marinaded with beer either) What I'm trying to say, is these taste amazing! And they will totally take you back to a day in Trafalgar Square, but without the plane tickets, the eight-hour flight or having your hair smell like cigarette smoke for a week.
I love protein burgers any time of year, even on a snowy winter night. I know low carb and keto is all the rage right now, but protein burgers have been my go-to easy and yet healthy dinner for years. It's easy to make a gourmet protein burger dinner with staple ingredients that for the most part, you have in your cupboard or freezer. I mean everyone keeps organic ground bison and grass-fed lamb in the freezer, right? These are by far my two favorite bases for a healthy protein burger, like this Ghost Pepper Protein Burgers. When it's twelve degrees in our snowy ski town in the evenings it's just too cold out to BBQ these tasty burgers so I like to make my favorite lamb or buffalo burgers on the stovetop.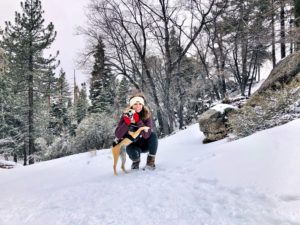 Protein burgers are one of my favorite keto treats every single week. I have made a ridicules good version of this Cheese Burger Meatloaf recipe in my mountain kitchen but my photos turned out terrible so I'll just leave this right here, the link to the original recipe. The trick I have found with this recipe is to serve it over a romaine salad, kind of like a protein burger. We call these burger salads.
My favorite snowy butt busting uphill hikes are powered by Seafood Ghee Roast with Greek Yogurt. It's my special power breakfast, reserved for days when I burn over two thousand calories in a morning and yes, I think I can justify drinking clarified butter for breakfast. Because I just hiked up a mountain bro! The best thing about seafood ghee roast with high-fat Greek yogurt is it's so keto-friendly! I like to make seafood ghee roast the night before, on a snowy evening and then have lots of leftovers of this spicy Indian seafood delicacies which originated in Mangalore, for breakfast the next morning.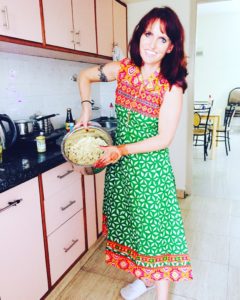 Actually drinking clarified butter for breakfast is better for your body then you might think! Ingesting ghee first thing in the morning forces the body directly into a fat-busting metabolic state. That's why tons of health conscious people swear by adding ghee to their coffee! Which I do some days, but some days I like to have my ghee with a side of spices and shrimp and a big helping of fat-free Greek yogurt on the side. Not only is ghee delicious especially when added to Indian spices and shrimp, but it helps rid the liver of toxins to ingest ghee first thing in the morning, as well as supporting the health of all that bacteria in your stomach. Ghee encourages fat metabolism and weight loss. A seven-hour hike up an almost 12,000-foot mountain also does that though. According to the ancient Hindu Times and Kortney Kardashian, a tablespoon of ghee in the morning can really kick-start your fitness goals for the new year. And then you will be as happy as this dog! And as smart as a Kardashian!
Keto Risotto! Really?
Yes! As fatty as risotto is and not at all good for you, while on the keto diet you can eat risotto! Risotto made with cauliflower of course. I add chanterelle mushrooms and parsley. In just fifteen minutes you have an easy and delicious Keto Risotto! Who knew you could inhale scallop studded risotto on a "diet"
The Keto diet is the health craze of the year 2020. If you are on the Keto craze this winter, check out these amazing recipes, don't forget to chaffle and most importantly, have a healthy and happy 2020!
Love this healthy blog? don't forget to pin it to share with friends and family, and happy New Year from the Hungry Mountaineer!