Did you know there is no such dish really as a curry? You may see curry on a lot of six ninty nine cheap Indian lunch buffets but what you think of as a curry might be a dal. Or it might be a tandoori dish. It could even be a tamarind studded jalfrezi if you are really lucky!
There is no such thing as a curry plant either and apparently, Home Depot sold me God knows what twelve years ago when I bought one. But sweet Jesus did it smell good. Even living in a mountain environment it came back after two winters. Of course, that was many years before I met my Anglo-Indian boyfriend and so many years before I traveled to India numerous times. I knew a lot less about Indian food and Indian culture than I do these days.
What I was sold labeled as a curry plant was actually an Italian strawflower plant. Because of the incredibly fragrant leaves, it's called a curry plant. Now you can totally buy store-bought curry powder that has probably sat on the shelves of Trader Joe's for two years and create an easy thirty-minute curry. But it will taste like a thirty-minute curry with raw spices. Trust me and use fresh ground curry powder like this one you can easily make with just a few spices.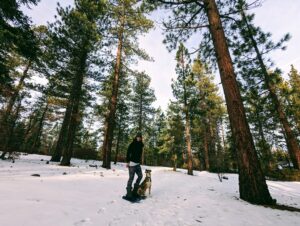 This January our family is embracing Veganuary, something that is so popular in the UK. Do you know what else is so popular in the UK? A delicious hot curry on a cold winter's evening or a big bowl of spicy Masoor dal! Curry houses are so common all over the UK because Londoners know how tasty a spicy hot meal is on a chilly winter's night.
This south Indian dal is surprisingly fast and easy to make when it comes to an Indian meal. Part of that is because I use Masoor dal which is easier to cook while having a whole different taste. Toor dal may well be cheaper but it takes longer to cook and after a half day of snowshoeing I need some spicy dal and I need it soon.
Sweet Potato and Sun Dried Tomato Masoor Dal
Rinse your dal very well
2 cups masoor dal
2 red chilis
3 tablespoons ghee
2 cups white onions, chopped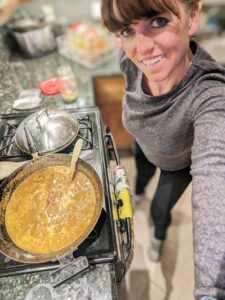 1 teaspoon cumin seeds
1/2 teaspoon turmeric
1 teaspoon ground white pepper
1 1/2 teaspoon salt
Soak the Masoor dal overnight with lots of water. The next day clean the dal well. Put the dal in a pressure cooker. Cover the dal with over an inch and a half of water. Add a half teaspoon of salt to the pressure cooker. Once the pressure cooker starts singing, cook the dal under pressure for twelve minutes. While this is going on, stir-fry the chiles in the ghee. Remove the chiles and add in the onions. Cook the onions very well until dark and almost burned. Add in the chiles again, the cumin seeds and the garlic and ginger. Cook until the garlic and ginger are no longer raw, stirring constantly. Add in the turmeric. When the pressure cooker is done, remove it from the heat and allow to cool until the steam is gone and you can open it safely.
In a food, processer grind the pumpkin and your sundried tomatoes. Add this and the onion mixture to the dal along with the salt. Return to the heat for fifteen minutes and you are ready to serve!