Contrary to what I thought, Kofta does not mean stuffed balls. A kofta curry in most middle eastern or Asian cuisine usually means some kind of meatball. Although this January our family is enjoying a vegetarian diet so I made this version with leftover pumpkins from our garden. Yes, you can have middle eastern kofta or meatballs and still be veggie this Veganuary! There is no need to use fake meat full of God knows what. You can create delicious veggie meatballs with your favorite squash.
A delicious kofta curry is the perfect after-snowshoe dinner. Did you know that snowshoeing can burn up to 1,000 calories an hour? According to my new smartwatch I actually got into fat-burning mood this morning as I slogged through the wet snow uphill with my rescue pup. After a few hours of snowshoeing exploits, I was ready to head back to my cabin kitchen and start forming some veggie stuffed balls. Is there anything tastier on a cold snowy night than a hot and spicy curry?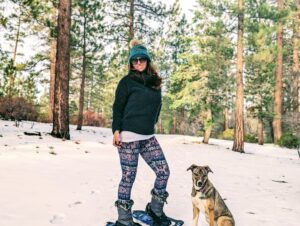 This is a great veggie dumpling dish to make with really any extra vegetables you have in your garden like pumpkin or any and all kinds of squash. It's absolutely delicious made with acorn squash! As our family embraces veganuary this early winter I have been all about incorporating squash and sweet potatoes into so many meals. I honestly feel great inhaling fewer meat products every day.
For the Pumpkin Dumplings
1 cup fresh pumpkin
1 teaspoon ghee
1 small white onion, sliced thin
2 teaspoons cashews
1 teaspoon cumin seeds
1 teaspoon minced ginger
1 teaspoon minced garlic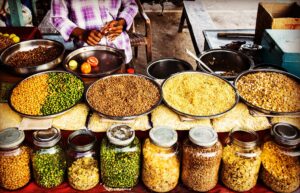 1/2 teaspoon turmeric
1/2 teaspoon pepper
1/2 teaspoon salt
1/4 cup cilantro
1/4 cup besam, chickpea flour or almond flour
2 teaspoons rice flour
For the Dudhi Masala
2 teaspoons ghee
1 red onion, sliced thin
3 dried red chilis
1 teaspoon cumin seed
1 teaspoon garam masala
1 teaspoon minced ginger
1 teasppon minced garlic
1/2 teaspoon turmeric
1 teaspoon pepper
1/2 cup tomato paste or puree
1 teaspoon salt
2 teaspoons cashews
1/2 teaspoon jaggery
1/2 cup half and half
2 cups chicken stock or bone broth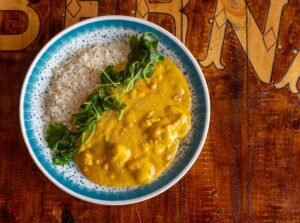 To prepare your pumpkin, slice your pumpkin in half and bake in the oven at 425 for forty minutes. Remove and let the pumpkin cool. Shred the pumpkin with a fork until you have one cup. Freeze the rest or add to your puppy's food.
In a pan, cook the sliced white onions in 1 teaspoon of ghee. After ten minutes, mix in the cumin seeds until just starting to pop and sputter. Mix in the garlic and ginger. Remove from the heat and let cool. Once cooled put the onion mixture, cilantro and cashews in a blender until smooth, mix together the pumpkin, onions, 1/2 teaspoon turmeric, pepper, salt, rice flour and besam or almond flour. From here you could deep fry your patties before serving or you can air fry them for twenty-five minutes at 400, turning twice and spraying with coconut oil spray in between turns.
To make the Middle Eastern Dudhi Masala
In a large wok, heat the hot ghee roast your chilis. Remove the chilis from the heat and add the red onion. Cook the red onion pieces until very well done, at least fifteen minutes. Stir in the cumin seeds and cook just until they begin to sputter. Remove from the heat. When slightly cooled add to a blender along with the chilis and grind well. Return to the wok and mix in your garam masala and the garlic ginger. Stir in water half a cup at a time as your spices roast. The masala should look like a thick gravy. Keep roasting those spices for a good ten minutes. Mix in the cashews and let roast for five minutes until darker brown. Return the mixture to the blender along with half a cup of water until smooth.
Return the masala to the wok. Stir in the chicken stock, the tomatoes, turmeric, salt and the pepper. Let simmer and reduce at least forty-five minutes, adding more water if needed. Ten minutes before serving add the jaggery and the half and half. Serve with the pumpkin dumplings on top and sprinkled with cilantro.