Sometimes you have to take a detour off the beaten path to discover the best shit. And sometimes that detour may lead might you to a lot of sheep shit. Or sometimes it could be the sight of many big horned sheep frolicking on top of a mountain top. I have a good friend who has been trekking the trails of the eastern Sierras for fifty years and he has never seen the furtive big horned sheep. As an outdoor wilderness woman, damn did I get lucky the other day. And then I got to go back to my campsite after my twelve-mile morning hike and have leftover homemade lamb jalfrezi for lunch!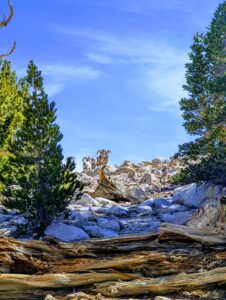 'Merica
I started out my third day in the eastern Sierras by trekking to Cirque Lake which sits at just over 11,000 feet. Unlike the insanely obnoxiously loud Cirque Hotel on Fremont Street in Las Vegas Cirque Lake was pristine, peaceful and the only sound I heard was the rattle of sheep hooves on loose rocks in the distance. The winds rustled the needles of the lodgepole pines and I leaned my back against a rock and enjoyed the sight of three bald eagles fishing in between Cirque Lake and the South Fork Lakes. Did you know that adolescent bald eagles don't get their signature white head and luxurious black feathers until they are two and a half years old? One of the bald eagles I watched hunting for golden trout was still an adolescent, he was giant, awkward and kind of ugly with darker grey plumage. I felt so damn patriotic as the eagles soared above me. Maybe I cried because they were so beautiful and I might have sung a few lines of America the Beautiful. I mean, there was literally no one else here on the trail and lakeside beside me, the eagles and those four random sheep in the distance.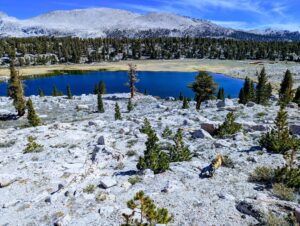 I am well known to be a hyper chipmunk who can never ever sit still. Well, I was so inspired by the beauty of these bald eagles that I sat by the South Fork Lakes for at least forty minutes just amazed by these awe-inspiring big ass birds. It was one of the coolest things I have ever seen while on a hiking adventure.
Is it lunchtime yet?
But eventually, I did start to get hungry and I had to make my way back to camp to heat up some leftover Lamb Jalfrezi on my camp stove. Leftover Indian food freezes so well and is the perfect after-hike easy lunch to heat up while out in the wilderness adventuring. Basically any chance to chow down on some leftover Indian food, sign me up.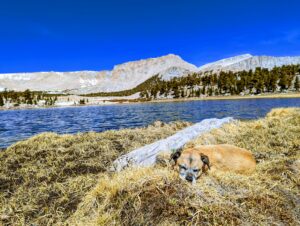 Lamb Jalfrezi is not something you will find on any curry house menu in America. It seems like Americans are less likely to order Bangel dishes like this one and are more apt to steer towards the more common (And more bland for the American palate) chicken tikka masala.  Sitting in southern Asia, Bangal is just to the northeast of India and gets a lot of its flavor profiles from Indian spices like cumin and coriander. This Bengali-inspired dish means "hot fry" Lamb Jalfrezi is one of my absolute favorite Indian dishes and this tamarind paste studded hot fry is just bursting with flavor.  In Bengali, 'Jal or jhal' means spicy and 'frezi' means stir-fried.
Jalfrezi might seem similar to a vindaloo but my version of Lamb Jalfrezi is bursting with pepper instead of balsamic vinegar. The added tamarind paste gives this delicious Bengali dish just a bit of tang. It reminds me of the tamarind flavors you might find in the southern states of India like Kerala. Serve this Lamb Jalfrezi with fried potato pieces or green beans (That would be the lower carb closer to the keto version)
Lamb Jalfrezi with Tamarind Paste
3 tablespoons ghee
2 red onions, peeled, sliced thin
1 serrano, chopped in half, stem removed
1/2 teaspoon cumin seeds
1 teaspoon grated ginger
1 teaspoon grated garlic
1/4 cup Worsheshire sauce
1 1/2 teaspoons cumin
1 1/2 teaspoons coriander
1 teaspoon ground pepper
2 cups water
1 1/2 teaspoons salt
1 teaspoon tamarind paste
1 pound beef chuck roast, cut into bite-size pieces
2 potatoes, cut into bite-size pieces. You can peel the potatoes if you want
2 cups canola oil to fry the potatoes
First, in your pressure cooker add the beef, and cut it into bite-sized uniform pieces, the same size as your potato pieces will be. Add in 2 cups of water, 1/8 cup of Worsheshire Sauce and the tamarind paste. When the pressure cooker starts steaming, steam the meat for sixteen minutes. If using pork, steam the pork for twelve minutes.
Next, fry the potato pieces in the hot oil until brown. Add salt and pepper to the potatoes. Set aside in a colander when fried well. In a wok, heat the ghee and roast the chili pieces. Add the cumin seeds. Add the onions and roast well until brown. This step should take about twenty minutes to get the onions to a deep brown. Mix in the cumin and coriander. Add in the garlic and ginger. Cook the spice paste for at least twenty minutes, adding in more water/ reserved broth from the meat a half cup at a time until the spices are less raw. Add in the pepper and the salt.
At this point, as your gravy starts to get thick you can add in the meat and the extra Worsheshire sauce. Reduce the sauce down until you have a thick gravy. Finish the dish by serving with potatoes and Greek yogurt.