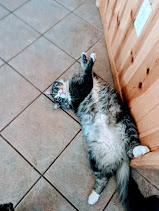 Are you ready for some sports ball? I think the rest of my family is enjoying the sports ball grand finale. I'm personally enjoying creating keto delicacies to shove at my face because really, I needed a sports ball grand championship as a reason to create the cheesiest most bacon-y snacks ever. And to take extra videos and selfies with my cats while they are watching the Super Bowl. Because everyone wants to know exactly what my Norwegian Forest Cat thinks of the Kansas City Chiefs, right?
So Leo, who is going to win LVII?
The best part of the Super Bowl to me by far is making a kitsy video of my Norwegian Forest Cat picking the sports ball-winning team in 2023. Of course, this afternoon I was in a mad rush to throw my Norwegian Forest Cat in the snow with some salmon cat treats from Trader Joe's and convince him to look cute and pick a s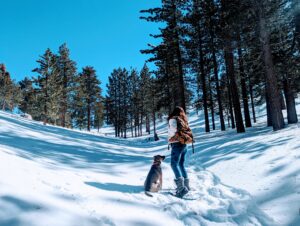 ports ball winner. I had been at work as a hiking guide taking tourists snowshoeing all morning and I barely had time to shower, put on a clean pair of pants not covered in trail dust and run a brush through my hair to look Insta-Worthy or at least not like a dirty hiker. However, Leo was not interested in any of my social media shenanigans and would rather wander through the snow looking for pine needles and does not care about my selfish Insta-worthy video needs.
So what do the dogs think?
If I'm not out snowshoeing up mountains while the rest of the nation is watching the Super Bowl then I'm more than likely the official photographer of the dogs looking bored while watching the Super Bowl. Luna was not impressed with her first sports ball grand championship. She wanted to know when the next hike is happening. Or possibly when I will drop some keto Jalapeno poppers near her face.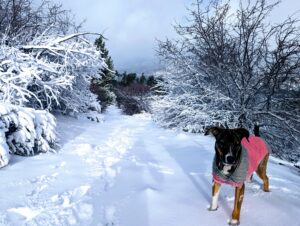 Is there really a more Super Bowl-friendly food than Jalapeno Poppers? If it's a Sunday in February then I have been more than likely getting crazy up snowy mountains with my adventure pup. Thank God that I have social media to remind me that it is super sports ball Sunday. I'm not really so much into the big game although I have such an appreciation for professional athletes, any professional athletes. When the king of the sports ball was hurt before snack time (Oh I'm told it's actually called half time) I was amazed that three Rhianna songs later he was back on the field. And I can barely climb up that snowy mountain over there!I am always just amazed whether it's football players, Olympians or jockeys what these athletes put their bodies through.
But enough about all those healthy folks. I'll just be over here enjoying snack time and shoving some Jalapeno poppers at my face. I mean at least they are keto Jalapeno Poppers and let me tell you. These are delicious. They are easy to make. And they are a great way to use up any and all leftover cheese you may have in the fridge. And they are chock full of bacon. Need I say more?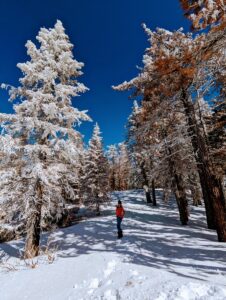 Air Fryer Keto Jalapeno Poppers with Extra Pig Dust
6 pieces of bacon, chopped
2 jalapenos, 2 yellow jalapenos, or 2 serrano chilis; You can deseed them if you are a big baby
1 cup sharp cheddar cheese
1/2 cup pepper jack or Colby jack cheese
1/2 cup cream cheese
1/2 teaspoon garlic powder
1 cup pork rinds, ground to pig dust
2 teaspoons potato starch
2 eggs
It's kickoff time in sports ball land! Crisp up that bacon in your favorite cast iron skillet and have a cocktail while the national anthem blares in the background. Did Chris Stapleton kill it or what? I think even this cat is crying or that could be just his wonky eye. Once that bacon is nice and crispy, chop up your pepper of choice, whether it be jalapenos, yellow jalapenos or spicy serrano. Remove the bacon from all that lovely pig juice. Drain off all the bacon fat but one tablespoon and brown up those chili pieces in that reserved bacon fat. Chop the bacon up while the chilis are frying.
In a bowl mix the shredded cheese, cream cheese, bacon pieces, garlic powde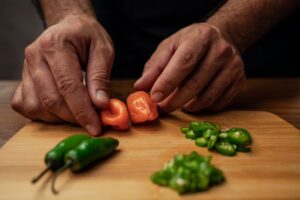 r and those diced pepper pieces, Roll the jalapeno cheesy bits into balls the size of quarters. Freeze your cheese balls for ten minutes. While your balls are freezing whip the egg.
In a separate bowl mix the pig dust, I mean pork rinds and the potato starch. Remove the cheesy balls from the freezer, dredge in egg then the pig dust. Pop all in the air fryer at 370 for nine minutes. Seriously let these cool for at least five minutes or you will burn the living hell out of your tongue when you pop them in your face hole at half-time.