One of my favorite things about springtime, besides smuggling illegal immigrants into this country is fresh summer salads. I also love breaking out my mountain bike and hitting some trails that are no longer covered in snow and begining to work on our garden.
Wait, did I just say, smuggle in illegal immigrants? I may have to change my politcal preferences afer last weekend when we invited this little Mexi-Cat into our home and into our hearts.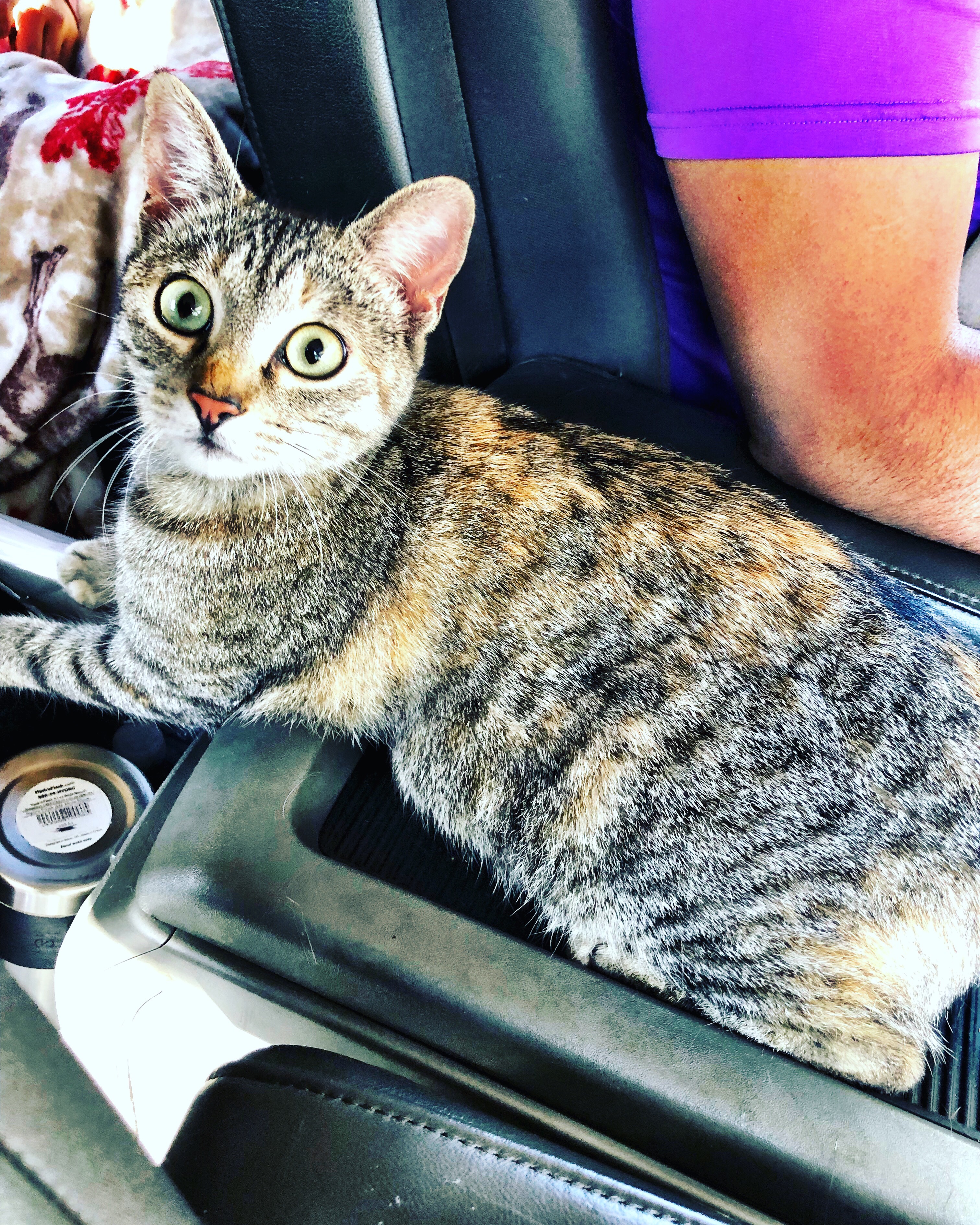 But first we had to throw her into the truck and try to pass her by the San Ysidro Border Patrol in Tijuana, like sure Bro, it's totaly normal to have a kitty cat wandering your truck at the border crossing.
This was the tail end of a week in Baja Sur where everything and nothing would surprise me. Like galloping wild mustangs on the beach. Wait, didn't I just want to go horse back riding? Well, obviously you can rent a caballo from any vaquero on their beach from Rosarito down south to Ensenada but being advanced beginning riders we wanted to live life dangerously. We wanted to trot.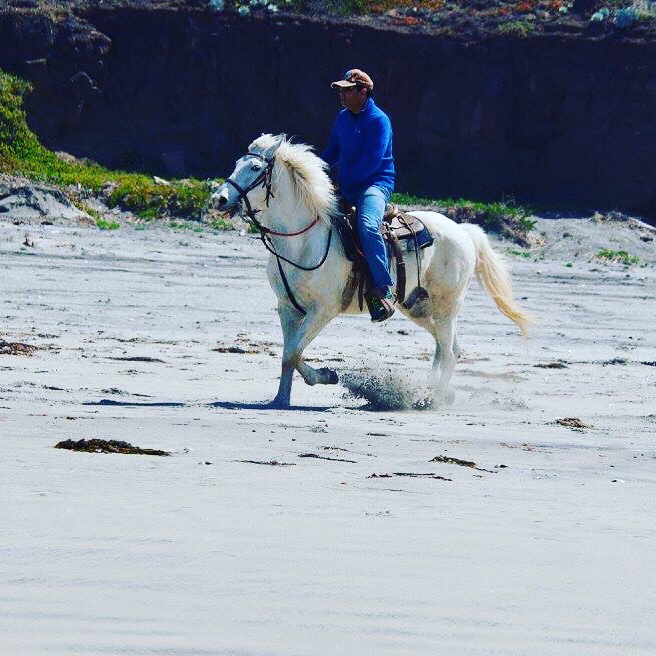 Luckily I found Marty at a ranchero near La Mision and she had a few wild horses for us to ride along the sandy beaches of this one horse town (Plus a few rather tame mustangs) Of course first we had to find her ranchero, which is never easy in a country like Mexico where instructions may include "Head south to La Fonda on the libre, go under toll road and a left, right at La Mision" It may have been an adventure just trying to locate the ranchero down a dusty Baja dirt road but this was for sure the best horseback riding I have ever done in my life!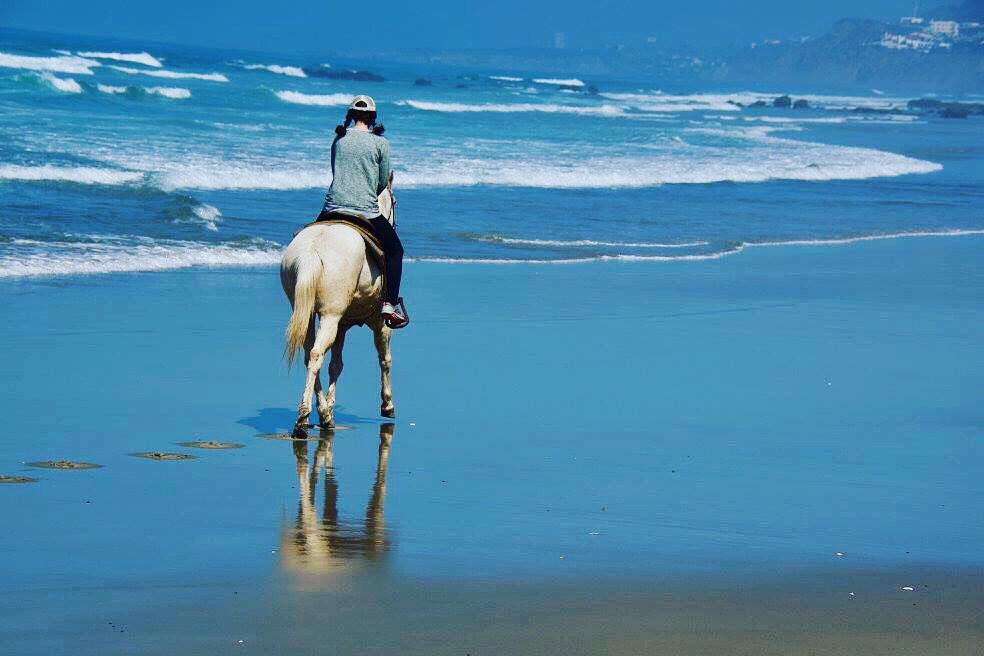 You know how normally when you go on a trail ride the horses just kind of follow each other and you have no control what so ever? You might as well be on one of those pony rides at the county fair? Well, on this ride, I actually got a chance to guide my horse/mustang about, trotting on the beach and holding on for deer life, when we switched horses and Marty told me Vomitar (Yes that is Spanish for vomit, and no, I have no idea how he got that name) likes to buck a bit.
I wanted a horseback riding adventure. Was I about to get it?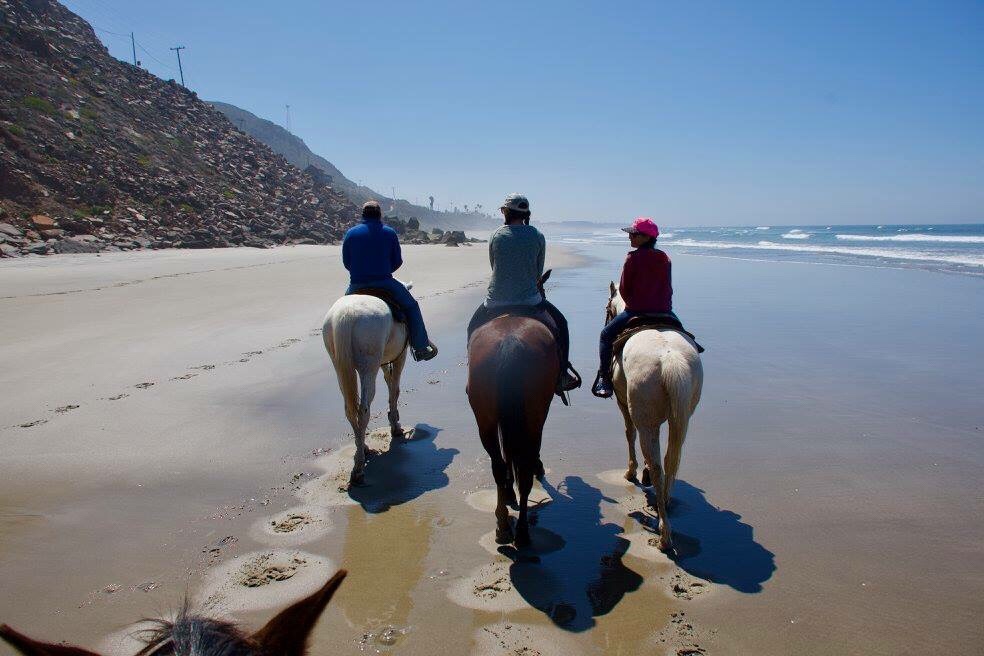 Well there was no bucking and no vomiting but we did have a lovely morning being horsey on the beach. Then we went back to the beach house and inhaled some Chinese Chicken Salad (Although I substituted black sea bass from the local fish Mercado in Ensenada.) This Chinese Chicken Salad is awesome and perfect to refuel your body after a workout, whether that is horseback riding, hiking or mountain biking.
Spiralizer Chow Mein
2-3 extra large carrots
2 medium zucchini squash
1 cup thinly chopped/shaved cabbage
2-4 TBSP fresh chopped cilantro, or to taste
1 roasted red bell bepper, chopped into thin strands
2-4 TBSP chopped almonds
2-3 chineses red dried chilis
1-2 tsp toasted sesame seeds
salt and pepper to taste
Chinese chicken dressing
1/4 cup rice wine vinager
1/8 cup sesame oil
1/8 cup chili oil
1 TBSP honey
2 cloves minced garlic
2 teaspoons minced ginger
2 TSP soy sauce
¼ tsp salt
4-9 chicken thighs
Set aside 2 teaspoons sesame oil, 2 teaspoons chili oil, 1/4 of the garlic and ginger and 1 teaspoon soy sauce. Marinade the chicken in this for at least an hour and grill.  Mix the rest of the dressing. Toss all the salad goodies in a giant bowl with the chopped chicken and the dressing.
This week I am linking up once again with the following food, health and DIY blog link ups.

http://www.makeaheadmealsforbusymoms.com
http://darlingdownsdiaries.com/good-morning-mondays-149/
http://www.marathonsandmotivation.com/chocolate-strawberry-superfood-parfait/
https://www.backtomysouthernroots.com/foodie-friday-link-party-12/
http://www.misssippipiddlin.com/
http://apriljharris.com/category/hearth-and-soul-link-party/
https://lifewithlorelai.com/category/home-matters-party/
http://www.sewhistorically.com/category/link-parties/sew-it-cook-it-craft-it/
http://confessionsofamotherrunner.com/2018/01/15/vegetable-enchilada-lasagna-meatless-monday/