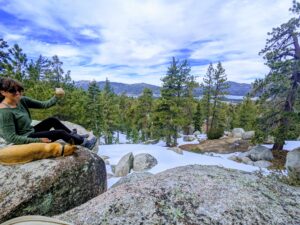 On a Monday morning, there is a good chance you can find me on top of a mountain with some of the best views of the Big Bear valley down below me. I might be relaxing with my green juice and taking just a few moments of zen in this crazy life. The zen and peace I find in nature at these scenic secret spots and okay also my love of food are what inspired me to create Big Bear's first pop-up picnic. And also there is nowhere in the Big Bear valley you can get a good beet salad. Just what the hell is a pop-up picnic you may be asking?
During the last three years of this pandemic, everyone on earth decided to get outside. Dining al fresco became a trend that is here to stay and I love that. I mean why would you want to ever dine inside a gloomy restaurant? The pop-up picnic was created by small businesses owners who knew that even though we are all masked up there are two things that keep millennials smiling under those masks; Trendy vegan salads and taking selfies for Instagram. I'm pretty sure the pop-up picnic concept was created by millennials to take more Inta-Worthy photos. I don't care what age group created the concept of pop-up picnics. I am going to embrace this craze. I am the outdoor foodie to bring this trend to the Big Bear Valley.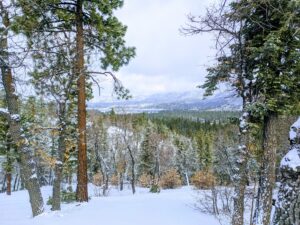 Introducing the Big Bear Valley's pop-up picnic queen, The Hungry Mountaineer.
As much as I love life in the Big Bear Valley I feel like I am the only food lover in this town. Our restaurants go from bad to worse. One of our "Best" restaurants in Big Bear has a stringy overcooked lobster on its menu. Every time we go there my boyfriend has to send his steak back. And honestly every other menu option I have tried, the ribs, the mashed potatoes and the mac and cheese taste like it came from Denny's. I never go out to eat in Big Bear as a decerning foodie. Even the restaurants labeled as the "Best" in the valley taste like a Hungry Man reheated dinner. No thanks, Big Bear food scene. I'll just make some Elk Chili with Adobe Chilis at home.
Decerning foodies unit!
Whenever I have hiking guests joining me on the trails of Big Bear Lake, the conversation often turns to food. So often my guests are vegans or vegetarians and I hate to tell them, Big Bear is so light on fare for vegans especially. You can expect to get a plain salad and pay fifteen bucks for basically just lettuce and cheap balsamic dressing. For vegetarians, there is always the Beyond Burger which is made with so many processed foods it grosses me out to even consider stuffing that at my face. Don't even get me started on gluten-free options. At least our finest pizzeria, Saucy Mamas has a gluten-free option. Good for them. Not that I eat pizza because it would send me straight to the fart room but if I did, I would order from Saucy Mamas. They are the best pizza pie option in the Big Bear Valley.
I'm nowhere near a vegan although, once upon a time I tried to be a vegan for a week but I have so many friends who are vegan or vegetarian and when they visit our ski town, I usually say, good luck, if they are trying to eat out. Living life in this beautiful ski town is awesome if you want to spend time out hiking trails, snowshoeing or mountain biking. But not if you want to eat anything delicious in a restaurant.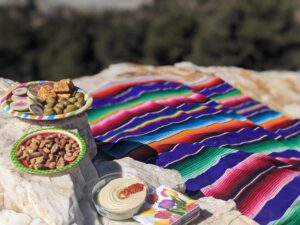 This delicious beet salad is one of the stars of the show for my pop-up picnic menu options. If you order it without feta, it is vegan. And come on, nothing says I did it for the insta, like staining your fingertips bright red while peeling freshly roasted beets.
I did it for the Insta Roasted Beet and Goat Cheese Salad with Spiced Pecans
4 large beets
1 teaspoons olive oil
1/4 cup crumbled goat cheese
2 cups spring mix
1/4 cup homemade spiced pecans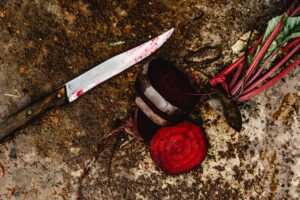 Lavender Vinaigrette
1/2 cup walnut oil
1/2 cup red wine vinegar
1/2 teaspoon dried lavender
1/2 teaspoon dried thyme
1/2 teaspoon dried sage
1 teaspoon salt
1/2 teaspoon powdered garlic
1 teaspoon ground white pepper
Combine all of the lavender vinaigrette ingredients in a food processer or nutri-bullet