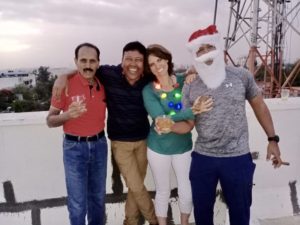 My first morning I woke up under overcast yet oh so humid skies in Bangalore India last December I had no clue that worldwide travel would soon be a thing of the past. I had absolutely no idea that the entire world would be shut down three months in the future. I so wished we had cherished those moments overseas with my boyfriend's international family more last winter. Traveling to this spice region would very soon be just a memory. Worldwide travel was something we definitely took for granted before the pandemic of 2020.
Back in late December 2019, As I basically came to after forty-eight hours of worldwide travel and very little sleep on the most terribly uncomfortable airplanes ever built, I had one thing on my mind. I needed a spicy Indian breakfast as soon as possible. My first morning back in Bangalore, over nine thousand miles across the Bay of Bengal from home my first thought as I pulled my exhausted jet-lagged body from the bed in our luxury apartment was how soon can we go to the spicy south Indian breakfast buffet?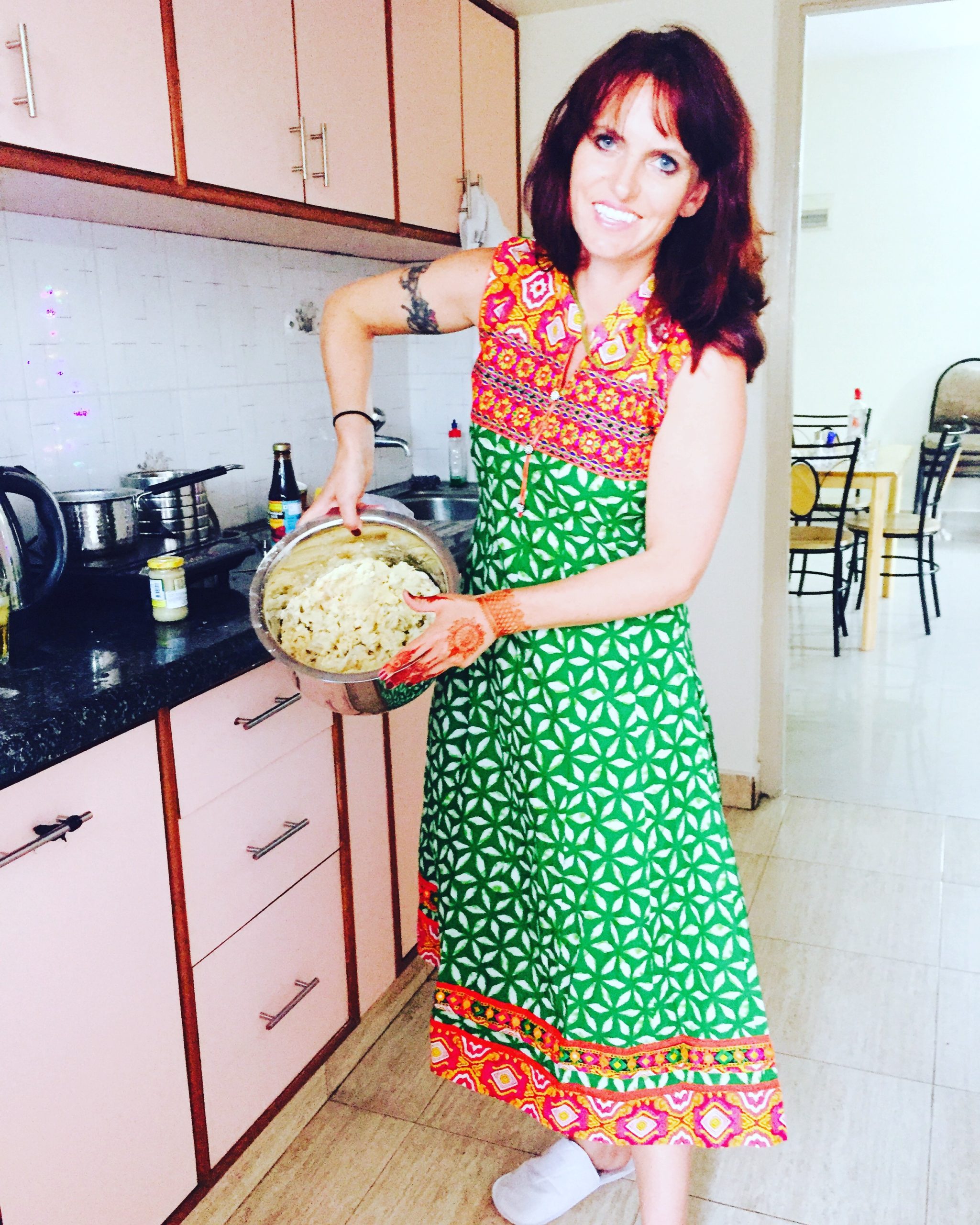 Our awesome boutique suite at the VIP Lounge did not have a full kitchen but it did have a fantastic made from scratch Indian breakfast buffet waiting for us in the sunny lobby every morning at seven a.m. I am that annoying morning person who can't sleep in even when I have not slept at all after two days straight of worldwide travel. I obviously jumped out of bed like a hyper chipmunk released into the spice route of India at 6 a.m. I went straight to the fantastic buffet to bring back piping hot mugs of India's famous Sunrise Coffee to start our mornings. That first morning as I filled my mug at the carafe with a steaming cup of sweet coffee, I couldn't wait for our weeks of adventures all over southern India to begin. By nine a.m. this hyper American chipmunk may have had a few too many cups of delicious Indian brew. I was dressed in my most conservative fashion, trying desperately to not look like a dumb American, Everyone else in our family was finally awake and we were on our way to breakfast Bangalore style.
But first breakfast.
After I very politely tried to not wake up the rest of our family as a hyper chipmunk on holiday likes to do, the rest of our clan eventually woke up and we walked down the three flights of stairs to the breakfast buffet. And that's when I spied unlimited puri's, fried Indian breakfast flatbread. Puri's? Unlimited Puris? Have I died and gone to Indian food breakfast heaven? I had to wonder as I filled my plate with more carbs than I usually eat in America in a week.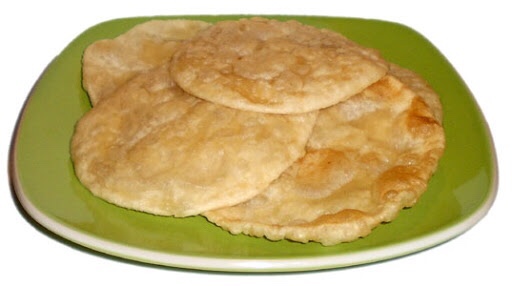 A puri is a deep-fried flatbread made from unleavened whole-wheat flour that originated in this spice region where carbs are not ignored as they are back home in California. A masala and garbanzo bean breakfast dish like chole or bhaji is the perfect curry to dip your breakfast puri in when breakfasting in Bangalore.
Worldwide travel gets me so hungry
Last December on Christmas morning, we woke up in our fancy boutique hotel in the northeastern corner of Bangalore, just so happy to be finally done with our voyage of worldwide travel. (And maybe dying to consume some delicious Indian food at last) India is literally half a world away from our home in Big Bear Lake California. It's always an exhausting journey to finally reach Bangalore.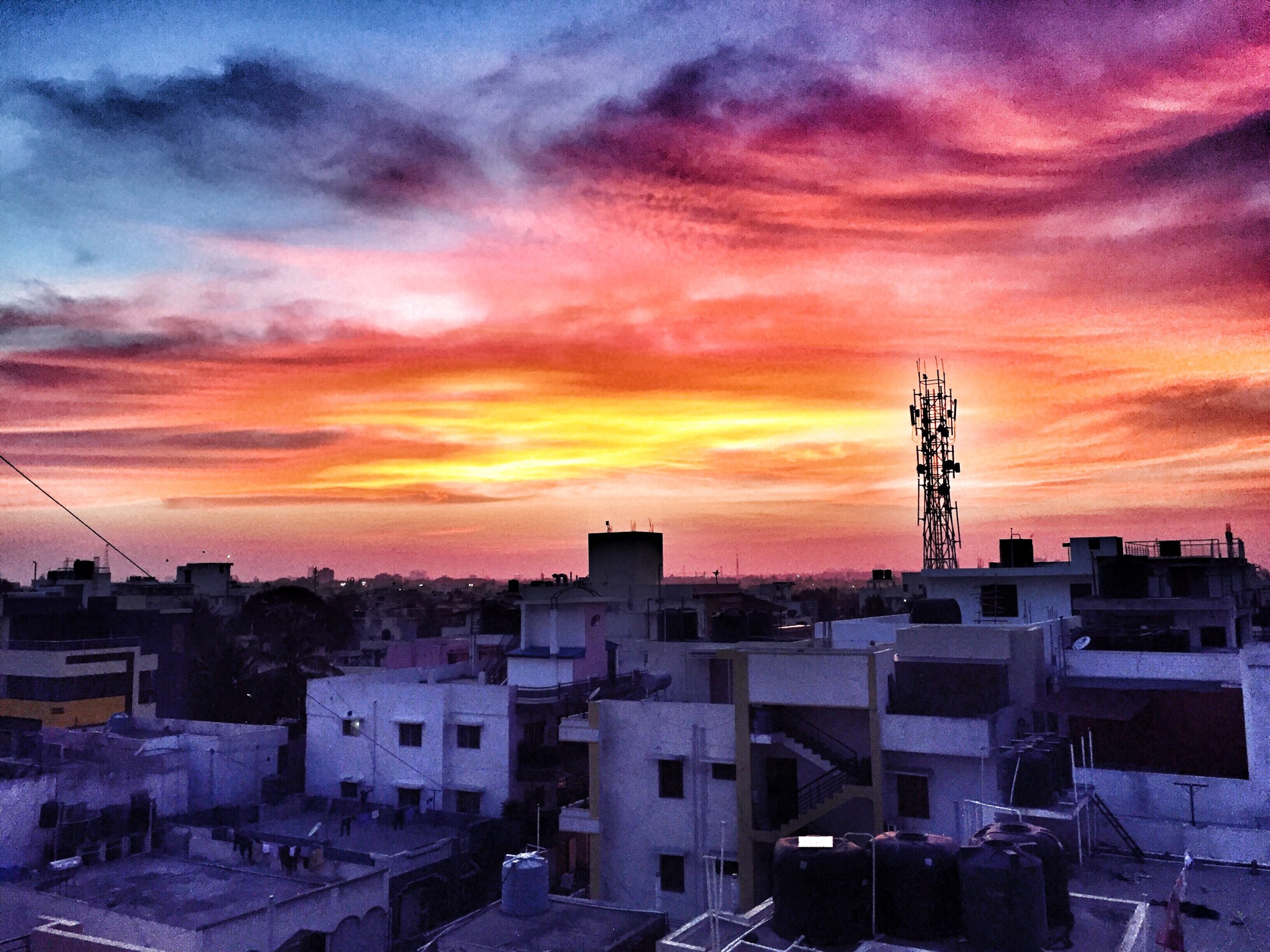 It had been a long forty-eight hours that began on the most uncomfortable American Airlines flight ever in Los Angeles. We were blessed to spend eight hours in Dubai midway across the world. Then we switched planes and flew a much more comfortable Emirates Airline for the rest of our journey to India. By the time our Emirates jet landed in Bangalore on Christmas eve, we were jetlagged and exhausted but so excited to hang out with family we had not set eyes on in three years.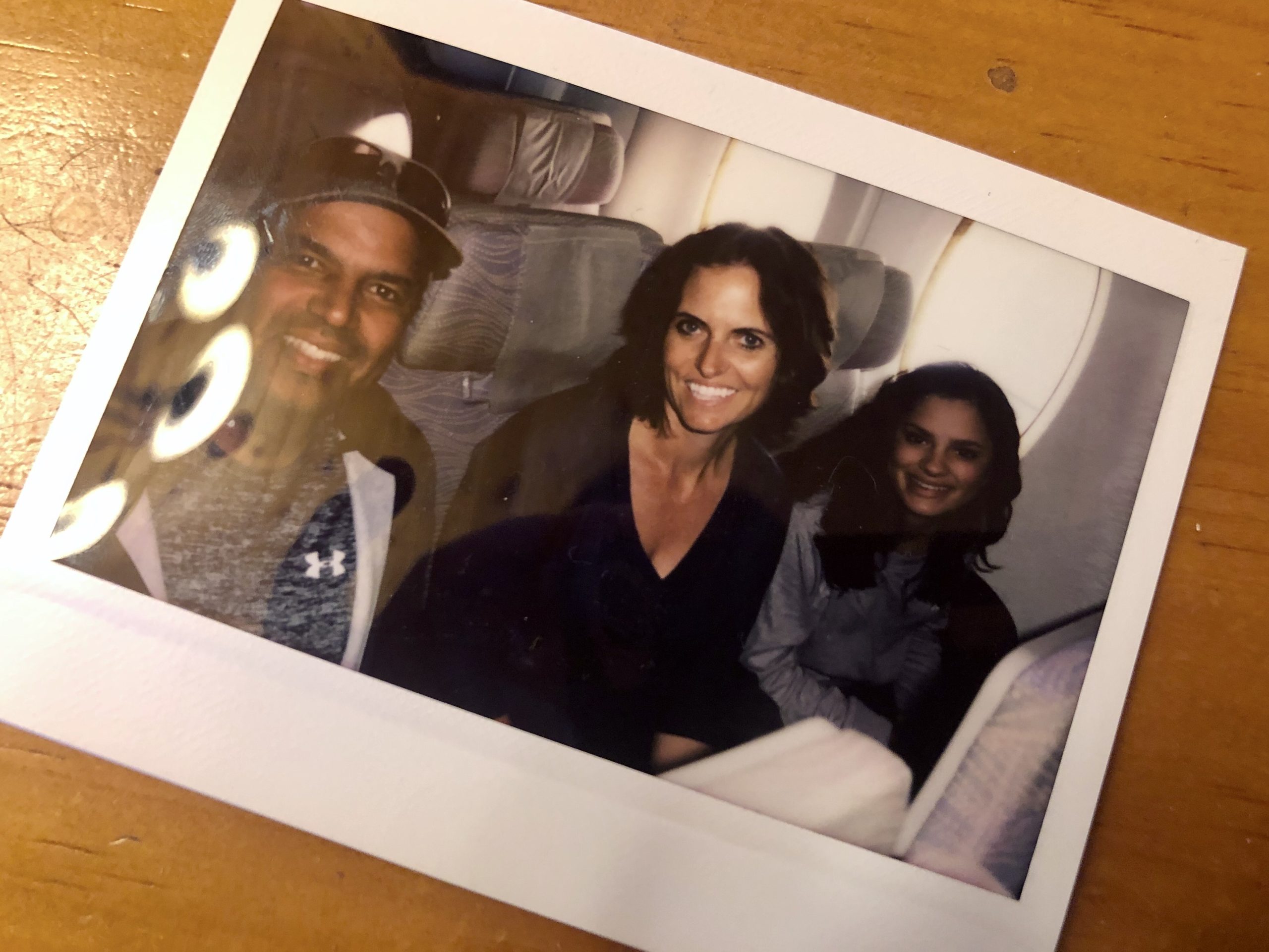 Looking back now at Christmas Eve 2019, I feel so very blessed we were able to dance, drink and celebrate from the rooftop of the VIP Lounge. We raised our glasses to cheer family and watched one of those famous Bangalore sunsets. We hugged family, sang Christmas songs and yes drank terrible Indian wine while the evening sky turned all those enchanting rainbow colors. There is really nothing like one of those famous Bangalore sunsets watching the sky change colors over this concrete jungle city. We didn't have to wear masks, no one had to social distance and the thought of a global pandemic seemed like something out of a Stephen King movie. It was a Christmas Eve to remember and going forward as the pandemic went from bad to worse, it was filled with happy family moments to hang on to. Who could honestly have predicted that worldwide travel would soon be just a memory?
Happy holidays from Kamanahalli
The Kammanahalli section of Bangalore is the best place for the foodie on vacation in this spice-filled food region. It's where we always stay while on holiday in this garden city in the state of Karnataka, India. As we prepared to celebrate the Christmas holiday Bangalore style with my boyfriend's family we had no idea that just a few months later worldwide travel would be a thing of the past. As I inhaled a spicy Punjabi chole for my breakfast last December, moping up the spicy masala with so many fresh fried puri's we had no idea that a global pandemic was about to close down the international borders to travelers like us. I feel very blessed we got to holiday in Bangalore and spend precious moments with my boyfriend's international family. And also that I discovered my love for chana, garbanzo bean breakfast curries on Christmas morning 2019.
Twas the night before Christmas and the curry was on the stovetop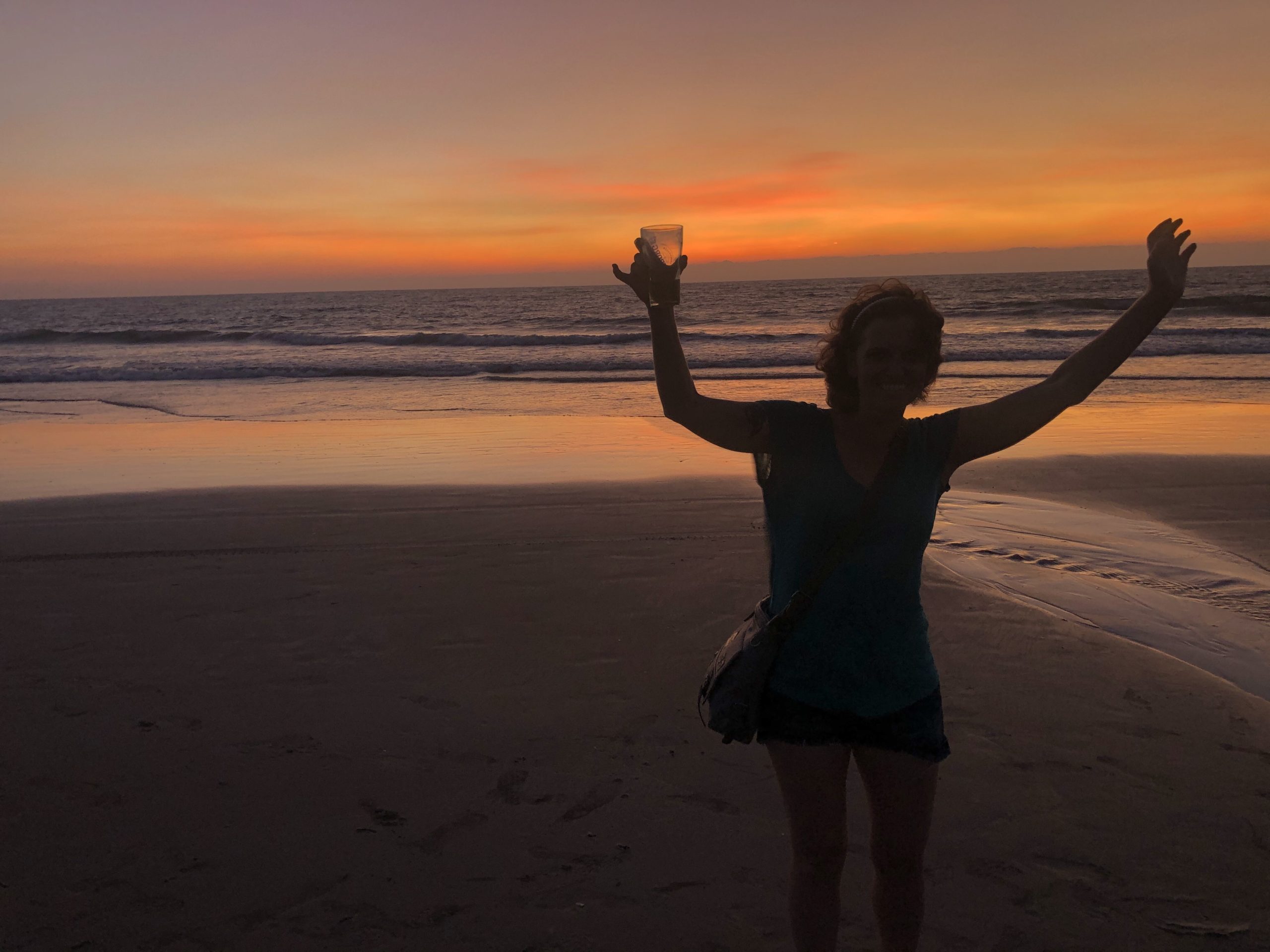 This snowy Christmas morning we may not be waking up at our favorite Kammanahalli hotel, the VIP Lounge, but here in snowy Big Bear Lake California it certainly smells like India in our kitchen. The smells of cumin, coriander, ghee and garlic ginger have filled our mountain home on this early Christmas morning. Yes, it does smell just a little bit like a Bangalore kitchen in here.
It might be just the beginning of January and being a California who has inhaled a lot of spicy curries this chilly January stuck at home, we need to get serious about our health here in the New Year. It might be an impossible year for the worldwide traveler and her wanderlust here in 2020 but at least we can enjoy some authentic foods of India here in our mountain home.  Snowy winter weather is a great atmosphere to cook up some spicy Indian stews and curries. Thank God my boyfriend has taught me how to be a better Indian cook. I have to say, spending so many hours at home self-quarantined in our resort town amongst the pines there is little to do besides hike with the dog and cook up delicious fresh Indian curries. One silver lining of 2020, this pandemic has definitely taught me to be more patient and to be a better Indian chef.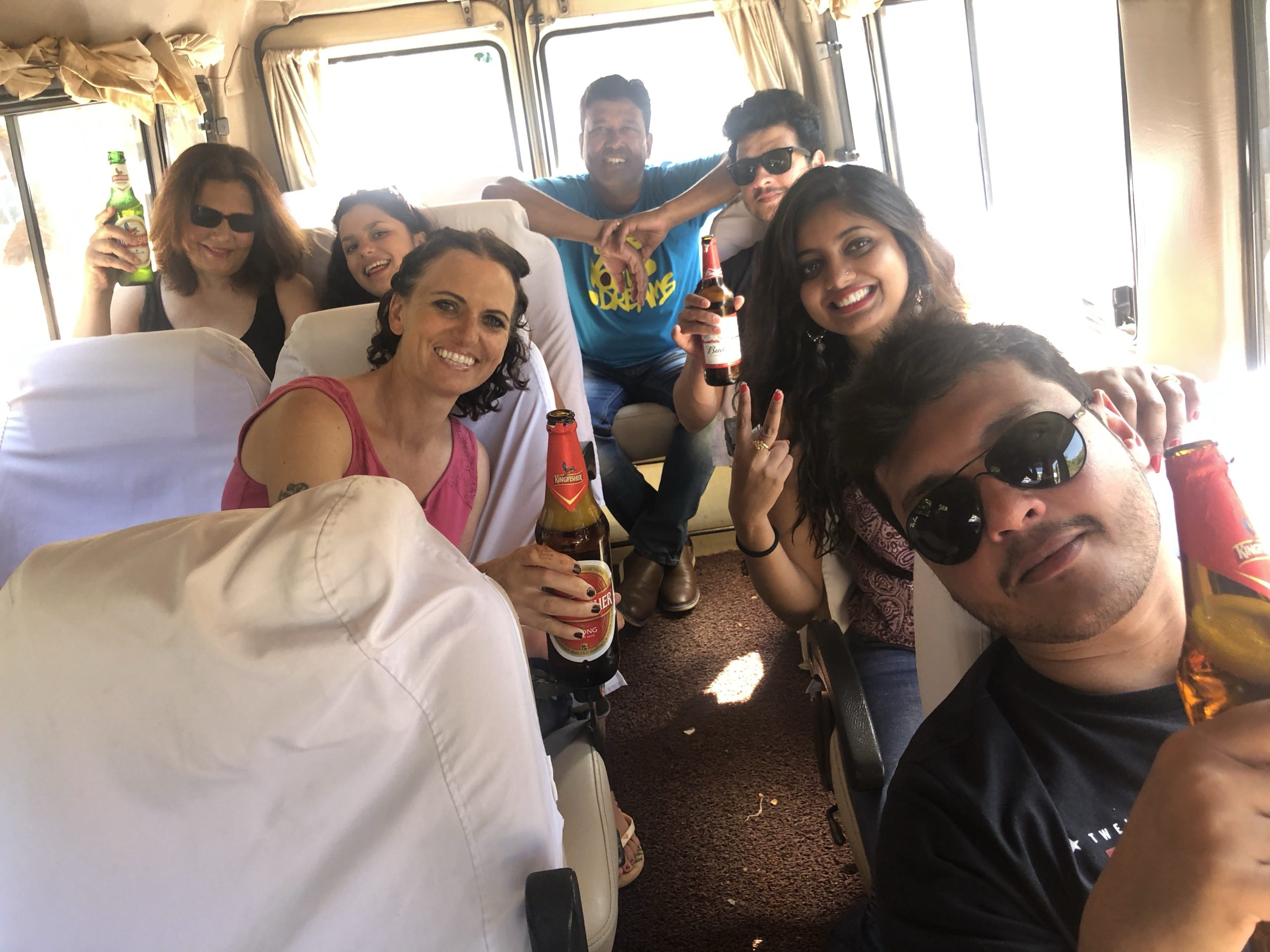 I like to stir up this breakfast tomato-onion masala the night before so it's in the fridge and ready to be reheated over a bed of spinach and sweet potatoes come the a.m. hours. Since we are stuck at home here in California this holiday season and not crammed into a TT minibus with family on an Indian beach road trip, it gives me a chance to make slightly healthier Indian meals. You definitely wouldn't find this chole served over a bed of sweet potatoes and steamed spinach at a Goa seaside restaurant. Looking back at these photos from our trip to tropical Goa last December it's crazy to think wow that was in a pre-mask world and we were actually still allowed to hug family and not social distance. What a different world! It's crazy the things we take for granted.
You might be saying to yourself, just what the hell is chole? A delicious spicy chole is a garbanzo bean curry hailing from the state of Punjab. Punjab is known to be the loudest state in northern India with crazy music, colorful clothing and joyful festivals and celebrations. Punjab is the land of five rivers and the Punjabi people love flavorful food and drinks. It's quite fitting that this vegetarian breakfast masala screams out with all the flavors of this northern region of India.
Here we are in a new world that I never imagined as we celebrated the holiday last Christmas season. This north Indian chana dish is helping us get through the first few days of the New Year and relive our food-filled holiday last Christmas across the sea in southern India.
Punjabi Chole over a bed of Sweet Potato and Spinach
3 tablespoons ghee
1 1/2 large red onions, chopped
1 serrano pepper, cut in half
1 teaspoon grated fresh garlic
1 teaspoon grated fresh ginger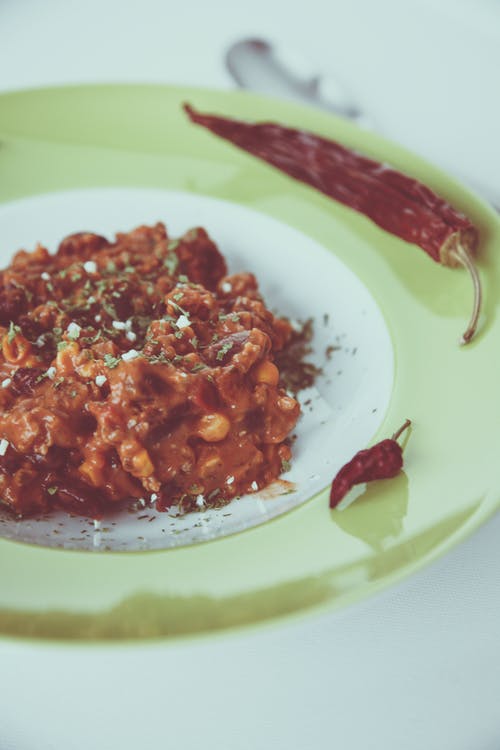 1 teaspoon ground cumin
2 teaspoons ground coriander
6 cloves
6 white cardamom seeds
3 bay leaves
6 peppercorns
1 teaspoon garam masala
1/4 teaspoon turmeric
2 teaspoons salt
2-3 cups of water
2 cups homemade stock (I prefer lamb stock but you could use beef, chicken or pork or vegetarian stock if you are vegetarian)
2 cups ground tomatoes (Canned or fresh)
3 cans  garbanzo beans, drained and rinsed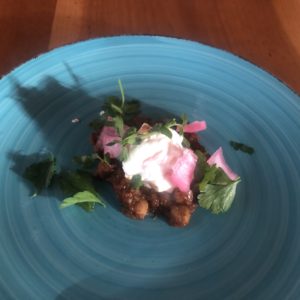 In the ghee roast the onions and serrano for at least fifteen minutes until caramelized well and browned. Remove for heat to let cool for ten minutes and pulse in a food processor. Return to stove, adding in half a cup of water at a time to make the onions just a bit soupy. Add in the garlic ginger, then the cumin, coriander and garam masala. Add in more water as needed. Stir in the bay leaves, cardamom seeds, cloves and peppercorns. Simmer and let reduce for fifteen minutes to let the spices roast, stirring constantly and adding more water as needed. When the spices have roasted remove them from the heat and let cool for ten minutes, then re-blend them in the food processor.
Return the masala to the stove and stir in the stock, adding slowly. Add the salt and let cook for a good ten minutes. Stir in the ground tomatoes and let reduce for an hour, stirring every ten minutes or so. Preheat your oven to broil. On a cookie sheet lay out the garbanzo beans in a thin layer. Broil for five minutes just until they are slightly dried out but not brown. Add the garbanzo beans to the masala. Let roast another thirty minutes.
Serve this over a bed of oven-roasted sweet potatoes and steamed spinach. Garnish with pickled red onions and cilantro. Obviously serve for breakfast with puris and plain yogurt.