On my 40th birthday after planning for months to scale one hell of a mountain peak, you can bet your ass I would enjoy some buffalo blue cheese something or other. I mean, that is, eventually, but first I had to hike twenty-four miles or so with over 6,000 feet elevation gain. I was excited to turn 40 tomorrow on the top of Mount Whitney. It was going to be an epic 40th birthday.
The hike up Mt Whitney is incredibly strenuous and requires months of training and planning. It's not a hike for newbie hikers. Unfortunately, you see many people on the Mt Whitney Trail every year who look like they just walked out of the sale at REI. These All-Trails hikers have no idea what they are doing on a 14,000-foot mountain pea. (If they make it to the top) A summit try up Mt Whitney is not guaranteed but if I do summit I always plan to eat something delicious afterward, like Buffalo Cauliflower with a Blue Cheese Crumble.
I was so excited last August to summit this great mountain for the second time. I was more excited to eat something possibly deep-fried and more than likely covered in buffalo sauce and blue cheese. Because let's face it, after being a dirty sweaty hiker on an eastern Sierra trail for thirteen hours, I deserved a delicious birthday dinner.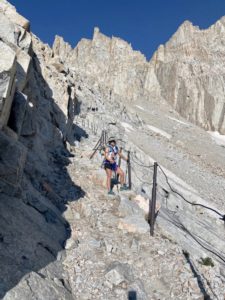 Enter the hip from hell
And then I got up at dawn, to enjoy what can only be described as a rainbow of a colorful sunrise, magentas and golds, on a scenic hiking trail just outside of the Golden Trout Wilderness. The skies were partly cloudy and overcast and it was an awesome pre-birthday morning trek up to the top of the Kearsarge Pass. Okay if I'm being honest, the last few miles uphill were much harder then I recalled three years ago.  Twelve miles after the sunrise I was back in my car and driving towards Whitney Portal to reserve a campground for this evening and the next few days.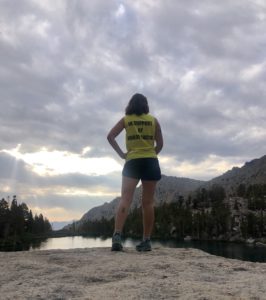 I got into my car at the bottom of Kearsarge Pass feeling in shape, like an athlete. I just hiked twelve miles to the top of a mountain pass at almost 12,000 feet! I'm terrific! Was I turning forty? Really? I got out of my car twenty miles to the south limping like an old buffalo. My hip hurts so bad I had suddenly turned into a seventy-year-old woman who needed hip replacement surgery. I could barely even walk as I went to the task of setting up camp. Let me tell you setting up camp is a pain in the ass when your hip hurts and you can barely limp around your campsite.
I was starving by the time I finally got our campsite set up. And then the camp stove broke. And then it started to rain. Did I mention my hip still hurt and I needed to climb to the top of the highest mountain in the continental United States tomorrow? Happy birthday to me!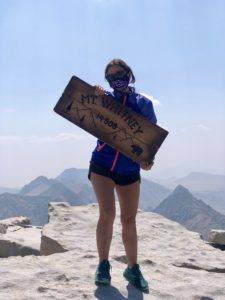 I guess when you're an old lady like me you should really eat your veggies like this fiber-filled cauliflower treat. But before we get to the cauliflower, this story does have a happy ending, luckily. The morning of my birthday I woke up at 3 a.m. in the dark and limped out of my tent still feeling like an old buffalo. I shoved on my hiking clothes and filled my camelback with two liters of water. My hip still hurt and there was no way I would be able to complete Mt Whitney on my fortieth birthday as I planned. But I got up with my friends and planned on just hiking as far as I could. 
Then I leaped over a creek in the dark like the least graceful old buffalo ever and popped my hip back into place! I was no longer an old buffalo! I was now a gazelle and ready to race to the top of Mt Whitey! That feeling of euphoria would not unfortunately last for the twenty-four miles of the hike but still, I felt ready to tackle the highest peak in the continental United States one more time.
And that right there is a mostly true fairy tale of the old buffalo who could… Summit Mt Whitney and eat all the blue cheese that evening.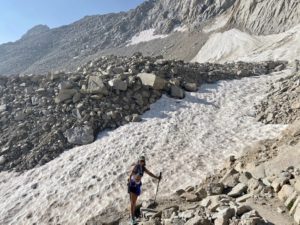 Keto Buffalo Cauliflower with a Blue Cheese Crumble
1 bag cauliflower pieces
1 egg
1/4 cup almond meal
1 teaspoon cornstarch
1 teaspoon pink Himalayan sea salt
1 teaspoon sparkling soda water
1/2 cup Franks Red Hot Sauce
2 teaspoons ghee
Squeeze of lime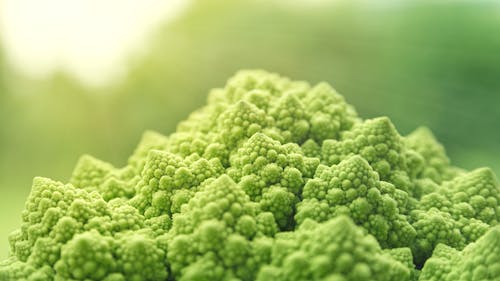 Whisk the egg. Mix the almond meal, cornstarch and sea salt. Mix in the egg and the soda water. Dredge the cauliflower in this. Oil a baking sheet with just a bit of ghee and place the cauliflower on this to bake. Bake at 375 for twenty minutes until browned.
Mix the rest of the melted ghee, Frank's Red Hot Sauce and the lime. Sprinkle this over the cauliflower. Sprinkle the blue cheese over the cauliflower also. Return to the oven for ten minutes. Serve warm.