If I can say one positive thing about the year 2020, it was the year I became a better Indian chef. Did I master the art of baking crispy fall apart in your mouth buttery with ghee parathas? Not a chance. Did I learn how to get the batter just right for holiday Anglo-Indian rose cookies? Nope. Do I still fit in my favorite kurti after this damn Covid Fifteen Lbs? I don't want to talk about it.
But I did become an expert at creating a southern-inspired brinjal curry just like you might have at Poovar Island Resort in Kerala. Until you have stayed in a floating cottage on the southern tip of India you really can't understand how unique and delicious all the coconut or tamarind-filled dishes can be. Or how big and poofy my hair can get with four days of ninety percent humidity tropical weather.
On the sadak (road) again
The road to learning how to be a master Indian chef started on the dirt road backroads of Tamil Nadu India four years ago. It began with working up my appetite on the winding hairpin turns on the roads through Bandipur Tiger Reserve while traveling through the jungles in Karnataka. This jungle reserve used to be the private hunting ground for the Maharajas of Mysore, now it's a peacock and tusker-filled road trip from Bangalore popular with tourists and locals (And want to be Indian chefs/ food bloggers from the U.S.)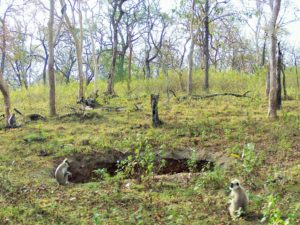 When a Langur (a wild naughty grey monkey) jumped in the car at the border checkpoint I screamed at Curious Indian George not to wipe his dirty monkey ass on my boyfriend's travel pillow. My lovely Anglo-Indian boyfriend was too busy trying to bribe a border patrol guard to give me back my last bottle of Australian pinot grigio to notice the simian wrestling match going on in the backseat of our hired car. Whatever, my love grew up in these jungles; I'm sure he's argued with an orangutang before. Retrieving the last bottle of crispy white and delicious wine from the border guards before we drive into the dry state of Karnataka with no wine to be had is much more important! Especially when we had a week's worth of holiday in front of us! Trust me, you do not want to be stranded in a lush Indian jungle in a dry state of India with no wine. By the time the border guard was bribed, the langur was removed forcefully from the vehicle and we were on the road towards Jungle Retreat again, I was starving for a hearty Indian breakfast. Thankfully we made it to Jungle Retreat just as the breakfast feast was being laid out.
That is when I experienced my first India chutney and my life (And my breakfast menu) would never be the same. How do you make delicious coconut chutney perfect to have with puris at ten a.m. as the langurs frolick through the eucalyptus trees of the jungle? Try this fantastic and easy Coconut Sun-Dried Tomato Chutney Okay, well it's easy once you get the coconut out of the damn shell. Which was a lesson in patience for this spoiled American.
Adventures with coconuts
The first few times I tried to reproduce this chutney I purchased a coconut scraper that basically left me in tears. Then I purchased a coconut hand grater. Then I almost cut my hand open. My boyfriend's family on the outskirts of Bangalore has a property full of passionfruit and coconut trees and they literally peel coconuts for homemade coconut milk every day. My bad hombre's brother made peeling a coconut look simple. Back here at home in California, I buy my coconut milk at Trader Joe's or Whole Foods. The Am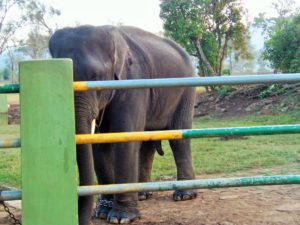 erican in me is not graceful enough to master the art of dissecting a coconut without making a quick stop at the emergency room first.
When not arguing with a primate, we spent that first trip to the jungle resort visiting the scenic hill station of Ooty at over 7,000 feet. Or spending the afternoon ignoring elephant erections at Theppakadu Elephant Camp. This elephant was just happy to see me. It was awkward.
When not having incredibly awkward moments with pachyderms, I spent my days in the south of Indian learning how to reproduce these recipes. As much as I adored every minute we spent on holiday in southern India, I couldn't wait to try to reproduce Seafood Ghee Roast in my American kitchen in a ski resort town at seven thousand feet.
Where I live in Big Bear Lake, California we are over a two-hour drive from specialty grocery store where I can buy quality Indian ingredients like tamarind paste or lamb shoulder. It can be a pain in the ass for the burgeoning Indian chef. We may not be in the remote jungles of southern India here in the alpine mountains of California, but we are remotely located from the cities and unique grocers like Whole Foods or Artesia (Basically Little India in southern California where you can buy authentic prawn pickle) It can be a struggle for ethnic chefs to try to reproduce authentic meals while living in a remote mountain village.
I'll see you in Yellowstone auntie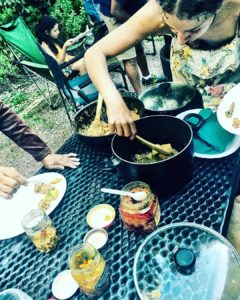 The road to becoming an expert Indian chef took me all over the world, from Banglore India to Yellowstone National Park. Yes, that's right, I learned to make Butter Goat, much like Butter Chicken but with a free-range organic goat leg obtained from Paonia, the organic hippie capital of Colorado, while camping in a 34-foot RV near Telluride Colorado. It was such a scenic destination to master this northern Indian dish. We even finished the curry over the campfire like the dirty campers we were. It may have been just that more zen of a time for me as this delicious hand raised goat leg was hand-delivered by a resident of Paonia (And a long lost friend) Who knew the road to mastering Indian cuisine would lead me past the wild bison in this caldera capital of the United States but one thing about Indian cooking; It's nothing if not unique and a world of flavor.
It doesn't matter where in the world I am stirring up a big wok full of breakfast chole chock full of spices and channa the Americanized Indian chef in me just has to throw some sweet potatoes in the pot. Here's my dirty little chef secret; I throw sweet potatoes in curries like a mad American woman all the time! Please don't tell my Anglo-Indian mother-in-law.
One rainy Christmas Eve in Banglore I made my world-famous Sweet Potato Pakoras. I call them world-famous as my boyfriend's Bangalore family looked at me like I was crazy for adding sweet potatoes to my pakoras. I might be more notorious than famous in this family.
One last basic winter curry
Here in the mountains of southern California it is nothing like balmy southern India. Tropical nights, palm trees and my big poofy tropical hair is just a memory. One last winter snowstorm is set to affect our ski resort town. Snowy winter nights mean every Indian chef is looking to make a hot filling curry like this muttar curry.
This is such a basic north Indian Punjab curry and you can do so many different things with it. Even a beginner Indian chef can easily master this simple curry. (Just don't ask me to pronounce muttar if you don't want to watch me embarrass myself) You can feel free to make this either vegetarian or vegan. There are a lot of substitutions you can do to this recipe to make a unique dish with this simple muttar curry base.
substitute tofu for the cottage cheese.
Use coconut oil instead of the ghee for a vegan twist.
And Vegetarian stock for the lamb stock
Add potatoes instead of the peas to make it an aloo muttar
Add spinach instead of the peas to make a palek.
Add 1/2 a cup of coconut milk at the end to give it a creamy southern Indian twist.
Muttar Peas and Tofu Masala with Cottage Cheese
4 tablespoons ghee
1 1/2 teaspoons tandoori masala seasoning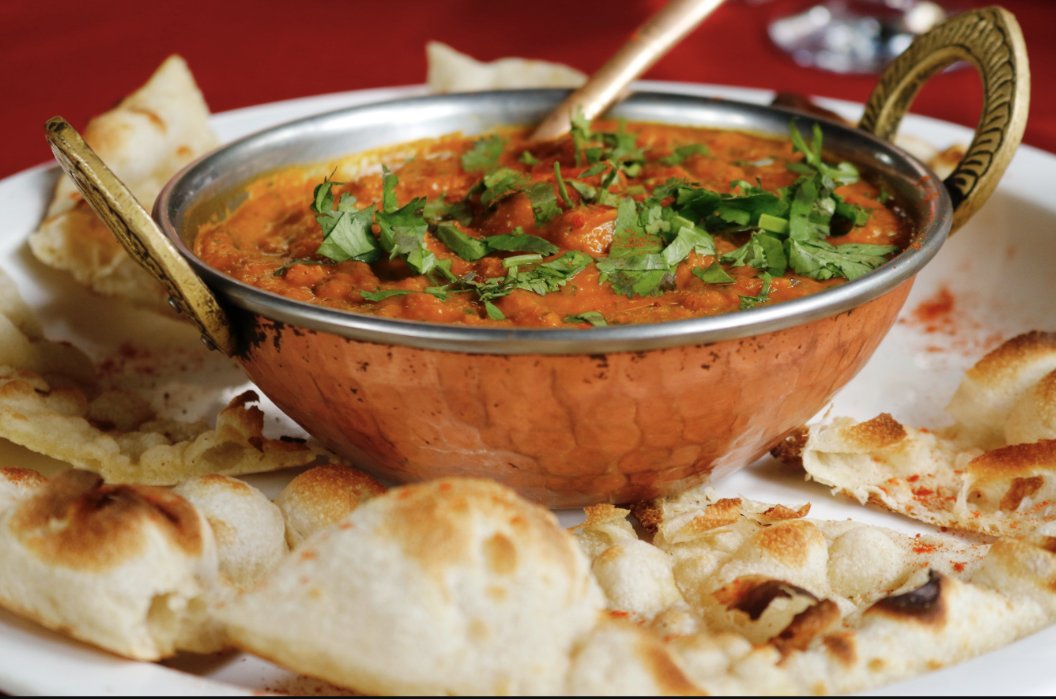 2 large red onions
1- 1/2 serrano chilis
1 tablespoon ground cumin
1 teaspoon ground coriander
1 teaspoon salt
1 tablespoon grated garlic
1 tablespoon grated ginger
1 teaspoon garam masala
1/2 teaspoon turmeric
1 1/2 cups ground tomatoes
1/2 cup ground cashews
2-3 cups water
2 cups homemade lamb or beef broth
1 1/2 cups full fat cottage cheese
1 1/2 cup frozen peas, defrosted
*This dish can easily be made vegan by using coconut oil instead of ghee.
And coconut milk instead of the cottage cheese.
Slice the serranos lengthwise then cut into thirds. Dice the red onions. In 2 tablespoons of ghee cook the serranos just until roasted on both sides. Remove from the ghee. Cook the red onions in the ghee for fifteen minutes until cooked well. Let cool slightly and puree in a NutriBullet or mixie.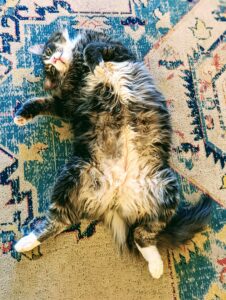 Return to the wok with 1/2 cup of water. Add the garlic, ginger, cumin, coriander and garam masala. Cook and stir adding water as it dries down for at least twenty more minutes. As you are cooking and stirring, slice your tofu in half and put on a cutting board with paper towels on both sides of the tofu. Set a bunch of books, or a 17-pound Norwegian Forest Cat on top of the tofu to drain the water. You might have to replace the paper towels a few times. When the tofu is dry enough, cut it into small bite-size pieces and put in a ziplock bag with the tandoori seasoning. Let marinate while the curry is cooking down.
Next, stir the turmeric into the curry. Slowly start adding in the broth as it continues to cook for another ten minutes. Add in the tomatoes, salt and more broth. Add in the cashews. Keep stirring and cook for an hour, adding more water and broth if it gets too dry. At this point, heat the rest of your ghee in a saucepan and fry the tofu pieces until cooked and firm. Stir the tofu pieces into your curry.
At this point, you can add in the muttar (peas), cottage cheese, spinach or tofu chunks. If making a vegan version add coconut milk instead of the cottage cheese. Add that at the very end.