"Maam I would appreciate it if you would put your pants back on"
Okay maybe that is not exactly what the cop said to me but it could have been.
When you find yourself stuck behind a terrible accident on an winding mountain road the polite thing to do is take off your pants.
To be a little more clear we were stuck on a winding mountain road three miles from our campsite behind a terrible accident and in a state of boredom I chose to change into my night camping clothes
( warmer layers, beach camping, Central Coast, late fall)
I was in the back seat attempting to find warm pants and yelling out the window at my bff
"I'm not wearing pants! Tell me if the traffic moves" when a gaggle of people walked by my car (And yes, they all giggled, and stared, some of them may have even pointed)
And this is what happens when you go mid afternoon beer tasting on the Central Coast.
The week after our beer tasting good time on the Central Coast I was Christmas shopping with my best friend (And partner in crime) at Irvine Spectrum in Orange County. Every time I go to the Irvine Spectrum I simply must go to TLT Food for dinner. Their ahi style fish tacos are simply amazing.
This time I tried their "green" bowl. This rice bowl had a chimchurri sauce, rice and short ribs with pickled vegetables. It was out of this world good. This, right here is my version but I did a vegan version and I used brown rice of course as I am obsessed with brown rice.
Chimchurri Brown Rice Bowl with Pickled Vegetables
1 cup brown rice
hot sauce
Pickled Veggies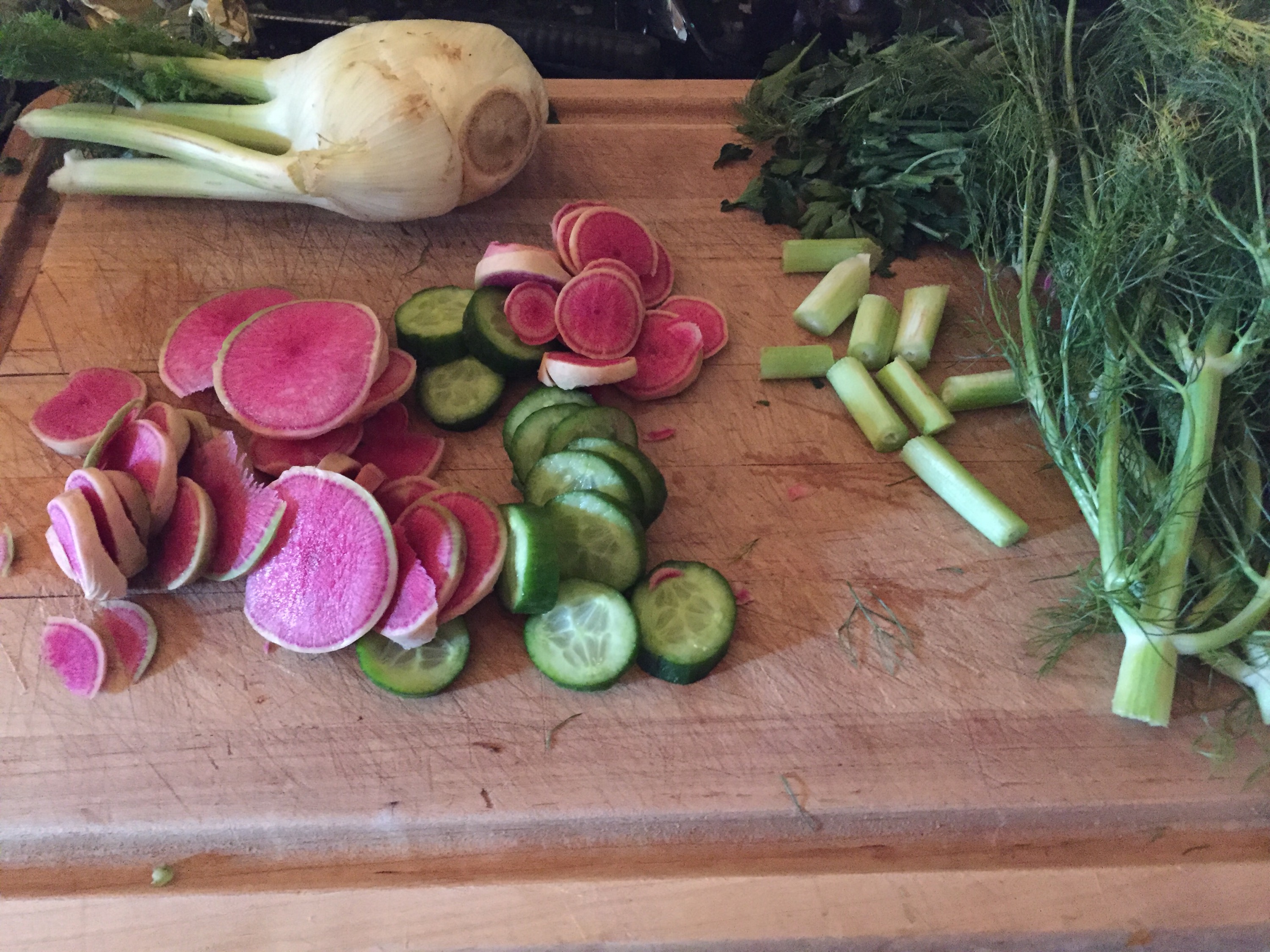 2 radishes
1 Persian cucumber
1 stalk fennel
1/2 teaspoon cumin seeds
1/2 teaspoon mustard seeds
1/2 teaspoon salt
1 sugar cube
1/2 cup vinegar
1 cup water
Slice the veggies into bite size pieces. Boil them for one minute. Immediately  blanche them in cold water and drain. In mason jars combine the sugar, vinegar and spices. Shake well. Add the veggies and refrigerate for at least one week
Chimchurri Sauce
4 cloves garlic
1/4 cup red wine vinegar
1/4 cup parsley
1/2 teaspoon chili flakes
1/2 teaspoon salt
1/8 cup olive oil
Combine all in a nutri bullet
You can make the chumchurri sauce ahead of time and save.
Cook the rice according to directions and put in your bowl. Toss with the chimchurri sauce and top with the pickled veggies and hot sauce if you desire.
If you make the pickled veggies, chimchurri sauce and cook the rice ahead of time this is an easy on the go lunch!