When I was a kid whenever my mom would bake a cake she would tell us kids if we ran in the house the cake would fall in the middle. So obviously if we wanted cake we had to go outside and play. All day long. The forty-three-year-old baker in me now knows it does not take ten hours of summertime daylight hours to bake a cake.
Mom's cake falling fake news was just an urban myth in the mountain village I hail from. But it worked at keeping all the neighborhood kids out of the house. When I was a kid my mom was more likely to create a Betty Crocker chocolate fudge cake than an Anglo-Indian Ginger Plum Cake. But when you have thousands of plums on your Methley plum tree and a hurricane bearing down on your southern California neighborhood, well you create with plums.
Across all of India, plum cake is known to be a Christmas tradition. Here in our household, we are preparing for the first Tropical Storm California has seen since the 1930s. Of course we are, because here in 2023 anything can happen, even Hurricane Hillary's reigning destruction down on southern California. Oh, wait, no that is her best buddy Gavin Newsom.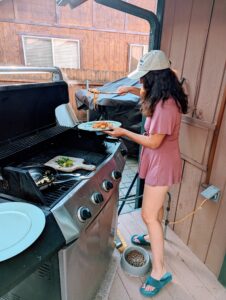 If we are expecting nearly a foot of rain, why yes we are battering down the hatches here at home but I'm also ready to do some baking. Summertime and hot days mean you couldn't pay me to turn the oven on and heat up our house. We do all our cooking in the summertime outdoors on the barbeque. I simply don't turn on the oven between June 1st and that last week in August. So obviously it's been a while since I baked a cake.
Everyone else in our mountain town might be preparing for the big storm by gathering sandbags from the local fire station or possibly stopping at the local pot store. I mean how else do you get ready for Hurricane Liberal Cankles? Well in our household rather than buying the best Santiva weed found on Big Bear Boulevard, I'm stripping most of the plums from our adolescent Methley plum tree. Our area is expecting seventy-mile-an-hour winds and 6-10 inches of rain. For southern California, that is a lot of rain! Our plum trees for the first fruiting year ever are just overladen with ruby-red fruit. Seriously, there are so many plums, they look like grapes.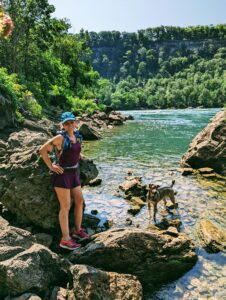 So why do I know so much about the most popular shop in town today, no not the fire station for sandbags but WeedMart? Well of course our puppy almost ripped off her front claw this morning. Of course, she did! Right as a hurricane is barreling towards us in southern California and we have no emergency vet here. And that is how I ended up at the local pot store trying to score some doggy-style CBD oil eight hours before the eye of the storm was over us.
Pet problems? This is why I drink. I mean this is why I shove Ginger Plum Cake at my face.
Anglo-Indian Ginger Plum Cake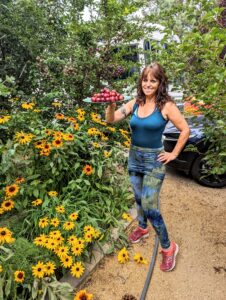 zest of 1 orange
1/2 a jar of ginger preserves
3/4 cups of brown sugar
2 eggs, separated
2 cups of plums, chopped in half, pits removed
5 tablespoons Kerrygold salted butter
3 tablespoons Kerrygold salted butter
1 teaspoon vanilla
1 teaspoon ground cardamom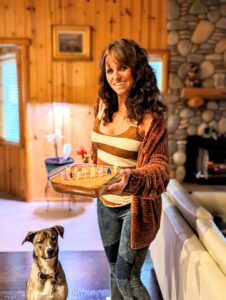 3/4 cups of almond flour
3/4 cups of white flour
2 teaspoons baking powder
1/2 teaspoon salt
In the 3 tablespoons of butter cook the plums on low heat for ten minutes. Set aside in the fridge to cool while you work on the rest of the batter. Preheat the oven to 350. Beat the 5 tablespoons of Kerrygold butter. Cream in the sugar for just a few minutes. Mix in the egg yolks and the vanilla. Mix in the orange zest and the ginger preserves. In a separate bowl, beat the egg whites and set aside.
Sift the dry ingredients together; The flour, baking powder, salt and cardamom. Slowly mix this into your wet batter. Mix in your plums. By hand fold in the egg whites. Pour into a greased baking pan and bake for 30-40 minutes.