It's fall here in southern California. That means leaves crunching under my hiking boots once again and I'm no longer afraid to turn on my oven. If it's early September then I am faced with a difficult conundrum, should I turn on my oven? Or should I take my fat ass for a hike? This is every food blogger/Wilderness trekking guide's autumn dilemma. Oh dear, I think the siren call of baked goods like Gluten-Free Sticky Toffee Pudding won again.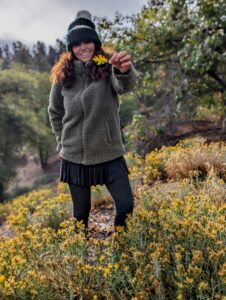 I'm the problem it's me
I have this problem. I love to bake. I've been obsessed with baking most of my life. I try to ignore my oven in the summertime because it just heats up the whole house and it's miserable. But once September first is on the horizon, I break out my Ugg boots and my homemade pumpkin spice powder and it's time to start baking again! Gluten-Free Sticky Toffee Pudding here I come!
The first time I created Sticky Toffee Pudding I spent three days in the fart room. But it was well worth it to indulge in this sugary diabetes coma-instigating desert. Sugar, more sugar and white flour are the trifecta of things that destroy my stomach. But really I know, especially as I get older, it doesn't matter how many miles I trek through the fall leaves in the a.m. I really should not be doing this to my body. So gluten-free baking options it is! Luckily for me, I have found a great homemade gluten-free baking combo; Two parts almond flour, and one part coconut flour.
Many days as I'm trekking up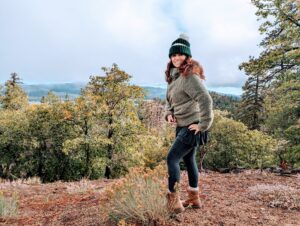 mountain trails under the falling yellow aspen leaves I'm having deep thoughts. Like what the hell will I have for lunch when I return home? Or what should I bake this evening? As I'm booking it back downhill to my Jeep with my favorite four-legged trail companion I'm most likely dreaming about the Gluten-Free Sticky Toffee Pudding I'll be preparing later that evening.
Gluten-Free Sticky Toffee Pudding
1 cup of dates, chopped. I prefer to buy the Medjol dates without the seeds. Buying deseeded dates is just easier.
3/4 cups of boiling water
1 teaspoon baking soda
5 tablespoons unsalted organic butter, at room temperature
2 tablespoons molasses
1/3 cup brown sugar
2 eggs, at room temperature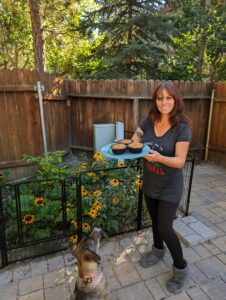 1 teaspoon vanilla
3/4 cups almond flour
1/2 cups coconut flour
1 teaspoon baking powder
Pinch of salt
When creating Gluten-Free Sticky Toffee Pudding you need to measure out everything exactly. Eggs must be at room temperature. The butter must be soft. Flor must be sifted. If you don't bake this by the book, your Gluten-Free Sticky Toffee Pudding will overflow the ramekins and will not be dense enough. And then Angry British Chef will come through your television set and yell at you!
Now that we have all that out of the way, first of all, chop your dates. Cover the dates in the boiling water and sprinkle with the baking powder. Stir the baking powder in and let sit aside for 20 minutes. While this is marinading work on creaming your butter and sugar.
In the bowl of your mixer, cream the butter. Add in the brown sugar and molasses. Mix in your eggs and vanilla. Sift together your dry ingredients and mix in. At this point, mash your date mixture with a potato masher. Mix in the dates.
Oil 6 small ramekins with butter and add your Gluten-Free Sticky Toffee Pudding mixture. Only fill your ramekins 3/4's of the way! The dough will rise as they bake. Bake at 350 for 20-25 minutes. Do not over-bake.
How to make the toffee
3/4 cup heavy cream
3/4 cup brown organic sugar
1/2 cup organic grass-fed unsalted butter
Pinch of salt
1 teaspoon vanilla
Melt the butter on low heat. Do not leave the butter to go pet your Norwegian Forest cat for ten minutes! Angry British Chef would totally have yelled at me if he witnessed my first attempt ever at making toffee, But somehow I saved the toffee even with my cute Forest Cat detour.
Add the brown sugar to the butter. Start whisking. Mix in the cream and continue to whisk on medium heat for 5-8 minutes. the toffee will deepen in color just a bit. Do not let it stick or burn. As it darkens, at the very end, add the salt and the vanilla. Stir for just thirty seconds and then remove the toffee from the heat.
Mascarpone Cardamom Whipped Cream
1/2 cup marscapone cheese
3 teaspoons organic sugar
1/2 teaspoon cardamom powder
1/2 a teaspoon of vanilla
In the Nutri-bullet, add the ingredients. Pulse for just thirty seconds. You will hear the sound of the Nutri-bullet change as the whipped cream thickens. That means stop pulsing! Save the whipped cream in the fridge until you are ready to serve the Gluten-Free Sticky Toffee Pudding.
When you are ready to serve the Gluten-Free Sticky Toffee Pudding, carefully remove the Gluten-Free Sticky Toffee Pudding from the ramekins, and pour the toffee over the top. Serve with a dollop of the Mascarpone Cardamom Whipped Cream.