The whole valley was filled with the cutest fuzzy wild burros. It was just past dawn on a very chilly February morning. The high might have been above zero degrees. The donkeys did not care as they grazed on the first wild green grasses of a very early spring. The little baby donkeys scampered around next to the Jenny's (That's mama donkey to anyone not versed in everything equine) The Big Bear Valley might be full of so many wild asses on this winters morning but there is one thing you will not find anywhere in this ski town oh so close to the urban jungle of Los Angeles. One thing that is missing from Big Bear Lake, California and our honestly quite disappointing restaurant scene is vegan food. Beet Salad? Quinoa protein patties rather than a regular burger? Not in Big Bear. Big Bear Lake vegan food is not something the tourists who support our local economy will find.
The Big Bear valley is just not well known for vegan food. Skiing yes. Crazy traffic on snowy weekends for sure. But try to order a salad with tofu or a beet burger at any local restaurant and the ski bum eighteen-year-old employee will look at you like you are nuts. And definitely visiting from Los Angeles. Big Bear Lake vegan food are not two things one would think of together.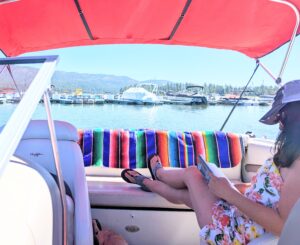 I live in a mountain ski town at over six thousand feet where every restaurant has steak on their menu or all kinds of frozen seafood. But what the hell are you expected to eat if you have dietary restrictions if you are gluten-free or vegan? I have a good friend who lives here and is vegan and she says when she dines out, her choices are usually a plain salad and that will be eighteen dollars, please.
Big Bear Lake vegan food? Nope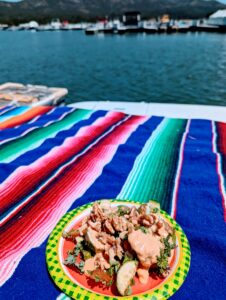 I created Big Bear's only pop-up picnic experience to bring a better option of vegan and gluten-free dining to the Big Bear Valley's food scene. Okay actually what I mean is to bring any options for vegans and those who can't digest gluten to the Big Bear Valley. We may be on a mountaintop at over 6,000 feet but we are still located in southern California, one would think Big Bear Lake vegan food could be a reality. California is the home of Paris Hilton and those famous Kardasians and if there is one thing all those folks from the east coast are thinking of when they make plans to vacation at Disneyland, it's that Californias eat grain salads, tofu and beets, beets, beets, right?
How Covid turned me into a vegan
Everyone has their own personal Covid tale. Mine is unique as I craved beets so hard, I mean a lot more than I usually crave this rust-red superfood. Also, all I wanted to eat were vegan foods. And I didn't want to drink coffee. Like at all. As in, coffee actually tasted bad to me. Weird. I have been a big fan of beets the past few years but when I had Covid I kind of went nuts for beets. My boyfriend and I never lost our sense of taste or smell but everything foodwise just kind of changed for those few weeks. I was obsessed with beets and had to consume them multiple times a day. He thought the beets smelled just so God-awful. He was praying to lose his sense of smell by day three to not have to smell my beet salad anymore.  PS, I kind of love beets.
Aside from being completely obsessed with these ruby red root veggies, I never expected that coughing so hard I shit myself would be something Covid would introduce me to. When Covid happened to our family, I spent days on the floor of our home, holding my throat and begging to God to let me stop coughing for three hours and breathe, please. This was on week four of my Covid battle and I was over the coughing and ready to want to start eating all the delicious foods again.
On week four of my battle against covid and deciding to only cough on the toilet, coffee still tasted bad. And after eating nothing but this salad for ten days straight I discovered I didn't even want to eat a kale salad. What the actual fuck Covid! But seriously for four weeks straight of my Covid journey, I basically ate beets and this vegan salad. This delicious vegan salad is one of the things that got me through my Covid pandemic adventure.
California, a vegan food mecca, but not in Big Bear Lake
California is well known as the health-conscious state. One of my favorite vegan restaurant choices in southern California is The Stand in Newport Beach. The Stand has been the hippie sandwich destination for all of us that just want to hummus sandwich with sprouts since 1975. A new restaurant might be opening on every corner of Newport Beach right next to Whole Foods but to me, The Stand has the vintage hippie charm that California beach towns are missing these days. Unfortunately residing in Big Bear Lake California, I live a two-hour drive from The Strand or anything healthy vegan like that.
So I had to create the very best vegan salad Big Bear Lake had ever seen, with the best vegan salad dressing basically ever. Yes, that is correct the best vegan salad dressing ever. I'm telling you, it's better than anything you will ever find on any shelf at Whole Foods. And I created it right here in my Hungry Mountaineer kitchen in Big Bear Lake. This coconut curried dressing is not chock full of Greek yogurt or even goat cheese. It's nothing like that preservative-filled ranch crap that brags about being full of parsley and dill and makes me wonder if it's really even made with actual herbs.
To create the best vegan salad dressing you have ever had, make sure you use good quality curry powder. Did you know that madras curry powder is so easy to make in your home kitchen? Check out this simple recipe.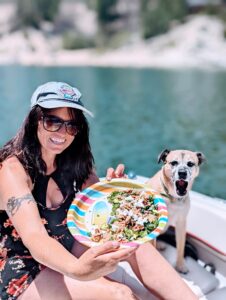 Chopped Kale Salad with a Vegan Coconut Curry Dressing
2 cups kale, chopped
4 Persian cucumbers, chopped
1/4 cup walnut pieces
2 teaspoons parsley, chopped
10 dates, deseeded and chopped
1/4 red onion, chopped thin
Vegan Coconut Curry Dressing
1/2 teaspoon curry powder
1/4 cup cold water
1/4 cup almonds
1/4 cup cashews
1 teaspoon apple cider vinegar
1/2 teaspoon paprika
3 cloves garlic
1/2 teaspoon curry powder
1/2 a can of coconut milk
1/2 teaspoon salt
Firstly, grind up all those salad dressing goodies in your blender or nutribullet. Because this simple vegan dressing has no animal products in it, it stays fresh in your fridge for weeks! Dress your salad with this delicious vegan coconut dressing and enjoy your summer!
Looking for variations on this easy summer salad?
Not vegan? add some crumbled goat cheese
Like things picante? Add a few dashes of your favorite hot sauce on top. I prefer citrus Yuzu hot sauce with this vegan salad.
Looking for more protein? You can add some cooked quinoa to this awesome salad.