When I holidayed on the coast of Western India in bohemian Goa, right before this loathsome pandemic began I never had a chance to try some authentic Portuguese-inspired dishes. Man, did I miss out on some fiery mouthwatering flavors! Regional fare like Goan spicy chorizo sausages or tangy lamb vindaloo was invented in this seaside coastal town. To miss out on these regional dishes now seems like a travesty, half a world away from this waterfront state in India where preserved 17th-century churches and tropical spice plantations burst with black pepper vines, cardamon pods and nutmeg trees. Goa was a Portuguese territory for over 450 years and that is why you see so many relics of Portuguese architecture, and whitewashed spectacular churches. Believe it or not, it was only in 1961 that Goa was invaded by India and Vinadloo and Indian cultures arrived on the Goan coast. I missed a few travelers' essentials in this hippie studded sun-drenched town. As in I spent more time drinking cocktails on the beach with our vacation puppy than going to church in Goa. I had my share of delicious curries ripe with locally grown cloves, chilis and coriander but I'm bummed looking back I never got a chance to try Goan Vindaloo, the national dishes of this spice capital.
The beach is that way

The beaches of Goa are congested with tourists every New Year's Eve. (As a southern California native I would say the beaches in Goa were more crowded than the 405 Freeway in Long Beach during rush hour traffic) New Year's Eve 2020 just happened to be our first night in Goa and I was shocked at the swarms of people on the beach. I had never seen crowds of people on beaches like we saw in Morjim in my entire life! And that includes when we holidayed in Bondi Beach, Australia a few years ago. (Sydneys most populist beach, Bondi Beach sees over 2.7 tourists a year) We spent this one last New Year's Eve before a global pandemic would curb our wanderlust for three years and counting, dancing on the beach, sharing cocktails and watching fireworks light up the sky over the Arabian Sea. It was a simply marvelous way to start off 2020. Until the pandemic began on our way back to California…
But back to Portuguese influenced Goa, India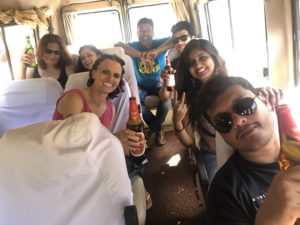 Before the global pandemic put a halt to my worldwide wanderlust, India had to be one of my favorite places to travel. Even after an exceptionally long thirteen-hour van road trip that began at two a.m. with my boyfriend's extended family. Looking back now, as we all survived this global pandemic, those family moments seem like memories to cherish when we haven't even been able to travel to see family in three years and counting. Three years ago, we adventured through the jungles of western India from the state of Karnataka to the beaches of Morjim. The drive was full of so many road trip shenanigans and scary roadside India bathrooms. And yes, way more drama than necessary and maybe some road sodas as we approached New Year's Eve and the Goan coast. Having open containers in a vehicle is perfectly legal in India as long as you are not driving, just an fyi. After a traffic-filled thirteen-hour much longer than it should have been detour through the Indian countryside we were ready to exit our rented TT van, stretch our legs and inhale some Goan cuisine already!
Which way to the lamb vindaloo?
When the Portuguese settled this region long before the 1960's they were known for a regional meal, carne de vinha d'alhos, gamy carne marinated in wine and garlic. You find that these tangy Indian creations like Goan lamb vindaloo originated in this seaside town and began with that one specific carne dish. The Portuguese element is found in so many of the spicy dishes you can find in curry houses here in Goa along the Arabian Sea.
The Portuguese flav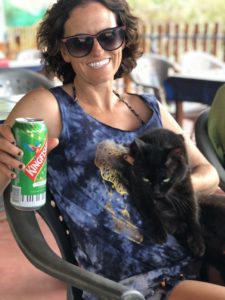 ors of this dish originated with the holiday fare of carne de vinha d'alhos where the lamb was marinated with cloves, thyme, paprika, red pepper paste and wine or vinegar as well as garlic. The Indian version is unique, to say the least; with notes of cumin, ginger, coriander and of course tangy vinegar.
Goa is the smallest state in India but has the most laid-back attitude or (susegad) full of beach shacks, cheap drinks and friendly kitty cat studded outdoor bars. Give me a beer and a kitty cat on a beach. Now, this is vacation.  With almost 100 kilometers of laid-back beaches on the edge of the jungle, Goa is known to be a vibrant Indian seaside destination and a place I cant wait to get back to, just as soon as this pandemic is behind us. Travels to India have awoken a love of everything Indian in this travel blogger from the food to the culture to the beaches full of adorable mongrel kitties and pups (and yes, I yearn to adopt all of them.)
The Hungry Mountaineer's Goan Lamb Vindaloo; So Cal Mountain Version
Not being brave (Or stupid?) enough to travel internationally yet, that leaves me creating a Goan lamb vindaloo in my own home kitchen in Big Bear Lake, California. This is how I created the very best Lamb Vindaloo in my home kitchen over 14,000 kilometers across the Pacific Ocean from Goa.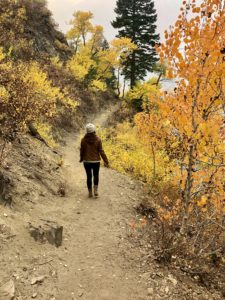 So many Americans are terrified of lamb. I grew up loving wild game such as antelope. That grassy pastoral taste has never bothered me. There are ways for the crafty chef to make a gamey meat like lamb or goat less robust. Soaking the meat in milk helps. Or you can add paprika or turmeric to your curry to bring out that robust flavor.
Learning to make an authentic lamb vindaloo from my Anglo-Indian boyfriend was a new experience indeed. The first time we went camping together we planned on making a lamb vindaloo the second night of our kaleidoscope of fall colors eastern Sierras alpine adventure. We never expected to have one hundred mile an hour wind gusts at our campsite in Silverlake, California in the month of October. And I never expected that after we consumed one night's worth of lamb vindaloo the leftovers in the pressure cooker would no way fit back in the ice chest.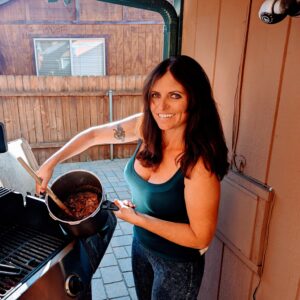 My none American boyfriend assured me "That meat is aged in so much vinegar it doesn't need to be refrigerated in these chilly outdoor temps. The pressure cooker can sit out in the bear box all night and we can just reheat the leftover lamb vindaloo tomorrow for dinner." Silly American outdoor blogger, how did I not know that? With visions of Trichinosis dancing through my head and never one to miss out on delicious Indian leftovers, I was doubtful (But hungry) Sure enough the following evening after a day spent under a rainbow of orange and yellow aspen trees trekking through the eastern Sierras, I was starving. This Hungry Mountaineer needed a spicy Indian meal in her belly and fast. I was willing to face the ultimatum of the ultimate pork cleanse.
Guess what? I was fine. The curry bum I was expecting never happened and the vinegar kept the meat from going bad overnight. Now, I probably wouldn't try getting crazy with leaving the lamb vindaloo out overnight in hot summertime weather but in this case, the vinegar did the trick and saved the day.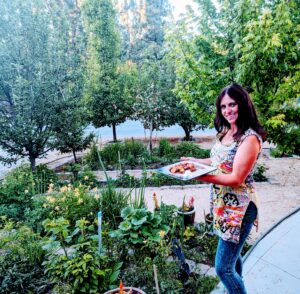 When one thinks of lamb vindaloo the first flavor that comes at you is a well-aged vinegar. Don't use the cheap balsamic vinegar in here. If you bought your balsamic vinegar at Walmart, you might want to splurge in a slightly more expensive bottle for this dish. The curry tastes way better with a higher quality vinegar. My other big tip is to use homemade beef or lamb stock or bone broth for this authentic Goan lamb vindaloo. And my version of Lamb Vindaloo is more of a northern India dash as I add a touch of garam masala and peppercorns.
Fresh curry leaves are very difficult to find in the United States. I mean, we had to purchase our curry plant illegally in the back of the Walgreens parking lot! If you can find fresh curry leaves at an Indian or Asian grocer they make a great garnish to this dish.
Goan Lamb Vindaloo
3 tablespoons ghee
2 red onions, peeled and sliced
3 red Chinese chilis
2 teaspoons minced garlic
1 teaspoon minced ginger
1 teaspoon peppercorns
1 teaspoon paprika
3 teaspoon cumin
1 teaspoon cumin seeds
1 teaspoon garam masala
1 teaspoon brown sugar
2 cups water
9 curry fresh leaves
3 pounds lamb shoulder, pork butt or beef chuck roast, cubed into pieces
2 Russet potatoes, peeled if you want to peel them, cut into bite-sized pieces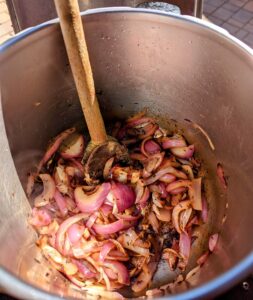 1/2 cup well-aged vinegar (Not the cheap stuff)
1 teaspoon paprika (Optional)
The first step in making an authentic vindaloo is marinating the meat for at least a day. Combine the cubed chunks of meat, the vinegar and cumin in a plastic bag.
In the bowl of a pressure cooker, roast the red chilis until blackened. Remove the halves from the ghee and set them aside. Add the cumin seeds just for a minute and fry then add the red onions to the ghee in the pressure cooker and cook very well for at least twenty minutes until the onions are well browned. Add the onions to a blender or mixie and blend well.
Return the onion mixture to the heat along with the garam masala. If using lamb for this recipe you might want to toss in one teaspoon of paprika at this stage so your lamb is not too gamey. It's okay if your onions get well done. We call that the rustic version. Mix in the garlic and ginger and fry the masala until you have a thick paste. Don't be a hyper chipmunk and try to rush this step! You want your masala to be dark brown like my Indian boyfriend. Add the marinated lamb and the peppercorns to the pressure cooker along with the salt. Fry the meat in the masala for a good ten minutes.
Add enough water to cover the lamb (Close to 2 cups of water. I do like my vindaloo with lots of gravy so I do use lots of water) Cover the pressure cooker with the lid and steam until the ball rises. At that point turn the heat down a bit and cook for twelve minutes. From here you can prep this part of the meal ahead of time and set it aside until thirty minutes before you are ready to serve. One way or another, set the pressure cooker aside for at least twenty minutes as it cools down off the heat.
When ready to finish this dish, add the potatoes to the pressure cooker along with the red chilis you fried earlier. Cook with the lid off the pressure cooker for maybe fifteen minutes until the potatoes are cooked. Stir in the brown sugar. Fry your curry leaves in one additional teaspoon of ghee for just one minute. Garnish your Lamb Vindaloo with the fried curry leaves.