I never dreamed I would complain about to many deer but within the first ten minutes of getting out of the car at Big Pine Creek I had already seen two does on two separate occasions.
And a snake; a big ass snake.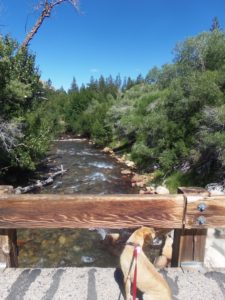 It may not have been a rattler but I don't care. I still screamed like a little girl.
I do not care for snakes.
Our first night camping in the eastern sierras was a night of random beauty; meteor showers, hippies smoking while doing yoga and limeade with vodka; none of these things has the least to do with each other but our first night in the eastern sierras was awesome even if Carly was annoyed with me keeping her on a leash at all times (well besides when we ran into a lady with three rescue dogs of her own who Carly happily played with for half an hour) Right after we checked into our campsite we wandered down the creek Sao I could look for an awesome place to read my book.
I mean I drug Carly while I'm sure she muttered to herself,
"I don't walk on a leash!"
As I pulled her down the south fork of the creek on this eighty degree afternoon. Our camp site was really awesome,; just so great! I loved Big Pine Campground the moment I drove through. The last time I had been in this area I was twenty-two years old and back packing near North Palisades Glacier with friends.
Wow. How twenty-two years has changed a person. I am nowhere near the girl I was  at twenty-two.
A lot of people looking back at their twenty-one year old self, maybe there legs would not be so strong, there back not so tough, but I am so much stronger in every way then that girl who crawled up that mountain all those years ago.