I may have an obsession with fall. No, it's not the pull of sugary sweet Pumpkin Spiced Lattes from Starbucks that lull me in on September first. It's that magical orange light I can see blazing through the Black Oak trees in our national forest each morning starting in mid-September. I have to strap on my hiking boots early morning and head out into the national forest just as the light is the most golden shining through the buttery yellow oak tree leaves. I say I'm going for a hike but really I'm going out to photograph leaves while the puppy looks bored or maybe chases bunnies on a good morning.
These days according to my Amazon watch, I really have not moved as many steps as I should, but man have I gotten some good snaps of heavenly-looking oak forests. I mean I have got at least hike a little in between my fall colors photography obsession and shoving my favorite trail snack, popcorn drizzled with candy corn at my face.
Big Bear fall colors photography finest
When it comes to getting the best fall colors photography shots, I believe in going out in that chilly early fall morning. Yes, the late afternoon sun might be warmer but I just love how the sun comes through the leaves in all the recent photos I have taken. Where I live, in the mountains of southern California, it seems like between eight a.m. and nine a.m. is the best time to hit the trails and get some epic autumn snaps.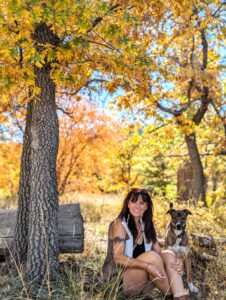 When it comes to fall colors photography, this fall I have been all about getting the very best shots here at our mountain home in Big Bear Lake California. We have experienced a very warm late fall and the buttery yellows and oranges of the Black Oak trees are just gorgeous all over the Big Bear Valley.
On my hiking, slash photography journeys, I also tend to hike as far away from other hikers as possible. I like my dog to run off-leash and live her best life. I try to keep her away from the Uber-crowded Big Bear trails filled with other hikers. These popular Big Bear trails, like Cougar's Crest, tend to have a lot of trash and graffiti on the trails as well. Seeing discarded cigarette butts and used Cliff bar wrappers is not my idea of a beautiful hike and honestly, I'm just tired of cleaning up after other people. And frankly, your discarded water bottle does not belong in my beautiful dog mom photo shot!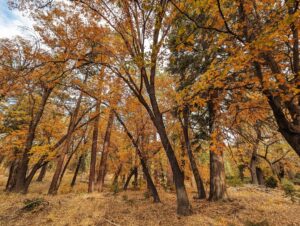 Have your subject in the corner looking at the view
To get some great fall color photography snaps here are a few quick pointers for beginners.
Always remember the rule of three. This is a composition guideline that places your subject in the left or right third of an image, leaving the other two-thirds more open.
Always position your subject in the corner of the photograph so they are looking at the view. You want to show that lake in the distance they are gazing at.
Make sure you are heading out for a hike when the light is perfect. I suggest early morning, like eight a.m. or late afternoon when the light is warmer.
Halloween props make great photos!
One of my favorite fall photo ops is wearing my favorite dollar store mask and getting crazy with photo fun. Yes, the pup and I both have awesome Halloween props! Of course, a lot of these came from the Dollar Store! One of my favorite candid fall photos involves me wearing an awesome Halloween mask, setting my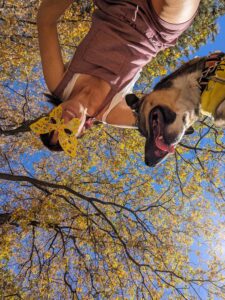 phone on the ground on selfie mood with the ten-second timer and leaning over with very vivid oak leaves in the background. Artsy? Scary? You decide!
Wear your cutest thrift store dress!
Go ahead put on that fancy flowing autumn dress. You get the best autumn photos when you have a flirty dress to spin or skip as you hike down oak leave strewn trails. Want to get the best fall color photos? Patience is key. Especially if taking fall photos with kids or pets.
Patience can be a virtue, especially if you have a dog. I hike by myself a lot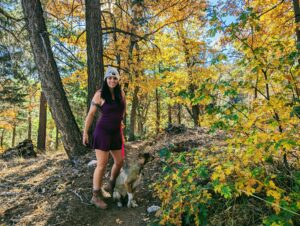 because I enjoy the serenity of the forest. And I like to yell at my dog in private. ( She's actually a very good dog, but much like a teenager sometimes she chooses not to listen) Because of this, I use my selfie stick a lot for the tripod option. When using a tripod it's nearly impossible to find a flat place in the dirt that the tripod won't fall over or the dog won't run into it. Because of this, I almost always use my backpack to anchor it. My sister-in-law makes fun of me because I never have a backpack on in any of my hiking photos. It's always protecting the camera setup from the hyper puppy dog!
Fall photo fun with foliage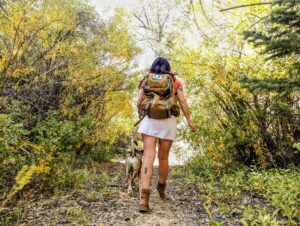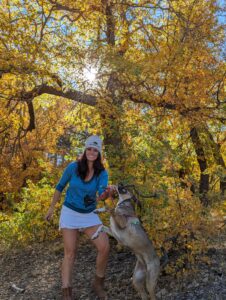 This autumn I have been having so much fun taking so many gorgeous fall color photos with the pup. Okay, I'll admit maybe it's been less hiking and more fall photo fun with foliage. Fall is so fleeting and we only have maybe a month here where I live in southern California to get all those wacky dog mom photos featuring fall leaves. Fall colors photography is one of my hobbies in October and the puppy puts up with my shenanigans. I mean when she's not being naughty and chasing the deer! Fall colors photography brings me so much fun for about forty-five days each autumn but it can be frustrating to get that one best photo. Getting one amazing shot each October day can make or break my fall photoshoot's good times. I would just like one photo of my dog looking cute that features the dog's face and not her asshole. Now is that too much to ask?
So how do you get those perfect fall colors photography snaps featuring Fido? I use very small training treats to try to get my pup to sit still for photos. Sometimes I just give up and wrestle with her with the stick and just hope and pray to get one good candid snap where I don't look like a lunatic. Sometimes I just wait patiently for her to come running out of the forest with a slightly gamey Bambi bone in her mouth. It's a dog mom's life!