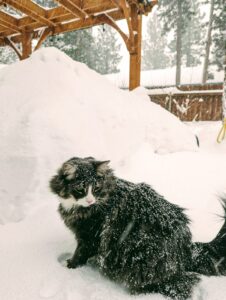 After four days of blizzards, shoveling so much snow and more blizzards and shoveling I might need to sit in my backyard on my snow couch with a hot toddy. After so many years of drought, some may call it a March miracle. Some may call it the great Big Bear blizzard of '23. I call it so many weeks of snowshoeing in my future and a lot of free time to spend with my pets and family. But we are blessed here in Big Bear Lake. We have electricity; So many mountain homes do not right now. We have a working snowblower. And I stocked up everything, supplies-wise for weeks to prepare for this Big Bear blizzard.
The great Big Bear blizzard of 2023
You might feel helpless when you can't reach friends and family that are only eighteen miles away as the crow flies to help during an official state of emergency, Drowning your sorrows in Franglico and espresso may help. Or maybe some stress shoveling because here in our scenic resort town of Big Bear Lake California, we have five to seven feet of fresh snow. We have friends in the UK who even heard about the Big Bear blizzard on BBC and have been calling to check in. A local ski town dreams of five to seven feet of fresh snow but here in southern California that Pow day snow situation has turned into a living nightmare for many.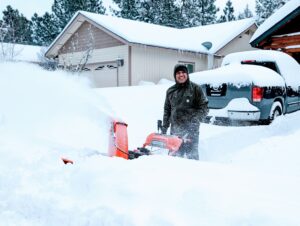 Here in Big Bear Lake, we are very lucky. Our main roads are plowed finally and we now have one mountain highway that is open to residents and to get emergency supplies into the town of Big Bear Lake. That wasn't the case earlier in the week when our grocery stores had no food on its shelves. Our gas stations are still struggling to stock enough fuel for our rural community. The lines to fuel up remind some people of the gas shortages of the 1970s. But at least every few days you can buy fuel here.
Our smaller mountain communities to the west are having more serious issues than us. These communities have more winding narrow roads and are much harder for the snow plows to get through. There are no rules exempting locals from parking on city streets in communities like Crestline and Running Springs and vehicles are parked haphazardly everywhere, this significantly interferes with snowplowing efforts even when we get a big snowstorm of around two feet of snow! Here in 2023 this Big Bear blizzard has dropped cose to ten feet of snow on some communities! Communities like Lake Arrowhead and Crestline have seen up to ten feet of snow in these five days of blizzards weather we had last week. In some areas, the snow is stacked all the way to the top of people's front doors. Like here, at my ninety-three-year-old grandma's house earlier in the week.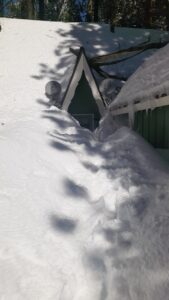 Our mountain's state of emergency situation has gotten so out of hand because our rural mountain population has increased by over twenty percent since the start of the global pandemic. That is so many tens of thousands of people who have no idea that yea, sometimes we get crazy snowstorms like this with feet and feet of snow. So many individuals in these communities were not prepared to be stuck in their homes for upwards of a week. Their supplies are running low. So many individuals live here in the mountains and do not have the good health to be able to shovel out their vehicles and their walkways even if their streets were plowed. I've heard of more than one person using dog shampoo on their hair, that is how low supplies are, seriously. When I was a kid and we would get storms like this, we would walk with my mom to the nearest grocery store, a mile away, for supplies. It seems like so many of the people who live in the mountains here in 2023 are not capable of walking a few miles to buy supplies.
What is an STR? (Snow tantrums reality)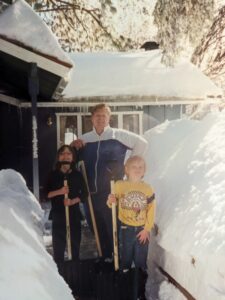 Add to this the fact that neighborhoods are full of STRs (Short term rentals) here in 2023. We used to know our neighbors. Now you probably have a short-term rental next door. The people who bought the home as an investment don't care at all about the local community. You probably don't even know your neighbor's names! It's hard to communicate with the neighbors who bought the STR next door to let them know they have a massive ice dam building on their roof under the five feet of snow when they never even introduced themselves.
Our neighborhoods use to be full of neighbors looking out for each other in these rural mountain towns. I found it shocking that my grandma's neighbors never even checked in on her this entire storm! It's in times like this, you really need to have your neighbor's back. Check-in on your elderly neighbors. Make sure they have enough food and their walkways are shoveled. Some elderly neighbors may not be technology adapt and may not realize there are community support groups online that are organizing shoveling for those in need and food distribution for those who are extremely snowed in.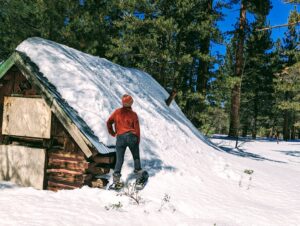 Here in the mountains of southern California, when our mountain towns were officially declared in a state of emergency we were told there is a phone number for an emergency you can call if you are running out of food. Food and medicine can be delivered via snowcats! My dad spent five hours on hold earlier in the week trying to get through. He needed essential medicines delivered and the phone number was useless.
Our biggest complaint here at our snowed-in home in Big Bear Lake is what the hell is that smell? Did it come out of the dog? Again?
We live on the more desert side of the valley so we didn't get as much snow as most of the mountain towns but we still have a good five feet of snow in our yard, on our roof and on our motorhome. And that dead rodent smell in the wall. It's a hell of a time to be stuck at home. We have enough entertainment to keep us from going stir-crazy but it would certainly be a lot nicer in here if the house didn't reek of death.
We picked a hell of a week to get a dead animal in the wall of our house. The one week we are all trapped inside with the stench due to a blizzard, obviously, something rancid had to die inside the wall next to the bathroom. It took a good four days for the terrible smell to start to dissipate. In the meantime, I decided to build a snow couch and entertainment area in the backyard.
I personally never have an issue going out to play outside. No Big Bear blizzard was going to stop me! But what with the inside of the house being so smelly, i would be nice to have an outdoor area to sip on my well deserved Franglico hot toddy after hours of shoveling and burning almost a thousand calories today. And that is when I decided to build a snow couch, with a bar of course. Because if you are going to survive a Big Bear blizzard you need to have a snow bar!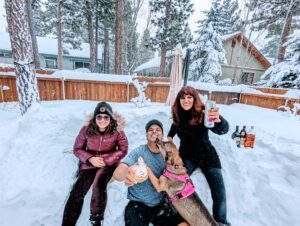 Hazelnut Latte Hot Toddy
1 cup espresso roast hot coffee
1 tablespoon heavy cream
1/2 teaspoon freshly ground cinnamon or cardamom
1 shot of Franglico liquer
Combine all ingredients in a Nutri Bullet. Serve in your fanciest mug and enjoy outside on your snow couch.