Summer days were meant to relax at the lake, fishing pole in hand or watch July thunder storms on lazy afternoons from the front porch. I am so thrilled to say that this has been my summer so far.
This morning I woke up at dawn and hauled my mountain bike down Van Dusen Canyon Road to Holcomb Valley just in time for sunrise and some sprinkles of rain. The brush that covered this valley, formally Belleville, well back in the gold-rush days anyways, was the most amazing green. It felt like spring this morning as the rain showers fell on my shoulders and I pedaled up the dirt road, my little doggy at my side. I was just so thrilled the temperature was only in the fifties!
Yesterday at this time, before the thunderheads rolled over our mountains it was seventy degrees by 7AM. That may not sound to bad, but when you're pedaling up a dusty dirt hill in full sun, seventy degrees feels like ninety.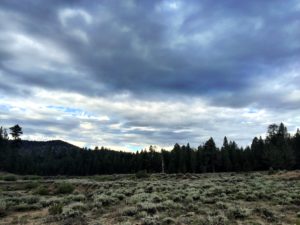 Morning mountain bike riding is the best way to start another gorgeous summer day in the Big Bear Valley.
Before we hit the lake for a little afternoon fishing I made a fresh batch of this phenomenal chicken salad. It's Indian inspired of course.
This is my ethnic take on plain old chicken salad.
This is great stuffed in an endive or over romaine lettuce if you are going low carb. It's also great just as a sandwich spread or with crackers.
It does not contain mayo so it's perfect to take on a hike or to the lake for a picnic lunch.
Mango Curried Chicken Salad
3 chicken breasts, poached and shredded
1 tablespoon olive oil
1 tablespoon curry powder
1 teaspoon salt
1 tablespoon fresh grated ginger
1 teaspoon fresh grated garlic
1 tablespoon soy sauce
3 green onions, diced
1/4 cup parsley, diced
1/4 cup celery, diced
3 tablespoons mango chutney
1/2 cup Greek yogurt
1/4 cup golden raisins
1/4 cup cashew pieces
In a saucepan heat the olive oil. Add the curry powder, garlic and ginger. Cook just one minute until the garlic is no longer raw. Deglaze the pan with the soy sauce and let cool five minutes. Add the salt, onions, celery, mango chutney and Greek Yogurt. Mix together and add to the shredded chicken.
Mix in the parsley, raisins and cashews.  Serve as a salad or in a sandwich.